Mile High Comics And MyComicShop, Taking On Staff In 2021
Two different views on 2021 from two very different comic book store owners – Chuck Rozanski/Bettie Pages, President of one of the biggest comic book mail order chains in the US, Mile High Comics, and Buddy Sanders, President of MyComicShop, another of the biggest comic book mail order chains in the US. Both have been talking about their plans in the light of vaccinations rolling out. Chuck/Bettie writes,
With vaccines now being distributed that may (eventually) halt the devastation of our pandemic in 2021, tentative plans are being made by us here at Mile High Comics for a brighter future. Our purchasing of a wide diversity of comics, books, and toy collections never ceased during the pandemic, but oftentimes significant portions of our new acquisitions have had to languish in our storage areas because we lacked the manpower to sort/grade/price/display those tens of thousands of new collectibles. Heading into 2021, we are already making plans to (slowly) increase our staffing to remedy those functional deficiencies, while also increasing the pace of our purchasing even further.

In case you are wondering, our optimism and determination to continue to move forward is prompted in large measure by a truly unprecedented demand for older comic books, and pop culture collectibles of all kinds. Truth be told, our online sales this year have been so popular that we have had to very carefully restrict our marketing efforts so as to neither completely run out of highly desirable titles and/or to overwhelm our limited order fulfillment capabilities while operating with restricted staffing during the pandemic.

At the same time, while gross sales in our Jason St. Mega-Store are down a bit from 2019, that is almost entirely due to a near-total diminishment in our out-of-state visitors, and the elimination of all of our incredibly popular large charity events. Excluding those anomalies, Jason St. has actually become even more popular within the Colorado fan community this year, with so many people flocking to the store on some days during the holiday season that we were nearly forced to limit access during a few particularly busy periods.

I am sharing these observations with you because I think it important for all comics fans and collectors to realize that the auspices for 2021 seem extremely positive to us. I do not know if our lives will ever return to the "normal" levels of social interaction that defined our lives pre-COVID, but I do believe that our new year will bring many improvements that will allow for a gradual return of some social gatherings, and a resumption in our ability to travel safely.

In the meantime, the pace of the media giants mining older comics storylines for new streaming series is accelerating at a truly frenetic pace. This is creating millions (if not billions) of new fans, more than a few of whom are interested in purchasing original source material that was oftentimes printed in shockingly limited quantities. In great measure, this is precisely why I think that we are experiencing such unprecedented demand for all back issue comics genres right now, but most especially the already popular media properties, such as STAR WARS.

I hope that my sharing these observations has helped to restore some hope and optimism for you as regards 2021. There are still many challenges ahead of us, and we all need to remain vigilant as no one wishes to be the last person to contract COVID-19. Those precautions not withstanding, I think that 2021 may well be a great year for all comics fans, as so many of those wonderful stories and mythos that we have all cherished for so many years are finally accepted into the mainstream. Life is good!

I will close by reinstating our 40% off DECEMBER! codeword for you for the next four days. It will expire on December 31st, at midnight. It applies to all ten million+ of our back issue comics and magazines offered on our website, excluding only new issues, a few variants, and our professionally-graded items. Please do enjoy these end-of-the-year savings with our sincere best wishes, and please do also stay safe!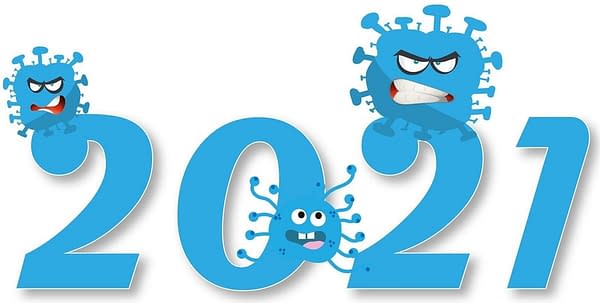 While Buddy Sanders is also looking forward.
It is not the New Year yet, but by next Tuesday we will be into the New Year, so I and everyone here at Lone Star Comics wish every member of the comic book community all the very best in the coming New Year. With a bit of luck, the vaccines now available will very soon afford a much-needed immunity from the Chinese Virus. We owe a great debt of gratitude to everyone who worked so hard to bring these vaccines to the market in record time, not least of all President Donald Trump. He's not getting credit elsewhere, but he damn sure is here.

Crime is up in our fair city of Arlington. In the election he lost, our former mayor claimed that, if reelected, he would eliminate all crime, 100% of it, in the city. After we voters stopped laughing, we booted him. We'd be happy if crime was no worse, but it has been increasing, property theft being the biggest problem. We've experienced it as have many others. Our headquarters has a pretty well hardened perimeter, but even so, someone cut our chain-link fence one night and stole the catalytic converter from beneath our new Ford box truck. Then just this morning at 9:15 (Tuesday), a man drove his minivan through our open gate and stole another catalytic converter from an employee's SUV. We are fenced all around, with barbed wire topping our chain link, but will soon add razor wire. Additional cameras are already in place. Even at night, we can see from office or home our building and parking area in almost daylight conditions. We got crisp photos of the thief and even better images of his vehicle. 115 sets of eyes will be watching for that man and vehicle. Our goal is to catch one of these SOBs red-handed. We've got a lot of big, tough guys here. I may just pass out baseball bats.

On a much more positive note, our sales remain super solid and growing, despite government's best efforts to pauperize us all. I now have two departments working directly under me, Buying and Vintage Paper, with added staff and promotions in each. In fact, in about half an hour I need to be done writing my part of the email as at 3:30 I have a meeting scheduled with our programming team. With the volume of material we process every week, I'm constantly brainstorming ways to more quickly do item database set-up, grading, and pricing. Currently, I can precision price 100 items per hour, but I think we can shave that time even further with the additional software we are developing. I've said it before and I'll say it again–I'm having soooooooo much fun!
And also stating
We are hiring, no experience necessary! Despite the pandemic, Lone Star Comics is continuing to grow. The building we thought only a few years ago would be big enough isn't now, despite our adding another 15,000 sq. ft. warehouse, giving us a total of 80,000 sq. ft., with every foot of dedicated to internet comic book sales.

At the same time, we've been adding staff. We're now at 115 good hard workers that love comics, but need to add still more after the holidays. We are looking for order puller/packer, imaging tech, and grader trainee applicants. You can email jobs@mycomicshop.com with your resume and questions.

Buddy is also looking for candidates with extensive knowledge of pre-1970s comic, pulps, BLBs and magazines pre-1970. If you know who Enoch Bolles was, for example, you likely have the interest and knowledge we need. And if you happen to be an older guy (or gal), hey, so am I, we do not age discriminate!
Any necessary ability to swing a baseball bat is not mentioned, but I bet it wouldn't hurt.