Writer Nancy Collins talks about Army of Darkness: Furious Road #3 (of 5), on sale in May from Dynamite. Cover is by Gabriel Hardman.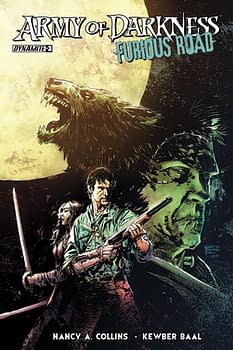 BYRON BREWER: Nancy, what is the greatest challenge to handling a character like Ash?
NANCY COLLINS: My biggest challenge has been staying true to the character's 'voice' while, at the same time, trying to provide character development and include the 'splatstick' scenes that are a trademark of the franchise. It's very easy to turn Ash into a cartoonish caricature or portray him as an oaf, as opposed to some poor schmoe trying his best to save the world, despite his own personal limitations.
BB: Is there anything you have done, you feel, to make the coming encounter in May's issue #3 between Dracula and his daughter stand out from previous iterations of this all-consuming rivalry?
NC: Yes. In my opinion, Eva's "daddy issues" are more dangerous, in the long run, than Dracula, and we get to see how her obsessive hatred and distrust of her father impacts the survival of mankind.
BB: Have you been pleased with the wild renderings on this book of artist Kewber Baal?
NC: I couldn't be happier! Kewber's art has fit my writing from the very start. It's as close to hand-in-glove collaboration as I will ever get.
BB: You have written a lot of books involving monsters. How do you keep that approach fresh?
NC: By treating the monsters as characters with their own agendas, personal histories, and peccadilloes, as opposed to generic, cardboard cut-outs that are supposed to be 'evil' simply because they aren't human.
BB: Anything exciting coming in #3 that you can hint at, in a non-spoilery manner?
NC: Sh*t gets real, y'all!
For more on Army of Darkness: Furious Road, click here.
Enjoyed this article? Share it!