Oh Look, Neil Gaiman is Part Of Marvel Comics #1000 Too
Bleeding Cool has been talking about Marvel Comics #1000 for a few days now, but today it all went official. And while we managed to grab 55 of the creative teams, there are still another 25 to nail down. Well, we think this might be another one. The comic published in August will be made up of 80 one-page stories, each from a different team, each representing a year between 1939 and 2019, with Al Ewing as the mastermind weaving them all together. And Marvel Comics believe somehow they will sell a million. Could it be Loot Crate? Disney Plus? Something else entirely?
Well, one thing that will help is having Neil Gaiman write one of the pages. And there he is. Under G.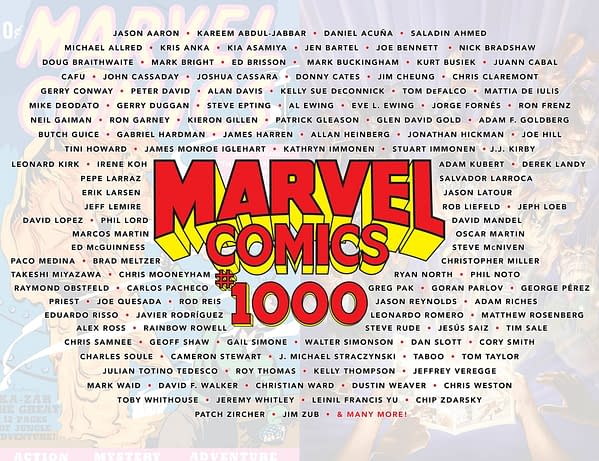 Oh, and will you look who is under B. Mark Buckingham.
Neil Gaiman and Mark Buckingham? Remember, it's just a one-pager… and unlikely to be anything Miraculous. Not yet anyway.
Other people of note who haven't previously been noted include Rob Liefeld, Priest, Joe Quesada, Jonathan Hickman, Mark Bright, Chris Weston… who they are all teamed with, or if they'll be solo – we don't know, as of yet. We will soon though… oh go on, let's run the list. 122 names so far…
Jason Aaron
Kareem Abdul-Jabbar
Daniel Acuna
Saladin Ahmed
Michael Allred
Kris Anka
Kia Asamiya
Jen Bartel
Joe Bennett
Nick Bradshaw
Doug Braithwaite
Mark Bright
Ed Brisson
Mark Buckingham
Kurt Busiek
Juann Cabal
Cafu
John Cassaday
Joshua Cassara
Donny Cates
Jim Cheung
Chris Claremont
Gerry Conway
Peter David
Alan Davis
Kelly Sue Deconnick
Tom Defalco
Mattia De Iulis
Mike Deodato
Gerry Duggan
Steve Epting
Al Ewing
Eve L. Ewing
Jorge Fornes
Ron Frenz
Neil Gaiman
Ron Garney
Kieron Gillen
Patrick Gleason Glen
David Gold
Adam F. Goldberg
Butch Guice
Gabriel Hardman
James Harren
Allan Heinberg
Jonathan Hickman
Joe Hill
Tini Howard
James Monroe Iglehart
Leonard Kirk
Irene Koh
Pepe Larraz
Erik Larsen
Jeff Lemire
David Lopez
Phil Lord
Marcos Martin
Ed McGuinness
Kathryn Immonen
Stuart Immonen
J. J. Kirby
Adam Kubert
Derek Landy
Salvador Larroca
Jason Latour
Rob Liefeld
Jeph Loeb
David Mandel
Oscar Martin
Steve McNiven
Christopher Miller
Ryan North
Phil Noto
Greg Pak
Goran Parlov
George Perez
Jason Reynolds
Adam Riches
Leonardo Romero
Matthew Rosenberg
Steve Rude
Jesus Saiz
Tim Sale
Dan Slott
Cory Smith
Paco Medina
Brad Meltzer
Takeshi Miyazawa
Chris Mooneyham
Raymond Obstfeld
Carlos Pacheco
Priest
Joe Quesada
Rod Reis
Eduardo Risso
Javier Rodriguez
Alex Ross
Rainbow Rowell
Chris Samnee,
Geoff Shaw
Gail Simone
Walter Simonson
Charles Soule
Cameron Stewart
J. Michael Straczynski
Taboo
Tom Taylor
Julian Totino Tedesco
Roy Thomas
Kelly Thompson
Jeffrey Veregge
Mark Waid
David F. Walker
Christian Ward
Dustin Weaver
Chris Weston
Toby Whithouse
Jeremy Whitley
Leinil Francis Yu
Chip Zdarsky
Patch Zircher
Jim Zub
& Many More!