It's a sign, to some degree, that the grinding of the machine is beginning to return to normal. Comic books sell, sell well, sell out, and a second printing can be part of the planned promotional process as well, sometimes using the same guts of a comic book as created for the first printing, set to one side, and then a new cover with new indicia slapped on the top. Publishers policy will vary of course. Here are the solicitations for a few new printings, including the Empyre #1, #2 and #3 printings previously solicited alongside the first issues and then cancelled. With more for Star Wars and Klyo Ren – which gets a fourth printing – Amazing Spider-Man, Die, Power Rangers, Strange Academy and third printings for Thor.
AMAZING SPIDER-MAN #40 2ND PTG COELLO VAR (JAN208947, FOC 7/6/20)
(W) Nick Spencer (A) Iban Coello (CA) Ryan Ottley
• J. Jonah Jameson's new gig has proven to be nothing but trouble for Spidey.
• As you are well aware, JJJ doesn't take "no" for an answer, so even if Spidey is knee-deep in a world-saving situation, JJJ will always be there to "help" him.
• But while Spidey is dealing with JJJ and Chance, something is brewing with Kindred and it can't bode well for Peter.
Rated T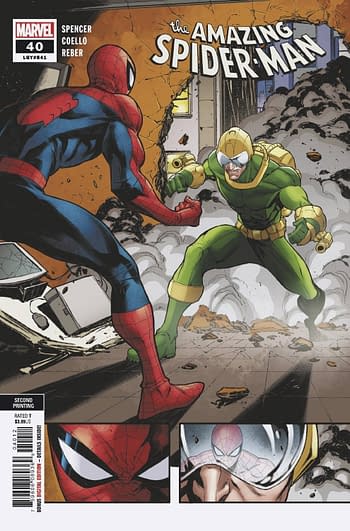 STAR WARS #3 2ND PTG SILVA VAR (JAN208944, FOC 7/6/20)
(W) Charles Soule (A) Jesus Saiz (CA) R. B. Silva
RETURN TO CLOUD CITY!
• The end of the war and the final defeat of the REBEL ALLIANCE are inevitable as the cunning IMPERIAL COMMANDER ZAHRA unleashes her fury against the splintered and scattered survivors.
• But where have the Rebellion's greatest heroes gone when their cause needs them the most?
• LUKE SKYWALKER'S only hope at becoming a JEDI KNIGHT was lost during his battle with DARTH VADER…and so he, PRINCESS LEIA and LANDO CALRISSIAN must return to CLOUD CITY to find it! But Leia has her own covert mission to accomplish there…and Lando's mysterious reason for returning could very well ruin their only chance at success!
Rated T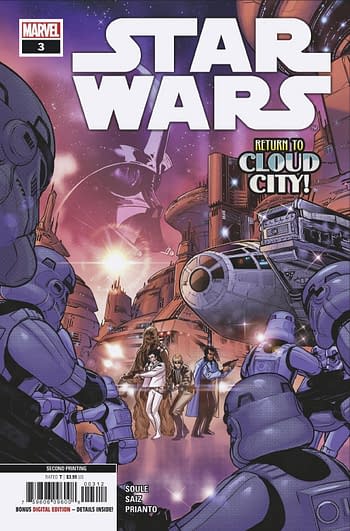 STAR WARS RISE KYLO REN #1 (OF 4) 4TH PTG CRAIN VAR (JAN208945, FOC 7/6/20)
(W) Charles Soule (A) Will Sliney (CA) Clayton Crain
WITH BEN SOLO'S FALL… COMES KYLO REN'S RISE!
Young Ben Solo is legendary Jedi Luke Skywalker's most promising pupil. As the son of Rebel Alliance heroes Leia Organa and Han Solo, as well as Luke's own nephew, Ben has the potential to be a great force for light in the galaxy. But the Skywalker legacy casts a long shadow, the currents of the dark side run deep, and Darth Vader's blood runs in Ben's veins. Voices call from both his past and his future, telling him who he must be. He will shatter, he will be reforged, his destiny will be revealed. Snoke awaits. The Knights of Ren await. Ben Solo's path to his true self begins here.
Rated T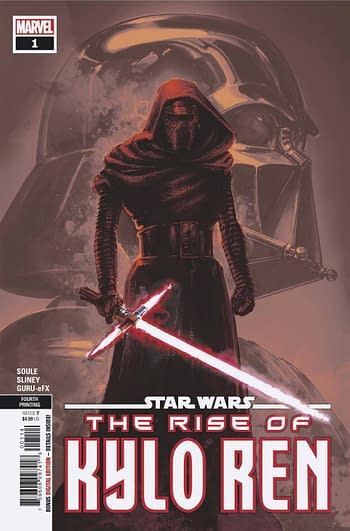 STRANGE ACADEMY #1 2ND PTG HERRERA VAR (JAN209043, FOC 7/6/20)
(W) Skottie Young (A/CA) Humberto Ramos
A SORCERER SCHOOL FOR THE MARVEL UNIVERSE!
The Marvel Universe has mysteriously changed in such an alarming way that Doctor Strange has done what he's avoided for decades; he's opened a school for young sorcerers. Young people from around the world with aptitude in magic have been brought together in New Orleans to study the Mystic Arts under Strange, Brother Voodoo, the Ancient One, the Scarlet Witch, Magik, Hellstrom and ALL your favorite Marvel magicians. But with all the new magical threats, is it too late?!
Rated T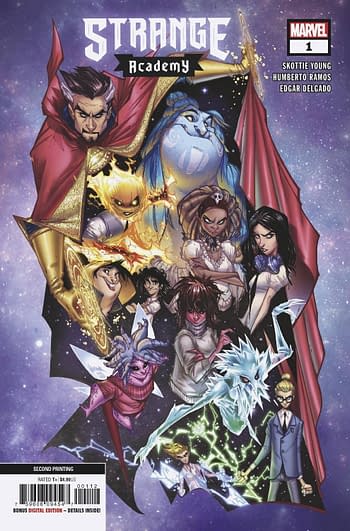 THOR #2 3RD PTG COIPEL VAR (JAN208946, FOC 7/6/20)
(W) Donny Cates (A) Nic Klein (CA) Olivier Coipel
THE BLACK WINTER AND THE DEVOURER KING!
Before him lies the Black Winter; behind, a trail of death wrought by his own hand. The God of Thunder hurtles through the cosmos, searching for the power to save Asgard and all existence. But no power in the heavens can save a god – a king – from his bloody duty.
Rated T+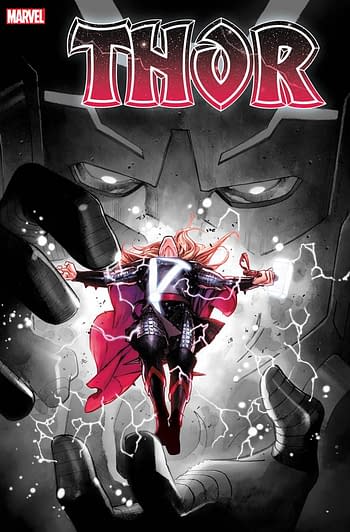 THOR #3 3RD PTG VAR (APR208886, FOC 7/13/20)
(W) Donny Cates (A) Nic Klein
THE BATTLE OF TWO STORMS!
It's Mjolnir versus Stormbreaker as Thor's old ally Beta Ray Bill makes a thunderous entrance! But what has put the two friends at odds – and can the King of Asgard convince the Korbinite to let him continue his bloody mission to save all that is?
Rated T+
THOR #4 2ND PTG VAR (APR208887, FOC 7/13/20)
(W) Donny Cates (A) Nic Klein
THOR'S GREATEST ENEMY – AND THE UNIVERSE'S ONLY SAVIOR – REVEALED!
The Black Winter is coming – the end of the entire vast universe – and only one entity can stop it. The only one who has survived it before, Galactus the World-Eater, has come to Midgard…in search of a herald for the end of everything.
Rated T+
MIGHTY MORPHIN POWER RANGERS #50 (2ND PTG)
(W) Ryan Parrott (A) Daniele Di Nicuolo (CA) Dan Mora
The MIGHTY MORPHIN POWER RANGERS & the OMEGA RANGERS – along with surprise new allies – versus The Anointed in the conclusion to NECESSARY EVIL! ? Everything has been leading to the shocking return of a fan favorite character so big that we needed a LAST PAGE GATEFOLD to contain it! ? But what does it mean now that [SPOILER] is back?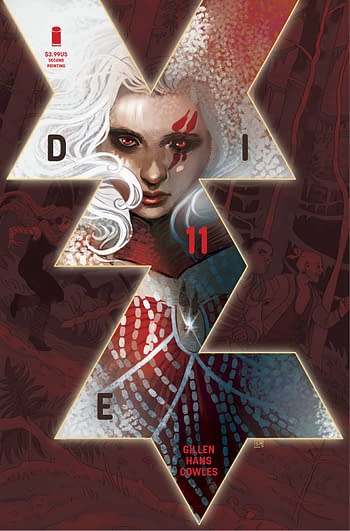 DIE #11 2ND PTG (MR)
NEW STORY ARC "THE GREAT GAME," Part One Half the party is ruling a whole empire. The other half is on the run. Neither has it easy. There is nothing easy in this game, especially when the stakes get shockingly real. The most epic arc of DIE begins as it means to go on: messily.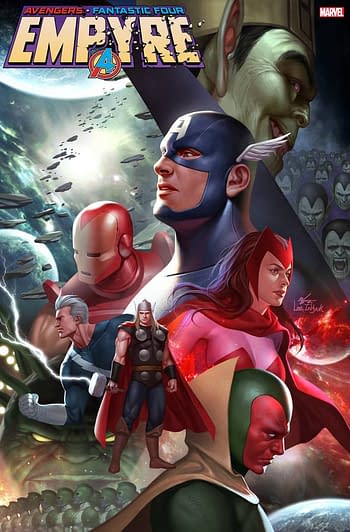 EMPYRE #1 (OF 6) 2ND PTG INHYUK LEE VAR JAN208949
(W) Al Ewing, Dan Slott (A) Valerio Schiti (CA) Jim Cheung
• The Kree and the Skrulls have united under a new emperor – and their war fleet is on a collision course for our world.
• On the moon, the Avengers are ready to strike with the full power of Earth's Mightiest Heroes. Approaching from outer space, the Fantastic Four are seeking a diplomatic solution.
• If the two teams can't work together to save the day, things can only get worse…
Rated T+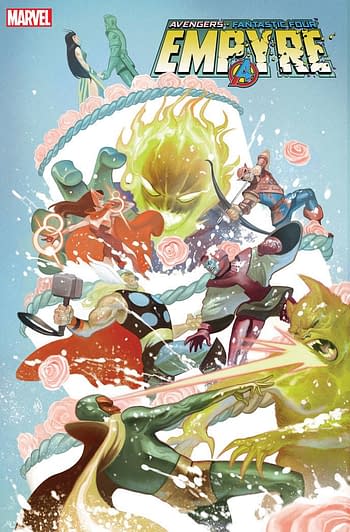 EMPYRE #2 (OF 6) 2ND PTG VAR JAN208950
(W) Al Ewing, Dan Slott (A) Valerio Schiti (CA) Jim Cheung
• Three Avengers are trapped on the moon as war breaks out on Earth – and an ancient enemy reveals a scheme decades in the making!
• Meanwhile, the Fantastic Four fight against a creeping horror that might destroy them all – starting with the Thing!
• Captain Marvel is their last, best hope… But if Carol Danvers survives, what will she become?
Rated T+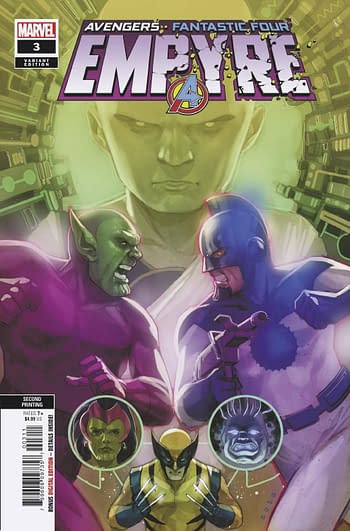 EMPYRE #3 (OF 6) 2ND PTG VAR JAN208951
(W) Al Ewing, Dan Slott (A) Valerio Schiti (CA) Jim Cheung
• The tag-team action comes home!
• Wakanda is the battleground – as the Avengers and the FF unite to prevent a Vibranium-powered threat to all life as we know it!
• A long-lost Avenger returns to active duty – but will that be enough to turn the tide?
• And in space, interstellar intrigue threatens the fragile Kree/Skrull alliance…and the repercussions might just doom planet Earth!
Rated T+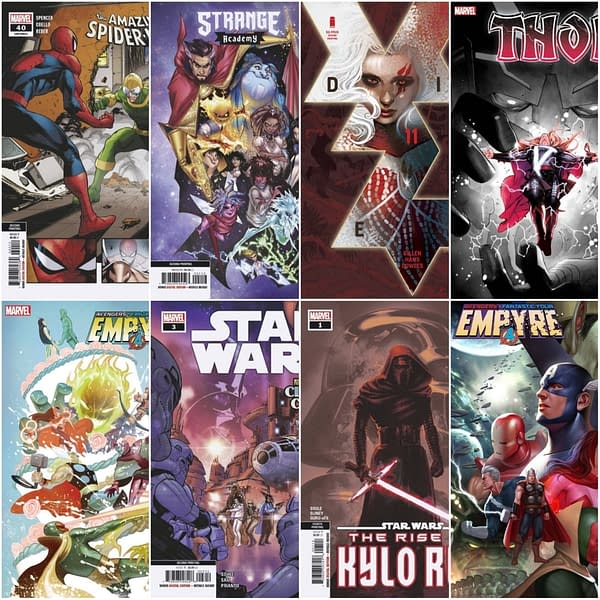 Enjoyed this article? Share it!