Nightwing Finds a New Place to Display His Logo in Nightwing #50
Yesterday, Bleeding Cool ran some Toronto-based gossip regarding what was coming for Nightwing in the DC Universe.
Well, this released cover for Nightwing #50 may back that up a little…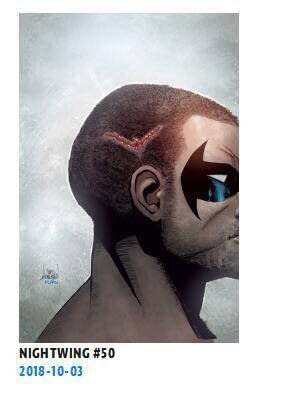 That's a very specifically shaped scar, isn't it? And a rather short haircut — just like Jason Todd is getting as well. But don't expect Nightwing to be going to Sanctuary. It's not that kind of storyline.
Here are some upcoming solicitations…
BATMAN #55
(W) Tom King (A/CA) Tony S. Daniel
The KGBeast lives! The Russian super-assassin is back-but under whose orders? Does he have a specific mission, or is this simply some leftover Cold War mayhem? Nyet, comrade-it has to do with Bruce Wayne's recent court case involving Mr. Freeze. Something is rotten in Gotham, and you can still smell it, even if it's on ice! In Shops: Sep 19, 2018 SRP: $3.99
NIGHTWING #50
(W) Ben Percy (A) Chris Mooneyham, Travis Moore (CA) Mike Perkins
"Knight Terrors" begins here! The big issue #50 kicks off an epic four-part story that brings together critical moments of fear and doubt from the past and the present. A young Dick Grayson hopes to escape the shadow of the Bat and earn the title of Nightwing, while an older Dick Grayson must deal with a blow he did not see coming. A common enemy unites the timelines: the Scarecrow, as you've never seen him before! This story goes deep into the mythology and nightmarish development of Dr. Jonathan Crane.In Shops: Oct 03, 2018 Final Orders Due: Sep 10, 2018 SRP: $4.99
NIGHTWING #51 FOIL
(W) Ben Percy (A) Chris Mooneyham, Travis Moore (CA) Mike Perkins
And while Nightwing struggles to uncover the truth behind the "fear germ" that is killing people in their sleep, he must also try to overcome his own sudden struggles with heights and vertigo. He has lost his primary skill set as a hero and will have to focus on his brilliance as a detective instead. And a distracting love triangle certainly isn't helping him focus…This new storyline spins out of events in BATMAN #55. Don't miss the start of a new direction in Nightwing's crimefighting career! In Shops: Oct 17, 2018 Final Orders Due: Sep 17, 2018 SRP: $3.99
NIGHTWING #52
(W) Ben Percy (A) Chris Mooneyham (CA) Mike Perkins
Who is Dick Grayson? That's the question haunting him after the devastating injury he suffered in BATMAN #55. Now, as he continues to struggle physically and emotionally, how can he stand against the terrifying "fear germ" unleashed by the Scarecrow? In Shops: Nov 07, 2018 SRP: $3.99