Nightwing #71 Review: This Is All as Dumb as It Sounds
For some time now, the erstwhile ward of the Bat has been living a different life. His memories of his time with Bruce Wayne were erased by a sniper's bullet, and he's been living in Bludhaven as Ric Grayson, cabbie by day and reluctant hero at night, his muscle memory from being a hero/spy/adventurer driving him towards screams and sirens as many flying things are drawn to light.
This has been, in a word, stupid. His on-again-off-again relationship with Barbara Gordon is off the table, replaced by a plucky African-American bartender archaically called Bea. "Ric" has been drawn in to fight alongside four cops who found an old stash house and became "Nightwings," bootleg versions of the hero we've known, down to borrowing the old Titans-era disco collar. Oh, and plus, his grandfather is an immortal assassin for the Court of Owls who tried and failed to install a false life history on top of "Ric's" memories like an off-brand operating system.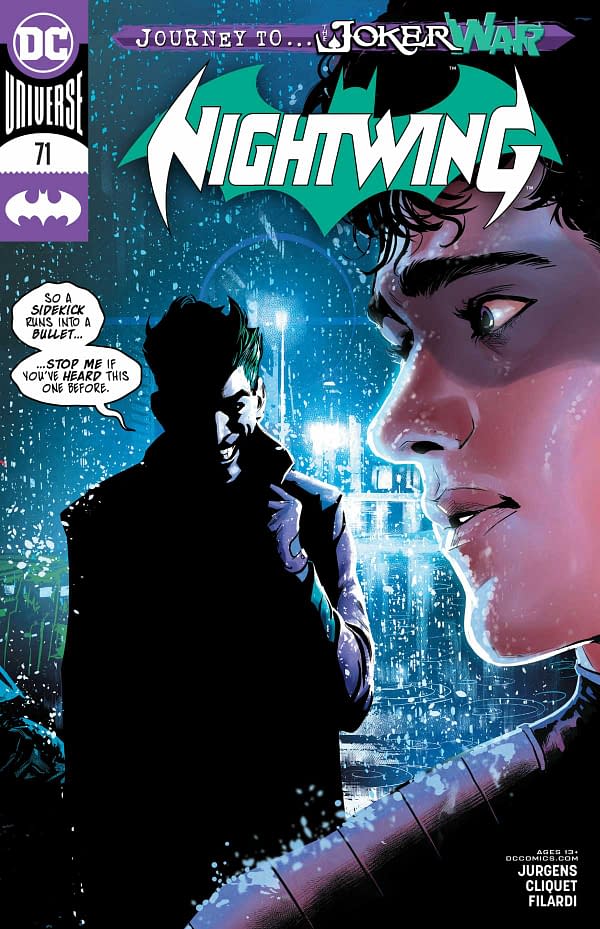 All of this is as dumb as it sounds.
Now, "Ric" has to deal with the Joker coming to town and knowing all the business ("My boy … I have always known"), threatening to crowbar Bea (although, at his best, the Joker should not be a match for even a sleepwalking Grayson in terms of melee combat, let alone protecting a single non-combatant in a wide-open bar). Whatever. Sure. The Joker can outmaneuver "Ric" Grayson, who apparently is much stupider. Run that play.
This plays out through a classic distraction play from … just gotta check these notes … a behemoth called Tusk who looks like the love child of the Rhino and Blockbuster, but uglier. Sure, let's just go with it. There's an entirely meaningless fight scene that looks like it takes less than five minutes in storytime (including travel time), leading to the most Merry Melodies-influenced ending … guh.
You can't lay any of the blame for this with Cliquet, Filardi, or Andworld. They all showed up for the job. This Dan Jurgens script, however … ugh. We all know we're just treading water and waiting for the return of Dick Grayson as we expect (and the licensing department) to see him, so all this heroic nonsense is tedious. Make it stop. RATING: NO. JUST … NO.
NIGHTWING #71
variant written by DAN JURGENS
art by RONAN CLIQUET and TRAVIS MOORE
Having a chat with the Clown Prince of Crime is scary enough … being captured, tied down, and forced to listen to him is something else! Especially when you're Ric Grayson, and The Joker just wants you out of action so he can get to the Dark Knight. With no idea what his history with The Joker might be, Ric doesn't find this situation one bit funny.