Ninja-K #6 Review: Convaluted Set-Up Leads to Concerning Questions
[rwp-review-recap id="0"]
Ninja-K is sent to round up is back-up ninja from a mysterious location outside Mexico City. Little does Colin know that his replacement has met up with the Jonin, former trainer of the MI-6's Ninja Progamme. On top of that, numerous other dangerous rogues are lurking in the outskirts of Mexico City.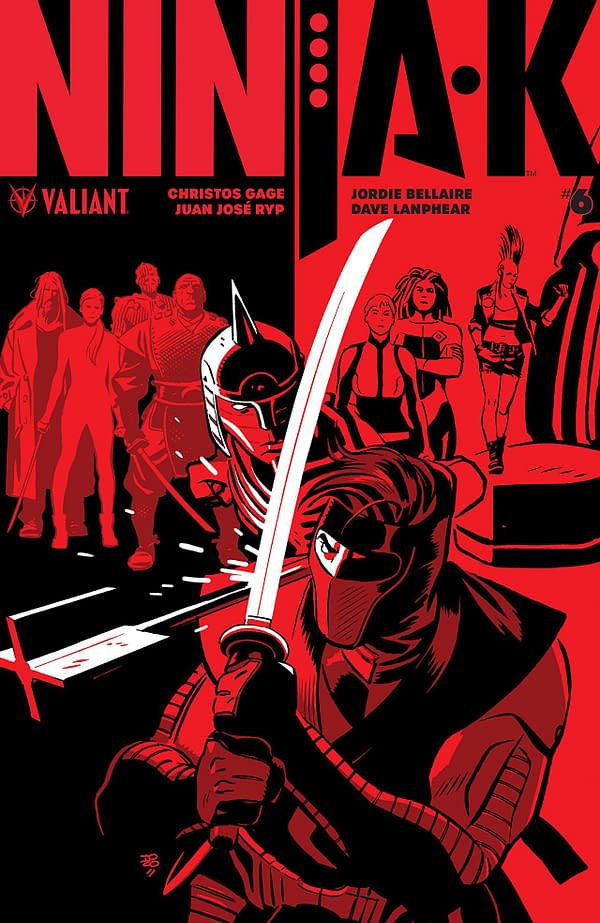 Ninja-K #6 kicks off the new arc with another threat coming out of MI-6 itself, even if this one has spun out into a separate organization.
The frontrunning dilemma in this comic is that premise. Ninja-K #6 relies on a lot of Valiant Universe history to set up its story, and part of it is the fact that the Armor Hunters, an alien species, wrecked Mexico City before one of its number, Ging-R, was accepted into Unity.
So, Mexico was all-but destroyed, and there are rumors that the government has aligned itself with the drug cartels. Plus, the operation Colin is investigating seems to be backed by the Mexican government.
The comic seems to have something against Mexico, and I don't get why it's the whipping boy of this narrative. Colin even comments on how he can't really blame the nation for taking some precautions to protect itself in the future; there's still wreckage scattered across Mexico City. So, Ninja-K just looks like the imperialistic agent of the UK sent to kick Mexico while it's down.
The comic doesn't seem especially concerned with this line of question, as it quickly turns into an introduction of a Valiant-equivalent of the Legion of Doom. The story focuses on that as opposed to any of the prior elements it set up.
That said, the parade of villains in the last third is cool, and I can't fault anyone for just enjoying that.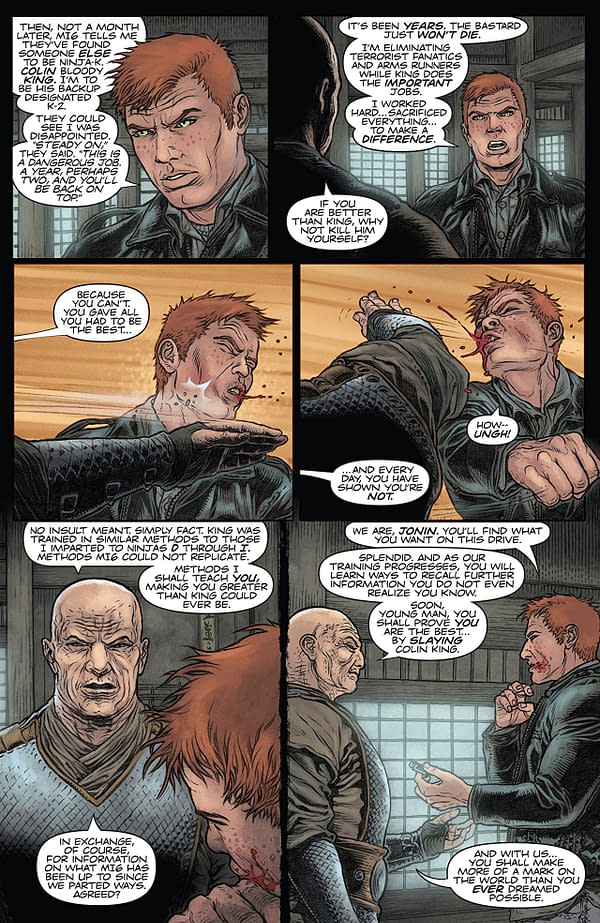 Juan Jose Ryp's artwork looks quite good throughout the comic. Ninja-K's costume especially looks good in this book. Faces can look a bit odd at times, but that problem is rare. There is a lot of detailing, and the action scenes look solid. Jordie Bellaire provides the color work, and her tried-and-true hand helps make this comic look all the better.
Ninja-K #6 is almost certainly the weakest issue of the series thus far. It shows the danger of using a highly-elaborate premise for your big superhero/supervillain smash up. The story may elaborate further on the ideas behind its premise, but this issue just leaves it hanging while diving into Colin fighting a montage of Valiant rogues. That said, it is still fun, and Juan Jose Ryp and Jordie Bellaire make the comic look damn good. As such, I can still recommend it, even if it has its flaws.
[rwp-review-ratings id="0"]
[rwp-review-form id="0"]