No Drop Off From #1 To #2 From September To October For DC Comics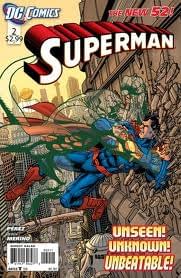 Here's the top 100 best selling comic books and graphic novels in the month of October in comic stores through Diamond Comic Distributors. This does not include UK sales, and items with an asterisk are returnable by the retailer for a small fee, and so have been reduced by DIamond by 10% to compensate.
Superman #2 seems to the most prominent loser in October, slipping from fourth place in September to tenth place, but only because Justice League, Batman, Action Comics, Green Lantern, Flash and Detective Comics retain their dominance at the top of the charts despite two heavily hyped Marvel #1 relaunches of their own, and the conclusion of Marvel's big event.
But those three titles are the only books Marvel have in the top twenty, and it's only at position 22 that we see the final issue of Uncanny X-Men (before the November relaunch). This is nothing more than a rout by DC on Marvel's marketshare and chart position.
At the other end of the chart, last month, we pointed out that OMAC, written by co-publisher Dan DiDio was the worst selling of them all (although still at a respectable 82nd position). It's now dropped to 84, and a few other titles have dropped further, Static Shock, Blackhawks and my favourite, Men Of War. But the fact they remain on this chart at all is a miracle, and sales have hardly slipped, in comparison with the other books from issue 1 to 2, across the board.
This is unheard of in modern comics, where a drop by 50% from issue 1 to 2 is commonplace. With the whole market rising by 7-8% since last month, that could well mean that no DC book has actually lost any sales from #1 to #2 – indeed, some have put on sales .And Marvel may have lost marketshare – but not necessarily sales.
As for DC's increased grab on marketshare over last month, it doeseem possible this could be down to second print sales. Aquaman #1 and Green Lantern #1 both make it onto the chart for that, but odds are there are plenty of second prints from #101 down…
What a world.
TOP 100 COMIC BOOKS Based on Total Unit Sales of Products Invoiced in October 2011
| QTY RANK | DOLLAR RANK | INDEX | ITEM CODE | DESCRIPTION | PRICE | VENDOR |
| --- | --- | --- | --- | --- | --- | --- |
| 1 | 1 | 104.80 | AUG110160-M | JUSTICE LEAGUE #2 | $3.99 | DC |
| 2 | 3 | 100.00 | AUG110186-M | BATMAN #2 | $2.99 | DC |
| 3 | 2 | 89.23 | AUG110179-M | ACTION COMICS #2 | $3.99 | DC |
| 4 | 5 | 82.55 | AUG110202-M | GREEN LANTERN #2 | $2.99 | DC |
| 5 | 8 | 66.19 | AUG110167-M | FLASH #2 | $2.99 | DC |
| 6 | 7 | 64.25 | AUG110190 | DETECTIVE COMICS #2 [*] | $2.99 | DC |
| 7 | 6 | 61.75 | AUG110584-M | INCREDIBLE HULK #1 | $3.99 | MAR |
| 8 | 9 | 55.59 | AUG110653-M | WOLVERINE AND X-MEN #1 | $3.99 | MAR |
| 9 | 4 | 55.44 | AUG110568-M | FEAR ITSELF #7 | $4.99 | MAR |
| 10 | 10 | 54.65 | AUG110182 | SUPERMAN #2 [*] | $2.99 | DC |
| 11 | 11 | 52.45 | AUG110191 | BATMAN THE DARK KNIGHT #2 [*] | $2.99 | DC |
| 12 | 12 | 51.57 | AUG110194 | BATMAN AND ROBIN #2 [*] | $2.99 | DC |
| 13 | 38 | 45.85 | AUG110166 | WONDER WOMAN #2 | $2.99 | DC |
| 14 | 13 | 43.63 | AUG110195 | BATGIRL #2 [*] | $2.99 | DC |
| 15 | 45 | 43.14 | AUG110196 | BATWOMAN #2 | $2.99 | DC |
| 16 | 48 | 41.82 | AUG110226 | TEEN TITANS #2 [*] | $2.99 | DC |
| 17 | 50 | 41.59 | AUG110206 | GREEN LANTERN NEW GUARDIANS #2 | $2.99 | DC |
| 18 | 16 | 41.32 | AUG110165 | AQUAMAN #2 [*] | $2.99 | DC |
| 19 | 17 | 40.97 | AUG110205 | GREEN LANTERN CORPS #2 [*] | $2.99 | DC |
| 20 | 20 | 38.71 | AUG110207 | RED LANTERNS #2 [*] | $2.99 | DC |
| 21 | 23 | 38.13 | AUG110200 | NIGHTWING #2 [*] | $2.99 | DC |
| 22 | 14 | 34.92 | AUG110662 | UNCANNY X-MEN #544 | $3.99 | MAR |
| 23 | 27 | 34.50 | AUG110164 | JUSTICE LEAGUE INTERNATIONAL #2 [*] | $2.99 | DC |
| 24 | 37 | 34.49 | AUG110582-M | FEAR ITSELF FEARLESS #1 | $2.99 | MAR |
| 25 | 15 | 34.46 | AUG110597 | AMAZING SPIDER-MAN #671 | $3.99 | MAR |
| 26 | 18 | 34.16 | AUG110605-M | AVENGERS #18 | $3.99 | MAR |
| 27 | 58 | 34.00 | AUG110211 | SWAMP THING #2 | $2.99 | DC |
| 28 | 19 | 33.56 | AUG110598 | AMAZING SPIDER-MAN #672 | $3.99 | MAR |
| 29 | 28 | 33.18 | AUG110198 | CATWOMAN #2 [*] | $2.99 | DC |
| 30 | 29 | 33.09 | AUG110210 | JUSTICE LEAGUE DARK #2 [*] | $2.99 | DC |
| 31 | 22 | 32.35 | AUG110651-M | X-MEN REGENESIS #1 | $3.99 | MAR |
| 32 | 21 | 32.32 | AUG110614-M | NEW AVENGERS #17 | $3.99 | MAR |
| 33 | 30 | 32.04 | AUG110184 | SUPERGIRL #2 [*] | $2.99 | DC |
| 34 | 24 | 31.94 | AUG110649-M | X-MEN SCHISM #5 | $3.99 | MAR |
| 35 | 31 | 30.99 | AUG110199 | RED HOOD AND THE OUTLAWS #2 [*] | $2.99 | DC |
| 36 | 32 | 30.64 | AUG110172 | GREEN ARROW #2 [*] | $2.99 | DC |
| 37 | 25 | 30.46 | AUG110596 | ULTIMATE COMICS SPIDER-MAN #3 | $3.99 | MAR |
| 38 | 26 | 30.39 | AUG110671-M | UNCANNY X-FORCE #16 | $3.99 | MAR |
| 39 | 35 | 29.97 | AUG110183 | SUPERBOY #2 [*] | $2.99 | DC |
| 40 | 49 | 28.79 | AUG110639 | FF #10 | $2.99 | MAR |
| 41 | 51 | 28.09 | AUG110640 | FF #11 | $2.99 | MAR |
| 42 | 42 | 27.89 | AUG110212 | ANIMAL MAN #2 [*] | $2.99 | DC |
| 43 | 41 | 27.74 | AUG110201 | BIRDS OF PREY #2 [*] | $2.99 | DC |
| 44 | 79 | 27.56 | AUG110217 | STORMWATCH #2 | $2.99 | DC |
| 45 | 47 | 25.87 | AUG110221 | SUICIDE SQUAD #2 [*] | $2.99 | DC |
| 46 | 33 | 25.75 | AUG110595 | ULTIMATE COMICS X-MEN #2 | $3.99 | MAR |
| 47 | 34 | 25.53 | AUG110573-M | MIGHTY THOR #7 | $3.99 | MAR |
| 48 | 36 | 25.10 | AUG110611-M | SECRET AVENGERS #18 | $3.99 | MAR |
| 49 | 52 | 24.93 | AUG110174 | SAVAGE HAWKMAN #2 [*] | $2.99 | DC |
| 50 | 53 | 24.65 | AUG110231 | LEGION OF SUPER HEROES #2 [*] | $2.99 | DC |
| 51 | 39 | 23.72 | AUG110660-M | X-MEN #19 | $3.99 | MAR |
| 52 | 40 | 23.66 | AUG110594 | ULTIMATE COMICS ULTIMATES #3 | $3.99 | MAR |
| 53 | 54 | 23.30 | AUG110219 | DEATHSTROKE #2 [*] | $2.99 | DC |
| 54 | 55 | 22.96 | AUG110171 | FURY OF FIRESTORM THE NUCLEAR MEN #2 [*] | $2.99 | DC |
| 55 | 67 | 22.86 | AUG110625 | DAREDEVIL #5 | $2.99 | MAR |
| 56 | 44 | 22.85 | AUG110667 | WOLVERINE #17 XREGG | $3.99 | MAR |
| 57 | 46 | 22.46 | AUG110578 | INVINCIBLE IRON MAN #509 | $3.99 | MAR |
| 58 | 57 | 22.31 | AUG110189 | BATWING #2 [*] | $2.99 | DC |
| 59 | 59 | 22.26 | AUG110230 | LEGION LOST #2 [*] | $2.99 | DC |
| 60 | 69 | 22.18 | AUG110232 | LEGION SECRET ORIGIN #1 | $2.99 | DC |
| 61 | 71 | 22.08 | AUG110658 | X-MEN LEGACY #257 | $2.99 | MAR |
| 62 | 60 | 22.04 | AUG110216 | DEMON KNIGHTS #2 [*] | $2.99 | DC |
| 63 | 62 | 21.71 | AUG110175 | DC UNIVERSE PRESENTS #2 [*] | $2.99 | DC |
| 64 | 72 | 21.14 | AUG110033-M | BTVS SEASON 9 FREEFALL #2 | $2.99 | DAR |
| 65 | 64 | 21.10 | AUG110213 | FRANKENSTEIN AGENT OF SHADE #2 [*] | $2.99 | DC |
| 66 | 74 | 20.94 | AUG110197 | HUNTRESS #1 | $2.99 | DC |
| 67 | 65 | 20.83 | AUG110218 | GRIFTER #2 [*] | $2.99 | DC |
| 68 | 43 | 20.80 | AUG110225 | ALL STAR WESTERN #2 [*] | $3.99 | DC |
| 69 | 66 | 20.56 | AUG110228 | BLUE BEETLE #2 [*] | $2.99 | DC |
| 70 | 68 | 20.13 | AUG110215 | RESURRECTION MAN #2 [*] | $2.99 | DC |
| 71 | 70 | 20.00 | AUG110170 | CAPTAIN ATOM #2 [*] | $2.99 | DC |
| 72 | 56 | 18.92 | AUG110659 | ASTONISHING X-MEN #43 | $3.99 | MAR |
| 73 | 75 | 18.83 | AUG110229 | HAWK AND DOVE #2 [*] | $2.99 | DC |
| 74 | 122 | 18.80 | AUG110607 | AVENGERS 1959 #1 | $2.99 | MAR |
| 75 | 76 | 18.77 | AUG110173 | MISTER TERRIFIC #2 [*] | $2.99 | DC |
| 76 | 85 | 18.71 | AUG110601 | VENOM #8 | $2.99 | MAR |
| 77 | 86 | 18.58 | AUG110621 | CAPTAIN AMERICA AND BUCKY #623 | $2.99 | MAR |
| 78 | 84 | 18.43 | AUG110547 | WALKING DEAD #90 (MR) | $2.99 | IMA |
| 79 | 87 | 18.18 | JUL110554 | WALKING DEAD #89 (MR) | $2.99 | IMA |
| 80 | 77 | 18.11 | AUG110220 | VOODOO #2 | $2.99 | DC |
| 81 | 78 | 18.06 | AUG110214 | I VAMPIRE #2 [*] | $2.99 | DC |
| 82 | 90 | 17.77 | AUG110208-M | SHADE #1 | $2.99 | DC |
| 83 | 63 | 17.64 | AUG110192-M | BATMAN ODYSSEY VOL 2 #1 | $3.99 | DC |
| 84 | 82 | 17.07 | AUG110222 | OMAC #2 [*] | $2.99 | DC |
| 85 | 83 | 16.89 | AUG110227 | STATIC SHOCK #2 [*] | $2.99 | DC |
| 86 | 88 | 16.55 | AUG110223 | BLACKHAWKS #2 [*] | $2.99 | DC |
| 87 | 61 | 16.41 | AUG110224 | MEN OF WAR #2 [*] | $3.99 | DC |
| 88 | 91 | 16.38 | JUL110191-M | AQUAMAN #1 | $2.99 | DC |
| 89 | 92 | 16.27 | AUG110579 | JOURNEY INTO MYSTERY #629 | $2.99 | MAR |
| 90 | 95 | 16.07 | AUG110580 | JOURNEY INTO MYSTERY #630 | $2.99 | MAR |
| 91 | 94 | 15.98 | AUG110674-M | DEADPOOL #45 | $2.99 | MAR |
| 92 | 73 | 15.94 | AUG110627 | MOON KNIGHT #6 | $3.99 | MAR |
| 93 | 96 | 15.94 | JUL110218-M | GREEN LANTERN #1 | $2.99 | DC |
| 94 | 97 | 15.67 | AUG110622-M | HULK #42 | $2.99 | MAR |
| 95 | 98 | 15.59 | AUG110673 | DEADPOOL #44 | $2.99 | MAR |
| 96 | 99 | 15.30 | AUG110185 | PENGUIN PAIN AND PREJUDICE #1 | $2.99 | DC |
| 97 | 102 | 15.29 | AUG110682 | SUPERIOR #5 (MR) | $2.99 | MAR |
| 98 | 100 | 15.22 | JUL118205-M | DETECTIVE COMICS #1 | $2.99 | DC |
| 99 | 104 | 14.99 | AUG110626 | PUNISHER #4 | $2.99 | MAR |
| 100 | 106 | 14.91 | AUG110683 | SUPERIOR #6 (MR) | $2.99 | MAR |
TOP 100 GRAPHIC NOVELS Based on Total Unit Sales of Products Invoiced in October 2011
| QTY RANK | DOLLAR RANK | INDEX | ITEM CODE | DESCRIPTION | PRICE | VENDOR |
| --- | --- | --- | --- | --- | --- | --- |
| 1 | 3 | 3.27 | AUG110244 | FLASHPOINT HC | $22.99 | DC |
| 2 | 1 | 2.71 | AUG110454 | WALKING DEAD HC VOL 07 (MR) | $34.99 | IMA |
| 3 | 5 | 2.50 | JUN110266 | BATMAN ARKHAM CITY HC | $22.99 | DC |
| 4 | 14 | 2.40 | JUL110296 | UNWRITTEN TP VOL 04 LEVIATHAN (MR) | $14.99 | DC |
| 5 | 59 | 2.04 | JUN118158 | STAR WARS THE CLONE WARS STRANGE ALLIES TP | $7.99 | DAR |
| 6 | 12 | 1.94 | JUL110284 | AMERICAN VAMPIRE TP VOL 01 (MR) | $19.99 | DC |
| 7 | 30 | 1.93 | AUG110455 | WALKING DEAD SURVIVORS GUIDE TP | $12.99 | IMA |
| 8 | 6 | 1.81 | JUL110247 | ALL STAR SUPERMAN TP | $29.99 | DC |
| 9 | 13 | 1.72 | JUL110881 | ALAN MOORE NEONOMICON TP (MR) | $19.99 | AVA |
| 10 | 10 | 1.65 | AUG110700-M | ULT COMICS SPIDER-MAN DOSM PREM HC | $24.99 | MAR |
| 11 | 11 | 1.64 | JUL111057 | DANIEL CLOWES DEATH-RAY HC (MR) | $19.95 | DRA |
| 12 | 40 | 1.60 | JUN110034 | AXE COP TP VOL 02 BAD GUY EARTH | $12.99 | DAR |
| 13 | 31 | 1.50 | AUG110713 | CAPTAIN AMERICA TRIAL OF CAPTAIN AMERICA TP | $19.99 | MAR |
| 14 | 45 | 1.49 | AUG110723 | INVINCIBLE IRON MAN TP VOL 07 MY MONSTERS | $15.99 | MAR |
| 15 | 43 | 1.43 | AUG110734 | X-23 TP VOL 01 KILLING DREAM | $16.99 | MAR |
| 16 | 38 | 1.35 | AUG110732 | ULTIMATE COMICS AVENGERS BLADE VS AVENGERS TP | $19.99 | MAR |
| 17 | 20 | 1.31 | JUL111296 | TWILIGHT MANGA GN VOL 02 | $19.99 | HAC |
| 18 | 52 | 1.31 | AUG110725 | VENOM TP LETHAL PROTECTOR | $16.99 | MAR |
| 19 | 24 | 1.28 | JUL110887 | FREAKANGELS TP VOL 06 (MR) | $19.99 | AVA |
| 20 | 25 | 1.28 | JUN110040 | BLADE OF THE IMMORTAL TP VOL 24 MASSACRE | $19.99 | DAR |
| 21 | 32 | 1.28 | AUG110719 | FANTASTIC FOUR BY JONATHAN HICKMAN TP VOL 04 | $19.99 | MAR |
| 22 | 84 | 1.27 | JUL068351 | WALKING DEAD TP VOL 01 DAYS GONE BYE | $9.99 | IMA |
| 23 | 21 | 1.27 | JUL110251-M | BATMAN THE LONG HALLOWEEN TP | $24.99 | DC |
| 24 | 44 | 1.26 | AUG110726 | RED HULK PLANET RED HULK TP | $19.99 | MAR |
| 25 | 53 | 1.23 | JUL110250 | BATMAN LIFE AFTER DEATH TP | $14.99 | DC |
| 26 | 105 | 1.17 | JUL110848 | SONIC THE HEDGEHOG ARCHIVES TP VOL 16 | $7.95 | ARC |
| 27 | 36 | 1.15 | AUG110727 | SHIELD TP ARCHITECTS OF FOREVER | $19.99 | MAR |
| 28 | 27 | 1.14 | JUN110269 | BATMAN EYE OF THE BEHOLDER HC | $22.99 | DC |
| 29 | 39 | 1.08 | AUG110906 | INCORRUPTIBLE TP VOL 05 | $16.99 | BOO |
| 30 | 42 | 1.06 | JUL110257 | GOTHAM CENTRAL TP BOOK 03 ON THE FREAK | $19.99 | DC |
| 31 | 90 | 1.05 | JUN110039 | GATE 7 TP VOL 01 | $10.99 | DAR |
| 32 | 68 | 1.04 | AUG111274 | YOTSUBA & ! GN VOL 10 | $11.99 | HAC |
| 33 | 7 | 1.03 | JUN110343 | 100 BULLETS HC BOOK 01 (MR) | $49.99 | DC |
| 34 | 33 | 1.01 | AUG110702-M | ULTIMATE COMICS X ORIGINS PREM HC | $24.99 | MAR |
| 35 | 64 | 0.97 | AUG110824 | SONIC THE HEDGEHOG LEGACY VOL 01 | $14.95 | ARC |
| 36 | 74 | 0.94 | AUG111264 | BLACK BUTLER TP VOL 07 | $11.99 | HAC |
| 37 | 54 | 0.92 | JUL110748 | DARK TOWER FALL OF GILEAD TP | $19.99 | MAR |
| 38 | 87 | 0.90 | JUN110041 | GANTZ TP VOL 19 | $12.99 | DAR |
| 39 | 51 | 0.89 | MAY110030 | SAVAGE SWORD OF KULL TP VOL 02 | $19.99 | DAR |
| 40 | 34 | 0.88 | JUL111007 | WARLORD OF MARS TP | $24.99 | DYN |
| 41 | 118 | 0.87 | JUL111277 | BATTLE ANGEL ALITA LAST ORDER TP VOL 15 | $9.99 | VIZ |
| 42 | 28 | 0.87 | AUG110721 | MARVEL FIRSTS 1960S TP | $29.99 | MAR |
| 43 | 17 | 0.86 | JUN110278 | JUSTICE LEAGUE GENERATION LOST HC VOL 02 | $39.99 | DC |
| 44 | 97 | 0.86 | AUG110730 | THOR TRIALS OF LOKI TP | $16.99 | MAR |
| 45 | 119 | 0.86 | JUL111264 | VAMPIRE KNIGHT TP VOL 13 | $9.99 | VIZ |
| 46 | 60 | 0.83 | AUG110716 | DOCTOR STRANGE TP STRANGE TALES | $29.99 | MAR |
| 47 | 89 | 0.81 | APR110444 | WALKING DEAD TP VOL 14 NO WAY OUT (MR) | $14.99 | IMA |
| 48 | 66 | 0.80 | MAY110722-M | FANTASTIC FOUR 1234 PREM HC | $19.99 | MAR |
| 49 | 70 | 0.76 | JUL110727 | SPIDER-MAN RETURN OF ANTI-VENOM PREM HC | $19.99 | MAR |
| 50 | 49 | 0.76 | JUN110271 | BIRDS OF PREY HC VOL 02 DEATH OF ORACLE | $24.99 | DC |
| 51 | 50 | 0.75 | MAY110190 | NEW TEEN TITANS GAMES HC | $24.99 | DC |
| 52 | 9 | 0.75 | MAY110718-M | MMW INCREDIBLE HULK HC VOL 06 | $59.99 | MAR |
| 53 | 131 | 0.75 | JUL111278 | ROSARIO VAMPIRE SEASON II TP VOL 06 | $9.99 | VIZ |
| 54 | 55 | 0.74 | AUG110705 | PUNISHERMAX PREM HC FRANK | $24.99 | MAR |
| 55 | 78 | 0.73 | JUL110278 | MARZI TP | $17.99 | DC |
| 56 | 102 | 0.73 | AUG111271 | SOUL EATER TP VOL 07 | $11.99 | HAC |
| 57 | 98 | 0.72 | SEP088204 | WALKING DEAD TP VOL 02 MILES BEHIND US (NEW PTG) | $14.99 | IMA |
| 58 | 63 | 0.71 | JUN110280 | SUPERMAN BATMAN SORCERER KINGS HC | $22.99 | DC |
| 59 | 8 | 0.71 | MAY110720-M | MMW ATLAS ERA STRANGE TALES HC VOL 05 | $64.99 | MAR |
| 60 | 57 | 0.71 | JUL110715-M | MMW AMAZING SPIDER-MAN TP VOL 06 | $24.99 | MAR |
| 61 | 22 | 0.70 | AUG110382 | BLOOM COUNTY COMPLETE LIBRARY HC VOL 05 | $39.99 | IDW |
| 62 | 142 | 0.69 | JUL111267 | BAKUMAN TP VOL 07 | $9.99 | VIZ |
| 63 | 61 | 0.68 | AUG111018 | HARK A VAGRANT HC (MR) | $19.95 | DRA |
| 64 | 85 | 0.68 | AUG110967 | WARLORD OF MARS DEJAH THORIS TP VOL 01 COLOSSUS OF MARS (MR) | $16.99 | DYN |
| 65 | 108 | 0.67 | DEC058055 | BATMAN DARK KNIGHT RETURNS TP | $14.99 | DC |
| 66 | 144 | 0.67 | AUG110731 | WARRIORS THREE TP DOG DAY AFTERNOON | $15.99 | MAR |
| 67 | 19 | 0.67 | APR110207 | LEGION OF SUPER HEROES THE CURSE DELUXE ED | $49.99 | DC |
| 68 | 37 | 0.67 | APR111034 | PRINCE VALIANT HC VOL 04 1943-1944 | $29.99 | FAN |
| 69 | 4 | 0.66 | MAR110352 | ABSOLUTE IDENTITY CRISIS HC | $99.99 | DC |
| 70 | 92 | 0.66 | JUL110260 | SUPERMAN MON EL TP VOL 02 MAN OF VALOR | $17.99 | DC |
| 71 | 220 | 0.65 | JUL111183 | SMURFS GN VOL 08 SMURF APPRENTICE | $5.99 | NBM |
| 72 | 69 | 0.65 | MAY110280 | WORLD OF WARCRAFT CURSE OF THE WORGEN HC | $22.99 | DC |
| 73 | 113 | 0.64 | JUL110263 | VICTORIAN UNDEAD II TP SHERLOCK HOLMES VS DRACULA | $14.99 | DC |
| 74 | 65 | 0.64 | AUG110709 | WOLVERINE WOLVERINES REVENGE PREM HC | $24.99 | MAR |
| 75 | 2 | 0.64 | MAY110714-M | X-MEN CLAREMONT AND LEE OMNIBUS HC VOL 01 | $125.00 | MAR |
| 76 | 35 | 0.61 | JUL111154 | HOLY TERROR HC (MR) | $29.99 | LEG |
| 77 | 126 | 0.61 | JUL111290 | NAOKI URASAWA 20TH CENTURY BOYS GN VOL 17 | $12.99 | VIZ |
| 78 | 88 | 0.61 | MAY110484 | WITCHBLADE REDEMPTION TP VOL 03 | $19.99 | IMA |
| 79 | 122 | 0.60 | JUL110253 | GREEN LANTERN THE MOVIE PREQUELS TP | $14.99 | DC |
| 80 | 46 | 0.60 | AUG110385 | DANGER GIRL DLX ED TP | $29.99 | IDW |
| 81 | 47 | 0.59 | JUL111081 | DISNEY MICKEY MOUSE HC VOL 02 TREASURE ISLAND | $29.99 | FAN |
| 82 | 71 | 0.59 | AUG110690-M | MMW FANTASTIC FOUR TP VOL 07 | $24.99 | MAR |
| 83 | 58 | 0.59 | MAY110724-M | CAPTAIN AMERICA RED GLARE PREM HC | $29.99 | MAR |
| 84 | 109 | 0.59 | AUG111268 | HIGH SCHOOL OF DEAD GN VOL 04 (MR) | $13.99 | HAC |
| 85 | 23 | 0.59 | MAY110730 | X-MEN X-CUTIONERS SONG HC | $49.99 | MAR |
| 86 | 94 | 0.58 | AUG110722 | INVADERS NOW TP | $19.99 | MAR |
| 87 | 205 | 0.57 | JUL111288 | POKEMON ADVENTURES PLATINUM GN VOL 03 | $7.99 | VIZ |
| 88 | 135 | 0.56 | OCT060163 | BATMAN YEAR ONE DELUXE SC | $14.99 | DC |
| 89 | 41 | 0.56 | AUG110729 | SPIDER-MAN COMPLETE BEN REILLY EPIC TP BOOK 02 | $39.99 | MAR |
| 90 | 15 | 0.55 | JUN118167 | MANARA LIBRARY HC VOL 01 | $59.99 | DAR |
| 91 | 101 | 0.54 | AUG110707 | X-MEN LEGACY LOST LEGIONS PREM HC | $19.99 | MAR |
| 92 | 99 | 0.54 | AUG110338 | GI JOE V2 ONGOING TP VOL 01 COBRA CIVIL WAR | $17.99 | IDW |
| 93 | 111 | 0.54 | JUL110291 | GREEN WOMAN TP (MR) | $17.99 | DC |
| 94 | 115 | 0.53 | JUN110965 | DARKWING DUCK TP VOL 03 FOWL DISPOSITION | $14.99 | BOO |
| 95 | 136 | 0.53 | AUG110711 | NEW X-MEN BY GRANT MORRISON GN TP BOOK 06 | $14.99 | MAR |
| 96 | 93 | 0.52 | AUG110374 | ANGEL AFTER THE FALL TP VOL 03 | $19.99 | IDW |
| 97 | 180 | 0.51 | JUL111281 | BLUE EXORCIST GN VOL 04 | $9.99 | VIZ |
| 98 | 134 | 0.51 | AUG111273 | SPICE AND WOLF GN VOL 05 (MR) | $12.99 | HAC |
| 99 | 121 | 0.51 | JUL110259 | SUPERMAN NIGHTWING AND FLAMEBIRD TP VOL 02 | $17.99 | DC |
| 100 | 156 | 0.50 | MAY110447 | CHEW TP VOL 04 FLAMBE (MR) | $12.99 | IMA |