What Comic Creators Need to Know When Hollywood Comes Calling
Buddy Scalera's final Comic Book School panel at NYCC was "Comics and Hollywood: What Comic Creators Need to Know Now". Now that every comic book is a potential franchise for movies and TV, comic creators are approached by Hollywood executives and producers all the time.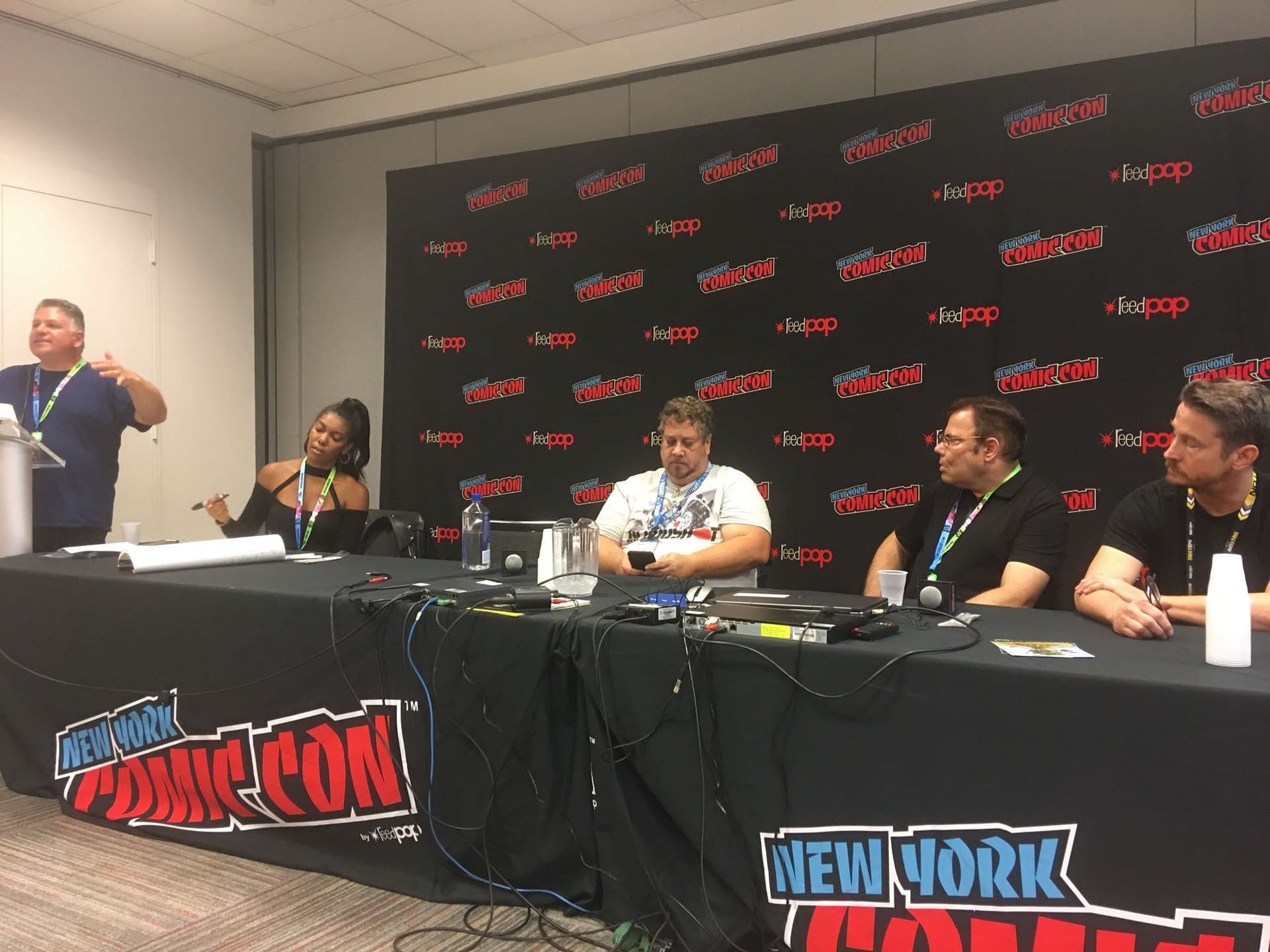 As part of his Comic Book School advocacy, Buddy wanted to educate creators and aspiring creators to act professionally. He assembled a panel of comics creators who have regular dealings with Hollywood to give advice.
They were:
Matt Hawkins, comics writer, screenwriter and the head of Top Cow. He has sold dozens of properties to Hollywood, and got paid to write dozens of hours of scripts.
Jeff Gomez, of Starlight Runner, writer and consultant. He was one of the first people to coin the term "transmedia" to describe a franchise appearing in diverse medium: books, TV, movies and so on.
Kevin VanHook, writer, producer, and co-creator of Bloodshot at Valiant. He has made seven movies and sold his FX company to makers of Simpsons and King of the Hill.
Tips From the Trenches
The panel launched immediately into a heady whirlwind of instructive war stories.
Matt Hawkins came out with one big tip: have representation, at least an entertainment lawyer, because terms are often exploitative. A lawyer will have your back and look out for any unfair contracts.
Bottom line: Don't try to do it yourself.
Generally, production companies don't want to pay. Some of them mght option your work to take it off the market so no one else can buy it.
The executives who show up at cons often hold junior positions and don't have buying or greenlight power. They are the forerunners for the senior executives. Still, it doesn't hurt to take their cards.
The panel agreed on another rule: Don't sign anything. Never be in a hurry.
Jeff Gomez also said don't act too cold. Use the attention. Research everyone's track record. Make sure your lawyer has experience with entertainment law. He spoke of the Caliber Comics days when Sony called about The Crow, and how that became a major movie.
Matt said, bluntly, "I'm a little down on Hollywood people because I think they're mostly scumbags."
Jeff stressed that your first option won't make you wealthy. Option prices are going down. Think long term, don't bet on that first deal. Think about the next deal, and the next. Never stop.
Matt sends comps to companies often ahead of publication. As a result, some projects get optioned before books are out in stores.
Jeff said you just need a passionate fan base, not always big social media presence, just enough. That can translate into leverage. It shows executives you have a following and validates you.
Matt talked about a guy who demanded Top Cow publish his comic because he had 300,000 twitter followers. Matt guessed right off the bat that he bought them – the followers were bots. The guy just slinked off.
How to Run a Successful Con Booth
The panel agreed that Comics creators are generally introverted. Matt gave tips on how to run a successful booth at a con. Creators should stand rather than sit at booths. They should look at people, talk to and engage. Have friends talk to you so people are drawn in to engage.
Matt had one piquant tip: famous people will come to your booth. An A-list director or star. Never ask for their autograph. They'll see you as beneath them and inferior if you do. Don't grovel. Treat them as equals. You're thinking about doing business with them. Do not fanboy to them. You're all professionals.
Kevin gave the Wachowskis an autograph and QuentinTarantino an original Thing page at a con because they're fans, so there was no power imbalance here.
In the end, it's about presenting yourself professionally.