OmnibusWatch: The Boys Gets 3rd Omnibus Volume Alongside Season 3
The Boys by Garth Ennis, Darick Robertson and Russ Braun is about to get its third Omnibus volume, to be released alongside Season 3 of The Boys on Amazon Prime Video. The book will finish the original run of The Boys, issues 49 to 72, as well as including the third and final original interlocked miniseries, Butcher, Baker, Candlestickmaker, and will be published in July 2022.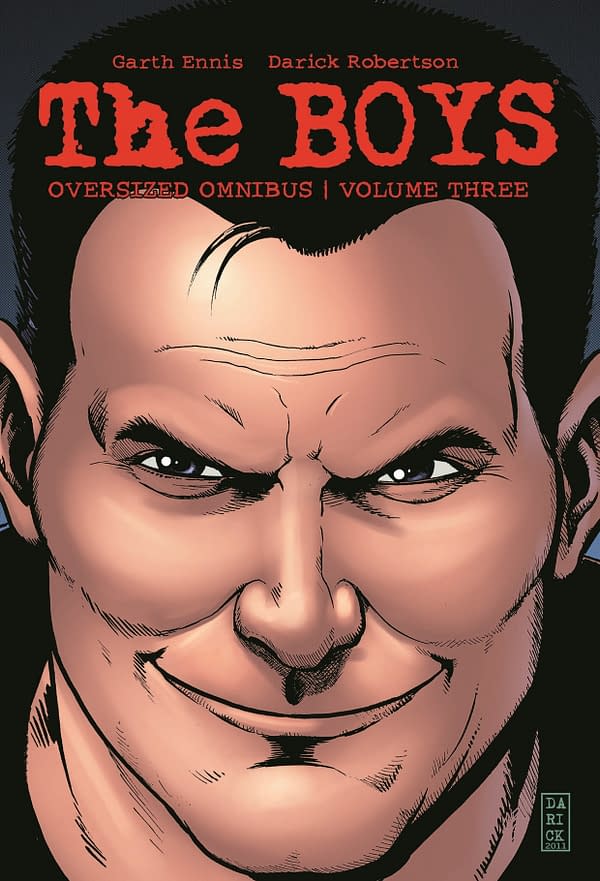 In this harrowing and explosive last chapters, all of the deepest, darkest secrets are revealed that the hit show has yet to delve deeply into. Wee Hughie is guided by Mallory through the early history of The Boys, including their first face-off with The Seven. Then, take a bit of a breather – not really – with a chronicle through fan-favorite Billy Butcher's earliest years and his life with Becky before everything went wrong. Only to jump back to the main arcs as Butcher finally nears getting his revenge and Homelander starts a literal superhuman war. Lastly, it all falls to Hughie for the climax, and we wouldn't dare spoil it! Extras in this volume include sketchbook excerpts from co-creator Darick Robertson and Russ Braun, plus a pinup gallery. Saved for this finale is the original series outline, with added commentary by writer and co-creator Garth Ennis. As well as curated scripts with commentary and art process.
Writer and co-creator Garth Ennis shared, "Great to see these new editions from Dynamite, I hope there'll be many more." "With Season 3 of the Amazon Prime show about to launch, people are showing a lot of interest in the original comics," added artist and co-creator Darick Robertson. "And these omnibuses have been a great opportunity for new readers to jump in and discover the original stories that inspired the show."
The Boys was originally published by DC Comics before it was cancelled when published Paul Levitz actually read it. The comic was then bought and moved to Dynamite Entertainment. Debuting in October 2006, the series concluded in November 2012 with the release of the 72nd and final issue. The book was adapted by Amazon Studios into a television series that premiered on July 26, 2019. A spin-off anthology series, Diabolical, premiered on March 4, 2022, of which the third episode, "I'm Your Pusher", is set in the same continuity as the comic series. Last year Dynamite published eight issue of a new The Boys comic book series, Dear Becky.