Peanuts Sunday Baseball Strip By Shultz Up For Auction At Heritage
Sunday Peanuts strips were always the best. In my local paper, they got the front cover of the special Sunday funnies section, and we would clip them out and put them in folders. We especially enjoyed the sports ones, as we were huge sports nuts in our house. Baseball was our everything, so seeing an original Peanuts baseball Sunday strip on auction at Heritage Auctions suddenly makes me wish I had buckets of money. This auction has five days left in the bidding and is already at $15,500. So, uhh, way past where I can afford it. But surely there are Peanuts fans who are reading this right now and already are trying to bid, cause this one is awesome. Check out the Peanuts Sunday strip up for auction below.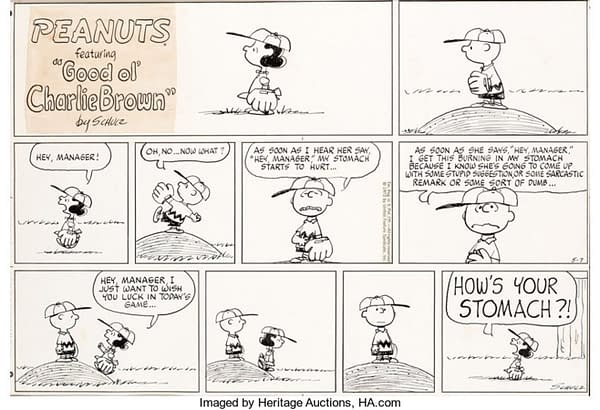 Peanuts Sunday Strip Baseball By Schultz
Charles Schulz Peanuts Sunday Baseball Comic Strip Original Art dated 5-7-72 (United Feature Syndicate, 1972). Whenever Charlie Brown is on the pitcher's mound and he hears Lucy call out, "Hey Manager," his stomach begins to hurt! Here's another great baseball-themed Peanuts Sunday, starring our favorite insecure hero and his number one tormentor. Schulz really knew how to dig deep into the human psyche to mine those golden gags, and this Sunday is a great example of a genius at work. The strip has an approximate image area of 22.5" x 15.25", and is matted for an overall size of 26.75" x 19.5". Other than a few very minor stains here and there, the art is in Excellent condition.
Man, is there anything better in the world than a great Peanuts strip with Charlie Brown and Lucy going at it? Most probably would rather have a football one, but I'll take baseball any day of the week. Schultz art isn't as rare as some people make it out to be, with pieces popping up here and there. But this one is in really great shape and such a good strip. You only have to July 10th to get your bid in above the $15,500 it is at right now, so go here and check out full details for the auction that ends. You can also see everything else currently on auction at Heritage.