Dark Horse Comics is collecting Founding Fathers Funnies! America's Founding Fathers were brilliant, brave, forward thinking . . . and ridiculous, at least in the eyes of cartoonist and history buff Peter Bagge! This collection of short vignettes features some of our country's best-known historical figures (along with several lesser-known players) and includes all Founding Fathers Funnies cartoons from Apocalypse Nerd and Dark Horse Presents. This Dark Horse Books hardcover also features several brand-new stories and additional biographical information.
Multiple Harvey Award winner and Inkpot Award recipient Bagge spoke about the project by saying:
I find myself laughing out loud whenever I read of their foibles, especially when their oversized egos clashed.
Founding Fathers Funnies will arrive in stores on February 24, 2016!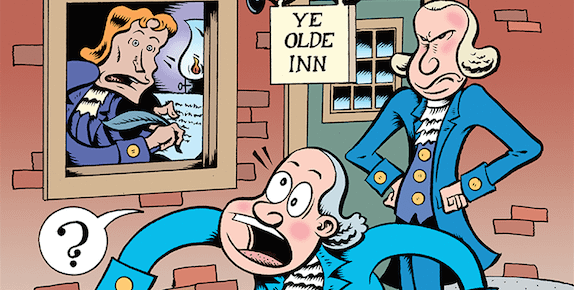 Enjoyed this article? Share it!