Pop Culture Hounding SDCC With Kazuo Koike, Corey Taylor, JR And The 315, With Added Orbiting Pods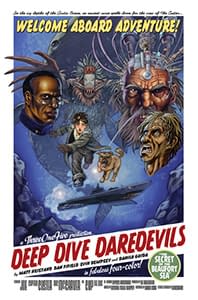 [audio:http://popculturehound.net/podpress_trac/web/2212/0/PCHPodcastEpisode49.mp3]
By Chris Thompson
I've just returned from the madness that is San Diego Comic-Con (SDCC), and that can only mean one thing … interviews! Now I must warn you – most of this stuff is raw and unedited – but there's some great discussions which really capture the vibe of the convention and surrounding areas. First up I chat with legendary gensakusha and creator of Lone Wolf & Cub, Kazuo Koike. Although our time together was brief, and we had to speak through an interpreter, it was a great honour that I'll never forget.
Thanks to Dark Horse Comics I also spoke with Slipknot & Stone Sour frontman Corey Taylor about his recent House Of Gold & Bones comic. Released as an accompaniment to the latest Stone Sour album, the book tells the story of The Human and his quest to find the Red City. Pop Culture Hound is fast becoming the home to those who produce music and comics, so it was a real treat … Maybe I need to chat with Max Bemis next?
After that I caught up with a few good friends of the podcast. One of the big surprises was finally meeting Julian [JR] Robinson, the super-talented creator of webcomic Demon Kings (which we've discussed on the show before). JR's work is fantastic and he's a really slick dude … And I'm not just saying that because he complimented my accent.
Finally I caught up with those crazy lads from The Three One Five (315). Last year I interviewed Matt Heistand and Dan Fifield at SDCC, but this year Evin Dempsey was determined not to miss out. We had a great and very honest discussion about what it's like breaking into the industry, and what's been happening with them over the past year. If you haven't checked out their weekly webcomic, Deep Dive Daredevils, then I highly recommend it.
To get in touch, send feedback or submit projects for consideration, please email reviews@popculturehound.com. And if you missed last week's episode (or any others) you can find them right here or subscribe via iTunes. You can also support the Pop Culture Hound podcast by clicking here to make a donation or pressing the DONATE button below. Your contributions are greatly appreciated and will help us maintain the site, get new equipment, and encourage us to keep going on those cold lonely nights.
Chris Thompson's Twitter: @popculturehound
Orbital Comics' website: www.orbitalcomics.com
Corey Taylor's Twitter: @CoreyTaylorRock
Corey Taylor's website: thecoreytaylor.com
Julian [JR] Robinson's Twitter: @theceoofdeath
Julian [JR] Robinson's website: www.demonkings.com
Matt Heistand's Twitter: @TheThreeOneFive
Dan Fifield's Twitter: @dan_fifield
Evin Dempsey's Twitter: @EvinDempsey
The Three One Five's website: www.thethreeonefive.com
Rich adds – Also the new Orbiting Pod, and the one from last week that I missed, ensconced in Con…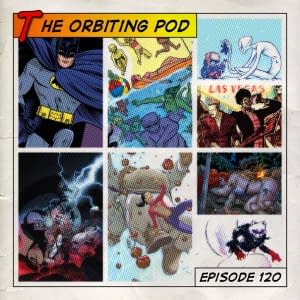 [audio:http://www.orbitalcomics.com/podpress_trac/web/9069/0/orbital-podcast120.mp3]
This week, we get on swimmingly with FF # 9, take a pop at Batman 66 #1, double down with Thor: God of Thunder #10, come back haunted by Revival #12, stay up late with Day Men #1, try and stay positive with Blood Brothers #1, break the chain with Red Sonja #1 & much more!
Chris also had the chance to talk to Daniel Baldwin about his upcoming film Comics Are My Rock & Roll, a documentary about "something that is popular the world over (self-publishing) and not popular enough (doing things for love, not money)".
Follow us on Twitter:
The Podcast – @theorbitingpod
Chris – @popculturehound
Robin – @rjharman
Taylor – @capelessT
Or be our friend on Facebook!
…and remember to subscribe on iTunes!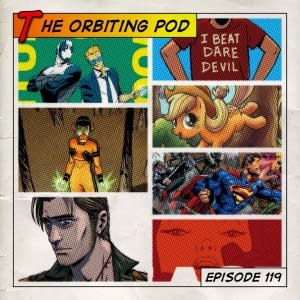 [audio:http://www.orbitalcomics.com/podpress_trac/web/9026/0/orbital-podcast119.mp3]
This week, we go on the defensive with Daredevil #28, bro down with Quantum and Woody #1, shed some blood with Avengers Arena #12, horse around with My Little Pony: Micro Series: Applejack, go to war with Justice League #22, go further down the spiral with Batman #22, face death with East of West #3, and more!
With Taylor & Chris awol this week, Robin is joined by Michael Eckett, who tells us about the new performance of Full Stage Splash as part of the Greater Manchester Fringe Festival.
The Podcast – @theorbitingpod
Robin – @rjharman
Michael – @meckett
The Sigil Club – @sigil_club
Or be our friend on Facebook!
…and remember to subscribe on iTunes!