Olly MacNamee, the Thought Bubble virgin, writes
While Rich fiddled as Rome, or rather his apartment block, burnt I was unfortunately oblivious to this fact until I finally bumped into the man himself at this year's very well received Thought Bubble. Not only was this Thought Bubble my first (and most definitely not my last) it was also my first time meeting with Mr Johnston who didn't take too long in discussing the virtues of the 1980's much loved, and much-maligned series, Press Gang. But that was much later in the evening and at the Thought Bubble party, and before all of this was the con itself, nestled into the magnificent Royal Armouries in Leeds.
Bigger and better than last year, Thought Bubble sprawled across a number of marquees, rooms and the odd theatre wherein the panels were housed throughout the weekend. And, while there weren't the vast number of cosplayers I am accustomed to (as you can see from my paltry haul of cosplay snaps) there was a firm focus on comics and the creators, as I had come to expect and wanted. I spoke with a fair few – but also missed out on an equal amount too – and with whomever I spoke, everyone had a good word to say about Thought Bubble, and time to chat with fans. Many were repeat offenders, and couldn't praise the con, the organisers and the volunteers highly enough. And, if you timed it right, you could avoid queues, as I discovered Sunday lunchtime when I was able to rock up to Yanick Paquette and not only get my Earth One: Wonder Woman signed, but also gained a cheeky quick headshot in the bargain for nothing! That was it then, and I was off and running as you can witness from my booty. An impressive array of comics, prints and indie titles I hoovered up along the way.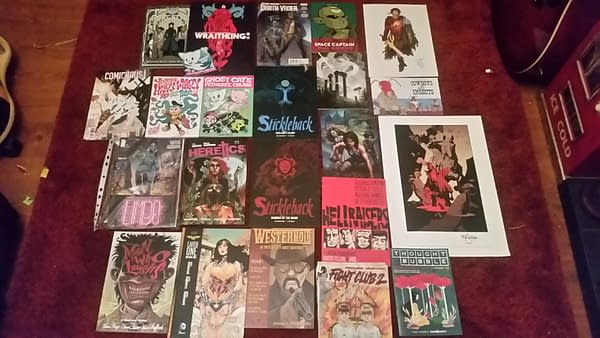 Amongst my healthy stash were a few gems that I hope to share with you all in coming weeks in the form of reviews (and the return of my Mac's Books indie review column too, which I have allowed to fall by the wayside for far too long now) with one of the titles I am most looking forward to reading being a graphic novel adaption of Hellraiser (No, nothing to do with Cenobites, but all to do with the unholy alliance that was Olly Reed, Peter O'Toole, Richard Burton and Richard Harris) by the artist known as , who I was more than happy to spend a good deal of time with at the very end of the con. That time I was rewarded with a detailed headshot of Olly Reed, as myself and Jake swapped war stories from the night before. He waxed lyrical about the Hellraiser beer launch at Gosh Comics in the city centre, me; I waffled on about the con's official party at Leeds' Trinity Kitchen, a venue that was taken over for on night only by the guests and geeks in attendance.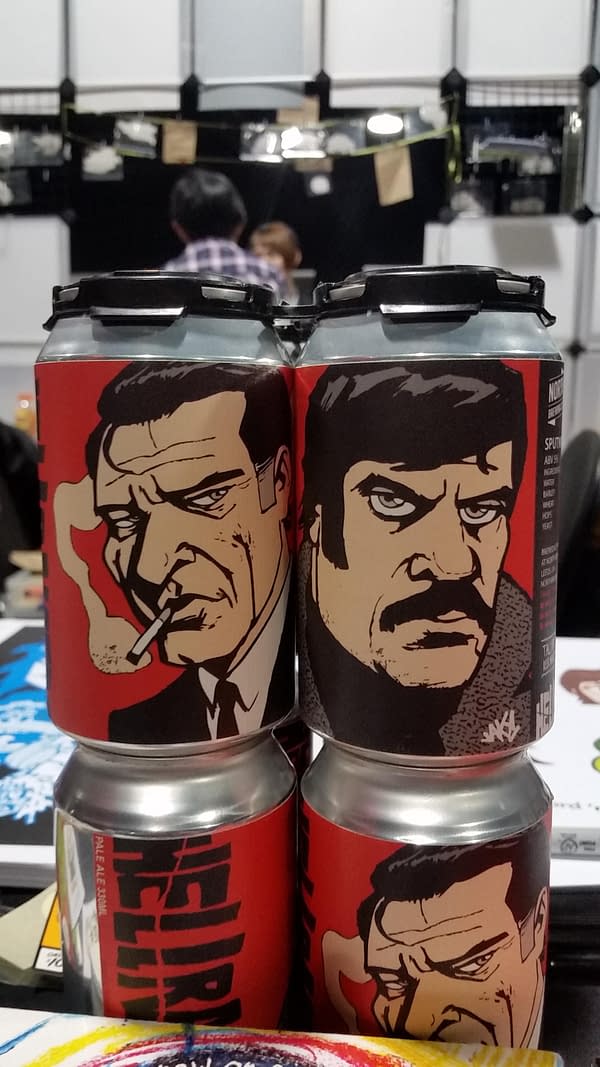 The highlights beyond those mentioned in passing above: speaking at great length with the mighty Ian Kennedy and his son, Neil, in a small pub while celebrating mate's Birthday and over a quiet pub meal. Well, it would have been quite if I hadn't been there I imagine. That, and finally getting to meet the peopleI have only ever met online or tried to champion through my writing. Too may to mention, but I hope they all know who they are.
I walked away from the whole event a very happy bunny, with this con – and all the others I attend for Bleeding Cool – reminding me why I started drinking form the Bleeding Cool-Aid fountain in the first place: for the love of comics and the people who create them. The big, the small and the in-between. I can forget about the pedants below the bottom line; the moaners and the groaners of the comic books world, and simply throw myself into the culture I have loved for so long. Thought Bubble, as my last con of the year, was extreme! Or, Bostin' as we say here in Birmingham.
Oh, and the only downside was not being able to finish the party off with The Beastie Boys' Sabotage tune, as Kieron Gillen himself let me know would have been his last tune of the evening. Or, rather it would have been if the party hadn't been shut down on us all!
Who would have thunk it? A group of nerds being asked to keep it down!
See you all next year. Just remember your winter coats.
And, as thanks for his DJ skills, I'll play you all out with, what could have been….
Enjoyed this article? Share it!