Bleeding Cool understands that Wolf #1 by Ales Kot, Matt Taylor and Lee Loughridge…
Bestselling new star writer ALES KOT teams up with white-hot artist MATT TAYLOR and DEADLY CLASS colorist extraordinaire LEE LOUGHRIDGE for an all-new ONGOING SERIES! The crime noir thrills and characters reminiscent of True Detective meet with mythical stakes worthy of Neil Gaiman's Sandman in this original fantasy/horror/crime saga for mature readers. Antoine Wolfe, a hard-boiled paranormal detective with a death wish, has to cope with sudden responsibility for an orphaned teenage girl who might be the key to the impending apocalypse, California-style. The road to hell and back begins in a MAX-SIZED FIRST ISSUE, with fifty-eight pages of story and no ads!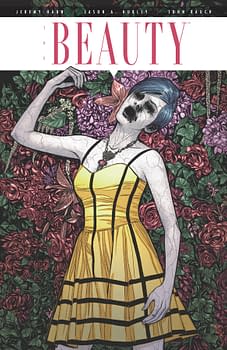 and Beauty #1 by James A. Hurley and Jeremy Haun,
THE PILOT SEASON WINNER RETURNS!
Modern society is obsessed with outward beauty. What if there was a way to guarantee you could become more and more beautiful every day? What if it was a sexually transmitted disease? In the world of The Beauty, physical perfection is attainable. The vast majority of the population has taken advantage of it, but Detectives Foster and Vaughn will soon discover it comes at a terrible price.
Writer/artist JEREMY HAUN (Constantine, Batwoman) and co-writer JASON A. HURLEY offer up a startling reflection on the cost of looking good in this procedural science fiction tale.
both published by Image Comics, have sold out and gone to second print.
Both second printings will be in store on the 16th September
Enjoyed this article? Share it!