Read Army of Darkness / Xena: Forever… and a Day #1, Part of Dynamite's Latest Digital Bundle
Dynamite Entertainment's parent company, Dynamic Forces, is turning 25, and they've hooked up with Humble Bundle to create the Dynamic Forces 25th Anniversary bundle featuring a wide variety of comics from their long history. This new digital bundle features over 150 issues and three art books. Fans can pay what they want via the different thresholds and is available for a limited time here. And by limited time we mean the next 20 hours. To help promote that bundle, they've sent us some free comics to run over the next few days. Here we have Army of Darkness / Xena: Forever… and a Day #1, bringing together the much-loved Ash Williams with Xena: Warrior Princess in a story by Scott Lobdell and Elliot Fernandez.
You're Xena the Warrior Princess and your thousand strong army has fallen to an implacable and ancient evil. What do you do? You suck it up and summon the only ally who stands any hope at all of helping you prevent the end of the world. Unfortunately, that lone man is the wise ass, ass kicking, time traveling, woman kissing, boom sticker known as Ash!
"An epic tale of horror, time travel, friendships that last a century, action, and comedy all wrapped into a big-ass honking story that stars both characters front row and center!" – Scott Lobdell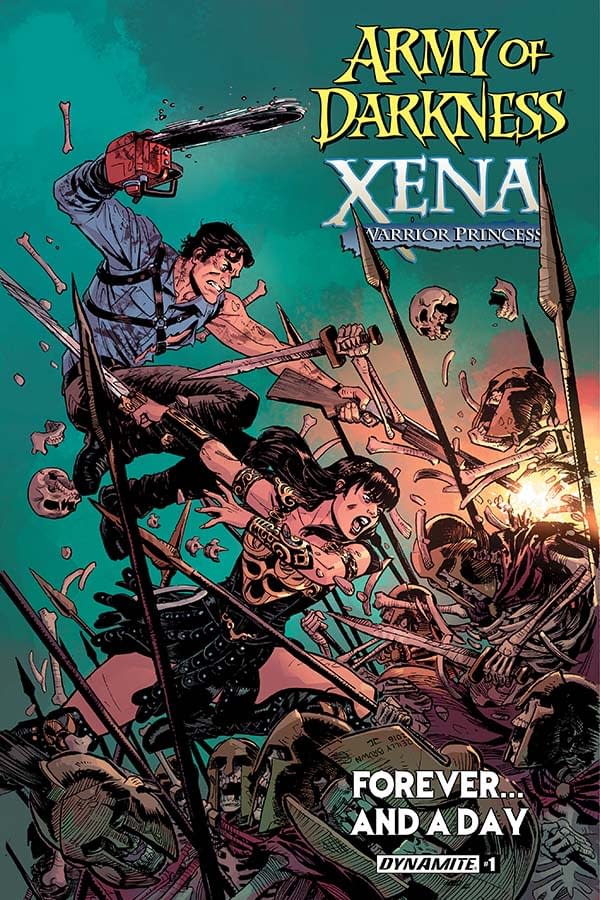 The cover above is by Reilly Brown. All six issues of Army of Darkness / Xena: Forever… and a Day are available as part of the bundle for a limited time here.