Are You Ready For Luke Cage? A Few Trades To Help You Out
If you're looking at the upcoming Marvel's Luke Cage and thinking, "Hmmm, I really don't know that much about the character." Then perhaps this list will help you. Here are five trades you can read to get a good idea who Powerman was and is. And if you didn't know he used to call himself Powerman, then you need this list more than most.
Luke Cage: Hero For Hire Vol 1.
by Roy Thomas, Archie Goodwin, Steve Englehart , Gerry Conway, Tony Isabella, George Tuska, Billy Graham, and John Romita.
This book collects the first 27 issues… #1-16 of Luke Cage: Hero for Hire and #17-#27 of Powerman. These are the early stories of the hero as he defends his home turf against the likes of Diamondback, Mace, Black Mariah, Dr. Doom, Senor Suerte, Chemistro, Lionfang, Steeplejack, Cottonmouth, and more. Guest-starring the Fantastic Four, Spider-Man and Iron Man. Powerman And Iron Fist First Epic Collection: Heroes For Hire
by Mary Jo Duffy, Chris Claremont, Kerry Gammill, John Byrne, and Trevor Von Eeden
This book collects Power Man #48-49, Power Man & Iron Fist #50-70. This is where the team up of Marvel's stronger-than-steel man of the streets, Luke Cage and the mystic kung fu master Iron Fist begins. Together Power Man and Iron Fist are heroes for hire, taking any on any job, any challenge, so long as their clients can meet the price. But both heroes have long pasts and old foes out to destroy them. Between those menaces and making ends meet, it's a life short on downtime and long on action.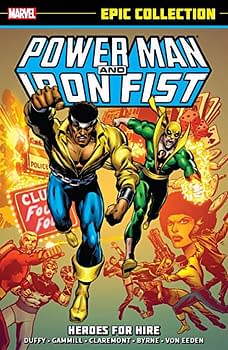 Luke Cage: Second Chances Vol 1
by Marcus McLaurin, Dwayne Turner, Rurik Tyler, Gordon Purcell, and Sal Velluto
This book collects Cage #1-12 and part of Marvel Comics Presents #82. Cage drops the Powerman title and moves to Chicago to start up the hero for hire gig again. Luke soon has his hands full with the Untouchables and ends up in the Punisher's sights. He'll need a power upgrade before locking horns with the Rhino and butting heads with the Hulk. Then, when his family's lives are at stake, Luke calls in his best friend, Iron Fist.
Cage
by Brian Azzarello, Richard Corben, and Jose Villarrubia
This six issue Marvel max series has Luke Investigating the murder of a teenage girl, Cage suddenly learns that a three-way gang war is underway for control of the turf he calls home. And what better way to disrupt the stalemate than offering his services to the highest bidder?
New Avengers Vol 1: Breakout
by Brian Michael Bendis, David Finch, and Danny Miki
This book collects the New Avengers #1-6 and shows us Cage as he works with the world's mightiest heroes. Bendis has always been a big fan of Luke and made him an intricate part of the Alias series. Here he really moves the former Powerman up in prominence, putting him on the level of Captain America, Thor and Iron Man.
And as a bonus, the newest incarnation of Heroes for Hire:
Power Man and Iron Fist Vol 1: The Boys Are Back In Town
By David F. Walker and Sanford Greene
This collects Powerman And Iron Fist #1-5. Luke Cage and Danny Rand, the Heroes For Hire turned Avengers, are going back to street level basics – and there's a mystery to solve that will draw in crime lords, hired goons and old friends. But which of the three pose the most trouble? When a villain gets her hands on the mystical Supersoul Stone, the Big Apple may end up poisoned by magic – unless Luke and Danny can put a stop to her plan. To find the stone, they'll wade through New York's seedy underworld in a flurry of big-hitting, kung fu fighting action.