Rebellion to Republish Don Lawrence's Trigan Empire in Full
We knew that 2000 AD publisher Rebellion had bought the rights to the classic Trigan Empire comic book by Mike Butterworth and Don Lawrence, along with the rest of the IPC Publishing rights.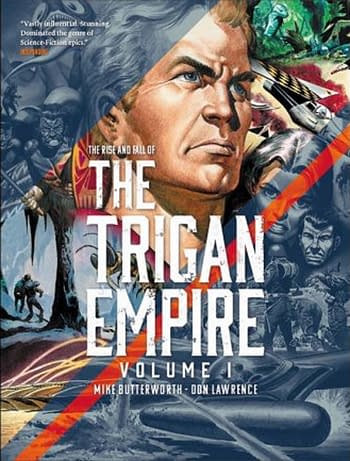 And now, announced at the Diamond Retail Summit in Las Vegas last night, Rebellion is to republish and recollect the Trigan Empire stories.
The series, telling a story of an alien empire but reflective of our own world history, the painted comic book appeared first in Ranger in September 1965 and then in the Look and Learn magazine in 1966 when the two titles merged. It ran for a total of 854 chapters before Look and Learn was cancelled in 1982.
In 1975-1976, the series was reprinted from the beginning in its original sequential order, in Vulcan, a weekly glossy-format comic, which reprinted the strips in full colour.
There were a number of reprints in hardback format. In 1978, Hamlyn Publishing printed a hardback collection of early Trigan Empire stories titled simply The Trigan Empire, reprinted in the US by Chartwell Publishing. A later hardback collection was printed by Hawk Publishing in 1989 as Tales of the Trigan Empire.
In 2004-2008, the stories drawn by Don Lawrence were reprinted by the Don Lawrence Collection in luxury hardback limited editions. These editions contain the complete stories, without any of the omissions of particularly the Hawk Publishing book.
The new Rebellion series, which launches with a 304-page first volume in March 2020, will be the first time the series has been collected in full in a mass market edition.
You can catch the rest of our Diamond Retail Summit coverage here.