A Peek At Comics On Both Sides Of The Pond With Ian Edginton And D'Israeli At Leicester Comic Con
By Olly MacNamee Hosted by Bleeding Cool's own Alisdair Stuart, this first panel of the day was well attended and uninterrupted, other than the sound of a passing brassy band procession. The Ian Edginton and Matt Brooker (D'Israeli) panel consisted of the two collaborators looking back on their own careers and their gateway into the comic book industry which, as they said themselves, seemed to be in reverse of most other British comic book writers and artists with their proper start coming from work in America before coming over to 2000AD later.
Brooker himself entered the world of comics through a signing he attended as a fan at a Sheffield comic shop that, sadly, no longer exists. But when it did Matt was lucky enough to meet Bryan Talbot back in the 80's who introduced Matt to a drinking club for artists down in London which he managed to hang out in long enough for British editors to assume he was a professional artist. First came work for the socially minded Crisis comic before moving onto inking duties on Hellblazer for DC Comics. Both gigs were ones he was fired from, he humorously related to the audience, happily stating that he had been, 'fired by everyone I ever wanted to work for', before bedding down with regular work on the monthly Deadline. This was the start of his journey in comics before eventually meeting up with Edginton over at 2000AD.
Edginton then related his own entry level into the business, how he and artist, Steve Pugh, got drunk and decided to pitch a strip to Deadline during a signing at Birmingham's Nostalgia and Comics. The strip eventually ended up with Dark Horse, where Edginton went on to work with some of its bigger licensing deals of the nineties, Aliens and Predator. Then came the CrossGen crash and burn that saw Edginton return to 2000AD where, amongst other assignments, the two came together to produce the strip Stickleback, which counts as the longest run on any strip by Brooker's career. A lot of this can be attributed to the great working relationship the two have had and continue to have. They were clearly at ease in one another's company, even with Brooker suffering from a very bunged up ear.
These are both interesting anecdotes and highlight, for me at least, that there is no one true way to gain your dream job, although drinking does seem to feature heavily in both accounts. Maybe that's were I've been going wrong in the past.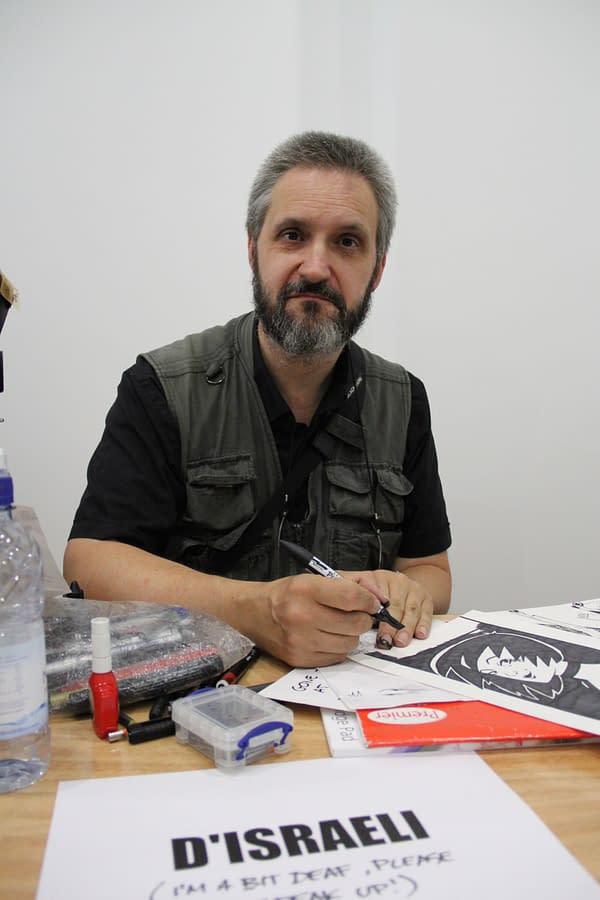 When asked what their preferences were when it comes to working for either an American publisher or British publisher both seemed to favour working for British publishers. Even though the royalties are none existent the smaller operation meant that pitches and communication are quicker and once accepted are not micro-managed as projects can be when working at the Big Two. I was amazed to learn that Brooker still cuts the biggest royalty checks each year for his inking work on Sandman, and that's for a character he has absolutely no ownership on whatsoever. Even more amazed that it once took John Wagner 18 months to have a script approved back in the day. I can't imagine it's gotten any better in today's corporate culture. While UK publishers seem to care for their characters, over in the States it would seem the characters we have all come to love and cherish are a product to exploit. But then, with the re-positioning of the Inhumans to make up for an X-Men deficit in their filming plans currently occurring over at Marvel and the supposed cancellation of a Fantastic Four comic, I don't find that hard to believe. Back in 1989 I remember reading that Batman was worth more to Warner Brothers than any piece of real estate they owned. Imagine his worth now in a much more multi-media world.
The downside to working for the Brits is of course, the lack of control over your creations and therefore a lack of control over reprints. Oh, and the fluctuating currency rates don't help sometimes if you are living in Britain but getting paid in dollars. Page rates don't change, but currency markets do.
Moving onto the subject of superheroes and movies, both discussed their own foray into this field. Jokingly, both referred to the different levels of production development deals that comic book creators can gain. Indeed, sometimes the development check is handsome enough. Edginton explained the three levels on offer: the 'kitchen' offer, the 'car' offer and the 'house' offer; with the latter being the best because, as I am sure you have surmised for yourselves, it can pay off the mortgage on your house.
Finally, with a focus on Marvel's Captain Marvel as a case study, both gave a glimpse into the nature of today's comic industry. It would seem that Marvel continue to print a Captain Marvel comic simply to retain the rights to the name. Or, at least the bragging rights as DC Comics seems to have abandoned the title in favour of Shazam. What I found fascinating was how quickly Marvel seemed to give up on promoting the re-designed heroine from Kelly Sue DeConnick and Dexter Soy after its initial launch. Here was a redesign that returned the title hero to a more militaristic uniform, while allowing cosplayers to dress in a fashion that didn't sexualize them for the male gaze. A sad state of affairs but nothing we didn't know. Still, a great talk from two of the comic world's nicest people and a little peek into the world of comics, on both sides of the pond.
Olly MacNamee teaches English and Media, for his sins, in a school somewhere in Birmingham. Some days, even he doesn't know where it is. Follow him on twitter @ollymacnamee or read about his exploits at olly.macnamee@blogspot.co.uk. Or don't.