This week sees the release of Giant Days #10 from BOOM! Box, written by John Allison, with art by Max Sarin. In issue #10, Esther's old school friend "Big Lindsay" comes to visit and stirs things up, but where things begin is even better. Esther and Daisy venture off on their own and find themselves in a little town. We get to learn a bit more about Daisy's home schooled life and how things went for her throughout her childhood. I couldn't help but draw some attention to a piece of a larger panel below. I think I've mentioned before that John Allison has an excellent way of weaving straight up reality into this comic. It may look colorful and playful, but real situations are dealt with. I'm not going to lie, I've heard many people say things just like this before. I applaud Allison for including the small detail.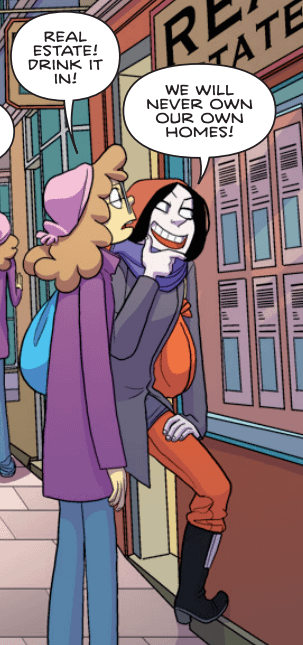 All in all, the issue felt very complete. A lot happens, but it's done in such a tasteful way. "Big Esther" is an entertaining addition. It's clear that her character throws a bit of a wrench into the group, but by doing that, deeper layers of friendship are revealed amongst them. Her character has clearly been through a lot, and the other characters learn from that. I don't want to spoil anything, but something big is brewing with Susan. Something that I would have never expected. I was really surprised at the end of the issue, and I think you will be too. Be sure to pick up Giant Days #10 this Wednesday.
Christine Marie is a Staff Writer at Bleeding Cool, Bibliomaniac, Aspiring Poet/Novelist and Dark Side Advocate. You can find her on Twitter and Instagram @AWritersWay or on her blog writerchristinemarie.wordpress.com.
Enjoyed this article? Share it!