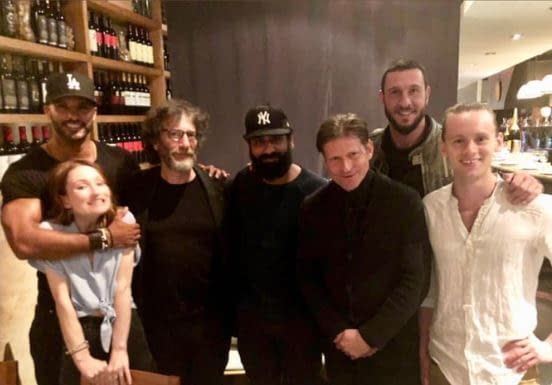 With production on the second season of American Gods currently underway in Toronto with new additions Dean Winters (John Wick), Devery Jacobs (Cardinal), Kahyun Kim (Shameless) and Sakina Jaffrey (Timeless), let's feed our collective addiction for AG updates by checking social media to see how things are progressing with Starz's series adaptation of author/executive producer Neil Gaiman's acclaimed novel:
● Speaking of Gaiman, the novelist was in Tornonto and stopped by the set to give an update ("They are doing an amazing job"); and highlight a mini cast dinner he found himself at with Ricky Whittle, Emily Browining, Pablo Schreiber, Crispin Glover, Bruce Langley and Mousa Kraish.
Last night, I happened upon a covey of actors (what IS the collective noun for actors?) So very proud of all of them. (@YetideBadaki @TheOrlandoJones & @DemoreBarne were still shooting, so could not be at the food.) Can't wait to see American Gods season 2 on the screen. https://t.co/xo0fWa9L73

— Neil Gaiman (@neilhimself) June 22, 2018
I was in to see what was happening on American Gods season 2. They are doing an amazing job. https://t.co/KSaNOxzQPQ

— Neil Gaiman (@neilhimself) June 23, 2018
● Kim and Yetide Badaki found some "new god/old god" common ground during a photo shoot to raise funds to fight cancer, with Kim rockin' a lumberjack look and showing everyone that she's more than okay with it…
https://twitter.com/kahyunkim257/status/1009814658465828864
Why do I love this so much?!😆🙏🏿👩🏿‍🚒❤️ #AmericanGods #oldgodnewgod #love https://t.co/AQfSJEnwXa

— Yetide Badaki (@YetideBadaki) June 21, 2018
Just to be clear, that axe Kim's holding wasn't just for show:
https://twitter.com/kahyunkim257/status/1008686654473801730
But she wasn't the only one…
Ok, now try not to look smug…
F@!#…

Huge shout out to @CampQualityCan for everything your doing. Check out thier page for links to thier site and all related stuff but https://t.co/YmlVfpeA4h
Is a good place to start 👍
Team #Americangods had a blast 🤘🤗😁 pic.twitter.com/ZgU2Ndem7J

— Bruce Langley (@BruceJLangley) June 18, 2018
This was Ricky for the win 🙌🏾
Winners get dinners 💁🏾‍♂️💪🏾😂
Retired undefeated 😝👌🏾

–@MrRickyWhittle pic.twitter.com/rkJUqkGEo1

— Ricky Whittle IG (@RickyWhittleIG) June 17, 2018
● Whittle realizes that sometimes, we hurt the ones we love – or at least promise them food they'll never get to eat:
Debs with her empty promises 😂🤷🏾‍♂️#AmericanGods Season 2 BTS
💔

–@MrRickyWhittle pic.twitter.com/ur6kmJBeo0

— Ricky Whittle IG (@RickyWhittleIG) June 20, 2018
● While Kraish and Abtahi Omid offer their personla perspective on National Friendship Day:
We know we're supposed to be dignified and all, but we're kind of obsessed with @MousaKraish and @AbtahiOmid. #NationalBestFriendsDay #AmericanGods pic.twitter.com/jf0vgN1eP3

— American Gods US (@americangodsus) June 8, 2018
● Let me just say this: there are so many righteously cool things about this pic of Peter Stormare that it hurts – starting with the "bedazzled" Hello Kitty phone case:
Consider uploading your face to the internet today for #NationalSelfieDay! #AmericanGods
📷: @TheStormare pic.twitter.com/wxqaVJJjzB

— American Gods US (@americangodsus) June 21, 2018
● I've always wondered what it would be like to have some kind of action/vinyl figure done of me – can't even imagine how that feels. Some advice for Whittle, though: give your family the Shadow figures just as a straight gift and the others for Christmas – a little less on the "ego-y" side:
With Hannibal's Jesse Alexander serving as showrunner and an expected early/mid-2019 return, American Gods has some new players in play that will definitely complicate Shadow's journey of self and spiritual discovery. Winters's brutally efficient and precise Mr. Town is tasked by Mr. World (Glover) to learn what Shadow knows about Wednesday's (Ian McShane) plan. First Nations actor Jacobs is college student Sam Black Crow: a spiritually cynical young woman who lives her life with fierce confidence and openness, selling her chainsaw art by the roadside for extra money. Kim's New Media is the goddess of global content: a cyberspace chameleon who's also a master manipulator. The trio join Jaffrey, who was cast in May as Hindu war goddess Mama-Ji: a waitress at the Motel America, her necklace of skulls, acerbic wit and free spirit make her a match for any mighty god or man.
Gaiman, Alexander, McShane, FMNA's Stefanie Berk, Craig Cegielski and Scott Hornbacher serve as series executive producers; with second-season premiere director Chris Byrne (Hannibal, Star Trek: Discovery) co-executive producing alongside Heather Bellson and Rodney Barnes. Lisa Kussner produces; with FremantleMedia North America as the studio.
Enjoyed this article? Share it!