Auction Night 3: Ghost Riders and Whipped Nazis
Comic Connect's mega-auction event rolls on with its third night of sales coming in, and once again there are quite a few key comics involved. Here are the highlights for the ones that have sold so far today.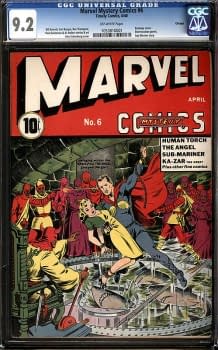 We start our report tonight with Marvel Mystery Comics #6, with a gorgeous copy rated CGC 9.2 selling tonight for $20,000. This was easily the best condition copy to go up for sale in a public venue in years, with the next closest having been an 8.0 that sold for $6,325 in 2003.
Going from the earliest days of Marvel Mystery to the latest, a CGC 9.0 copy of Marvel Mystery Comics #90, the third-to-last issue of the series, sold this evening for $2,222. The last copy graded 9.0 sold back in 2003, for $1,840, and that happens to be the only other one this highly graded to sell.
We had not one but two Marvel Spotlight #5, the first appearance of Ghost Rider (II – Johnny Blaze), selling tonight in CGC 9.4, both with off-white to white pages, and both finishing within $16 of each other, at $984 and $1,000. Both of these prices are a significant drop from previous levels for this book, as the two previous sales in this grade this year went for $1,500 and $1,700, and these are the lowest recorded prices at this grade since 2004.
The majority of the Ghost Rider appearances in Marvel Spotlight were up for sale tonight, with the CGC 9.8 copy of #7 being the best condition copy sold publicly to date. As a result, this book went high, selling for $824.
The gem of the night happens to be the book that kicked off the Silver Age, Showcase #4, which is the first appearance of Barry Allen. The condition on sale tonight was CGC 7.5 with off-white pages, and after 27 bids the auction closed at $14,200. This is a $2,000 price increase from a similarly graded one that sold last year.
Two more highlights to mention, with more coming later tonight: Master Comics #22 and #29. The first happens to hold the origin for Captain Marvel Jr., along with his first appearance on a cover, and Captain Marvel Jr is shown literally whipping Hitler's ass in the second. The #22, in CGC 7.5, sold for $1,850, while the #29, in CGC 9.2, sold for $4,300.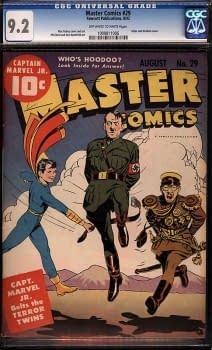 In a couple of hours, we have a Superman #1 wrapping, and much more, so we'll be back at night's end for a wrap.
---
---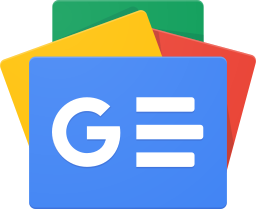 Stay up-to-date and support the site by following Bleeding Cool on Google News today!