There are few writers as prolific and successful as Kevin J. Anderson, publisher at Wordfire Press and author of over 130 books, 54 of which have appeared on national or international bestseller lists. With lots of his own books as well as hit Star Wars, X-Files and Dune novels. Kevin has won or been nominated for the Bram Stoker, Shamus, Hugo, Nebula, Scribe, and Colorado Book Award. Jason chats about Kevin's new releases: Tales of Dune, an anthology in the Dune world, and the zombie-PI collection Zomnibus.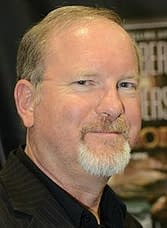 Listen here:
Listen on YouTube:
Castle of Horror Podcast Links:
Join us over on Facebook to chime in.
The show is hosted here. Get our RSS Feed. Subscribe at iTunes. Listen on Stitcher. Or onYouTube.
Twitter: castleofhorrorp.
The Team: Hosted by Jason Henderson, writer of IDW's Ben 10 series and creator of the HarperTeen novel series Alex Van Helsing. Featuring Drew Edwards, creator of Halloween Man, Tony Salvaggio of Clockwerx from Humanoids, attorney Julia Guzman of Guzman Immigration of Denver, and Jamie Bahr, lead singer and upright bassist of the rock and roll band Danger*Cakes.
Enjoyed this article? Share it!