By Terry Hoknes of www.HoknesComics.com
Here are some of the most notable and interesting sales statistics for comic sales released for December 2014.
Highlighting all the major publishers that have numerous titles you can observe what is the best and worst selling title for each publisher. Batman was the #1 selling title of the month and continues to dominate as the best selling comic of this decade. Amazing Spider-Man #2 was Marvel's best selling title followed by Shield #1 which was the best selling debut issue of the month. Both DC and Marvel have one regular title each that sells over 100,000 copies a month. At the bottom of their sales figures is DC Teen Titans Go at only 7500 copies while Marvel's worst selling title is Marvel Universe Ultimate Spider-Man at only 5,000 copies making that by far the rarest lightest ordered comic from the Big 2 publishers.
Harley Quinn continued her domination as the best selling female just missing the top 10 with her latest issue but still selling a hefty 68,000 copies which makes her currently way more popular than Deadpool, X-Men, Superman, Rocket Raccoon, The Flash, Arrow and Doctor Who – all major popular media characters.
The most shocking under-order of the month is Afterlife With Archie Magazine #3 at only 2,450 copies! Yes it's a reprint title but still has had a massive drop after a healthy debut with issue #1.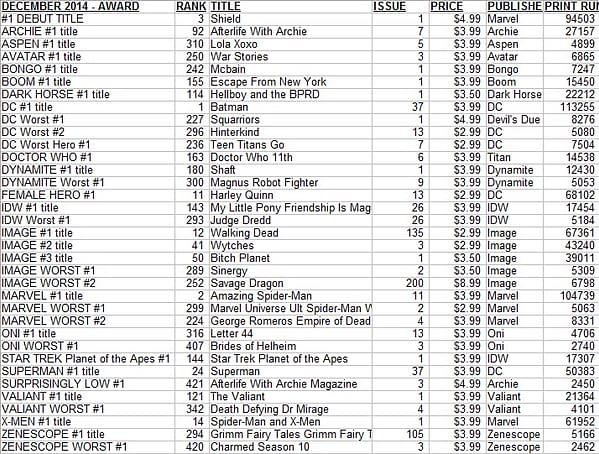 BEST SELLING NON-DC/MARVEL TITLES
Marvel and DC ALWAYS dominate the best selling comics titles. This month there were 7 major titles big enough to crack the top 100. Therefore DC/Marvel had only 93% of the top 100 best selling comics this month. Image Comics had the top 6 comics of the month. Walking Dead was once again the #1 non-superhero title, #1 horror genre, #1 TV related comic. Sales have dipped just a little bit recently but still the title maintains ranking the #1 best selling Image Comic easily. Wytches #3 stays very strong at over 40,000 copies. Bitch Planet #1 has a surprisingly high debut at 39,000 copies for a new title. Outcast by Robert Kirkman is now selling only about ½ the copies of Walking Dead. Hellboy and the BPRD #1 debuts strong from Dark Horse as their best selling title and hitting over 22,000 copies.

Image Comics continues to push more and more titles into the market and once in a while finds a genuine hit on their hands. This is likely the most prolific and successful the company has been since about 2002. They now have 11 titles all selling over 20,000 copies. However, note that 3 are new series debuting which will obviously have drops with the next issue. More impressive is that they have 24 different titles now selling over 10,000 copies a month which just blows away the competition such as Dark Horse, Dynamite and Boom. Not every title is a hit, though. Sinergy #2 is now their worst selling title and that's already with the 2nd issue, spelling likely doom for this title. Except for Tooth and Claw #2, in fact, all of Image's titles that debuted last month are all doing very poorly with some of the worst sales for the company. Manifest Destiny was the hottest back issue Image title of 2014 and yet sales are still quite low for this title which is voted the best read of the year by many comic fans. (Including me!)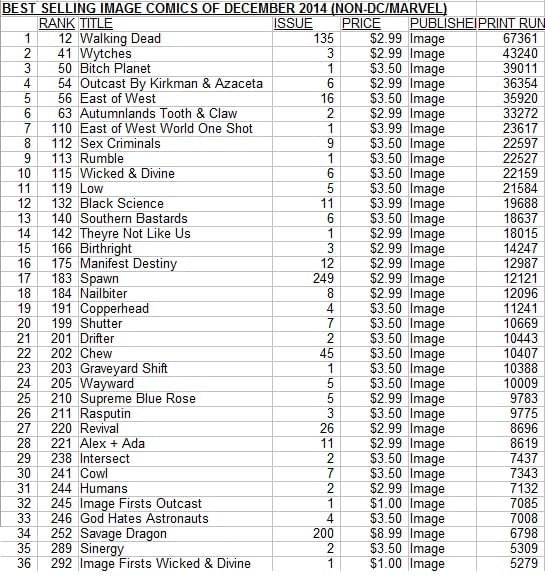 Enjoyed this article? Share it!