Here's your Monday roundup of recent comics-related movie and TV news just, for a bit of fun and that, on Tuesday.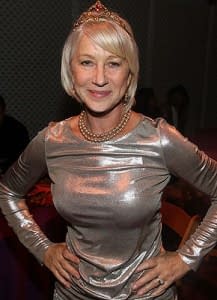 Martin Campbell has spoken about The Green Lantern to Empire magazine who just put it out in print and not, you know, cyberwordies. Thankfully, some enterprising blog has stolen their material and put it online for us all to read. Best bit? Campbell's explanation of what this Lanternboy's ring thing is all about anyway – "It's energised by a battery on the planet of Oa which taps into the willpower of everyone in the universe. From that ring you can form constructs. So, if you got into a fight, you could form a giant fist". Yeah, well, Fat Barry can do that anyway and I don't think it's powered by any of his many rings.
Nice to know our willpower is being spent on fighter jets. What did we vote for Labour/Obama for anyway?
Helen Mirren is going to be in Red. Not the Red we already had, about Brian Cox going all Gran Torino on the kids that did his dog over, nor the colour that but the upcoming one based on Warren Ellis spy thriller comic. I'm guessing she's going to play the telephone voice of our hero Paul Moses' one time CIA handler. Maybe it'd be cool if we don't see her at all and she's just a voice on the phone, like the comics…? Not that she's not a good looking woman and all.
Owen Wilson is going to play Marmaduke. I hope he's up to it because all that walking on fours might get to him otherwise. It's not like that Pixar film where he just had to roll around on wheels the whole time. Have you ever read a Marmaduke? Who has?
Scott Ian thinks Matt Willig would be the perfect Lobo for the Guy Ritchie movie. Probably because he's already come to terms with the fact that acting ability will be entirely irrelevent. I'm hoping they go for Kevin Spacey or John Travolta because Tom Cruise just isn't tall enough.
Gunplay is coming to TV, from Jorge Vegas' comics. Rich talked about it earlier. Get off my lawn, ginger.
OMG! Edgar Wright is literally uploading the first Scott Pilgrim trailer to the internets right now… Okay, so he isn't. But I bet he's at least a little chuffed that Robert Kirkman checks Shaun of the Dead as his second favourite zombie film after Dawn of the Dead. Tough tits, Raimi. Hard cheese, Jackson. Stick that in your pipe and smoke it, Tourneur.
I'll see you tomorrow unless you see me first.
Enjoyed this article? Share it!