Conan Exiles: Launched and Ready to Hack, Slash, and Craft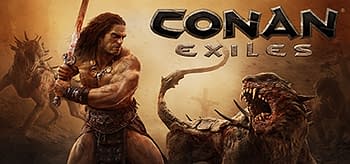 After a long 15 months in early access, Conan Exiles has officially launched. Now you, too, can chop up your enemies, make homes, craft weapons and run around naked (or not) in the world of Robert E. Howard's Conan the Barbarian.
The Tutorial helps you quickly get a handle on the already fairly intuitive game play, and Steam also has a .pdf manual. The game is set in a massive open world of over 40 sq. miles of terrain you can explore alone or with friends, ready for your takeover. There are many official servers in the Americas and Europe, with more on the way, to help you find folks to game with no matter your style.
If modding is your thing, there is a fairly active modding community over at the Steam Workshop. Character progression is done through points, which are used to up your character's stats and buy feats (crafting recipes), and specialized skills.
The game looks nice in HD, and runs decent on computers with at least 8 gb ram and an i5 or i7 processor; the better your video/graphics card is, the better it will look and play. The environment is lushly detailed, with many different plants, animals, and peoples to meet, as well as different weather patterns. Character options for looks remain pretty much the same as when the game was in early access; there are the usual skin/eye/hair settings, and it allows you to decide on how well endowed your guy or gal is, while charging your character with various crimes before you head out into the game world.
I've had a great deal of fun with this game over the past several months and have lost many, many hours as I crafted myself a home, beat up monstrous beasts, defeated enemies, and engaged in recreational cannibalism while bringing the news of Yog to the Exiles world. I've traveled high and low, from burning wasteland to frosty reaches, dragging friends with me on my way.
With the nudity and violence I would not recommend this game for kids; while nudity is optional, the default is with it on — they can have their Minecraft, we can play Exiles. I would recommend this to casual or experienced gamers with decent computers, an Xbox or PS4, and high-speed internet.