The Connors: ABC Releases First Look at 'Roseanne' Spinoff Series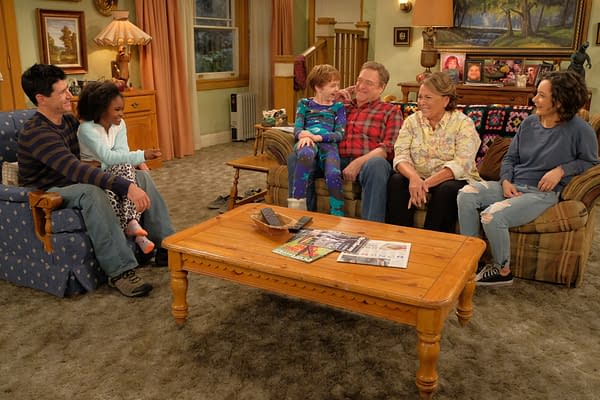 Out of the ashes of the raging dumpster fire that was ABC's revival of '90s sitcom Roseanne rises our first look at the set of the new Roseanne Barr-less ABC series spinoff The Connors. Though very little is known about the series' storyline (other than the fact that Barr won't be a part of it) ahead of today's first day of production at Warner Bros, the sitcom is set to premiere on Tuesday, October 16th, at 8 p.m. ET.
In May 2018, the network shut down production on the Roseanne revival and fired Barr for her racist tweet aimed at Valerie Jarrett, a former senior adviser to President Barack Obama. This isn't Barr's first run in with Twitter and accusations of racism: in 2013, Barr tweeted a derogatory ape reference towards former U.S. Ambassador to the United Nations and national security adviser Susan Rice.
In the pic below, original Roseanne castmembers John Goodman, Laurie Metcalf, Sara Gilbert, Michael Fishman, and Lecy Goranson are sitting around the on-set kitchen table with now-series-regulars Jayden Rey, Ames McNamara, and Emma Kenney.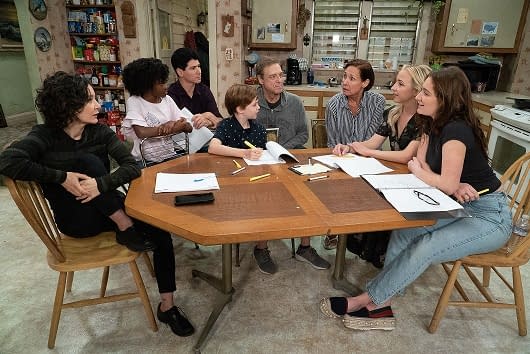 Goodman possibly teased/spoiled the fate of Barr's character during an interview with the UK's The Sunday Times: after being asked what his character Dan's motivation would be when the new-old series returns, the actor responded: "It's an unknown. I guess he'll be mopey and sad because his wife's dead." Goodman's comment about Barr's character shuffling off this mortal coil seems to fit with the opening to the series' official logline:
After a sudden turn of events, the Conners are forced to face the daily struggles of life in Lanford in a way they never have before. This iconic family – Dan, Jackie, Darlene, Becky and D.J. – grapple with parenthood, dating, an unexpected pregnancy, financial pressures, aging and in-laws in working-class America. Through it all, the fights, the coupon cutting, the hand-me-downs, the breakdowns – with love, humor and perseverance, the family prevails.