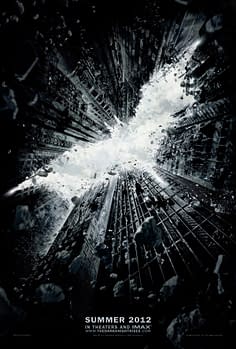 Not unprecedented, and not like it needs the help, but the domestic debut of The Avengers just got a little sweetener with the debut of a new trailer for the equally anticipated Dark Knight Rises. I'm looking forward to this trailer myself, as the John Blake mystery has generated even more interest than the Avengers Alien [SPOILER] mystery — and that's saying something.
Most-Read Comic Stories Today:
Jeph Jacques' Questionable Content
Questionable Content is many things: A webcomic about a haphazardly adjusted group of twenty-somethings in New England. A serial narrative set in a context of kitchen-sink science fiction. Perhaps most importantly, it's one of the most impressive webcomics accomplishments, updating five days a week in full color with a caliber of writing and art that consistently sharpens as it experiments. Creator Jeph Jacques has found new and innovative techniques of storytelling to produce a comic that explores life and love with laughter and compassion.
Is This The First Before Watchmen Continuity Error?
The viral marketing page for Before Watchmen, purporting to show a page from The New Frontiersman, as the superheroes are being disbanded in 1977, years before the Watchmen series takes place may have a boo boo.
Review: Wonder Woman #8 by Brian Azzarello And Cliff Chiang
I read the other day that this run has been receiving some amount of criticism online of late, I'm here to tell you not to believe the negative hype … if there is such a thing.
Most-Read TV/Film Stories Today:
WB Confirm That They're Going To Piggy Back New Dark Knight Trailer On Avengers
A third Dark Knight Rises trailer is on the way, and Warner Bros. have confirmed to Deadline that it's going to screen with The Avengers in the US.
Johnny Depp's Tribute To Jonathan Frid, Who Has Passed Away Aged 87
Jonathan Frid was TV's beloved Barnabas Collins, starring in the offbeat supernatural soap Dark Shadows from 1966 until 1971. He has passed away at the age of 87.
Ominous Set Photos From Doctor Who Series Seven
Possible spoilers ahoy! If you want to go into Doctor Who Series Seven completely blind, then navigate away from Bleeding Cool and instead look at this animated gif of a raccoon eating popcorn.
Enjoyed this article? Share it!