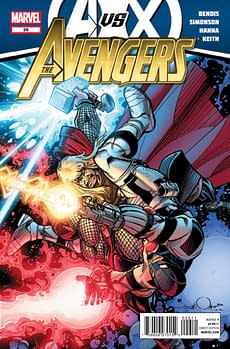 We continue our new policy of posting Amazon listings as news. Look, I've had a very busy day, give me a break.
And if you want to avoid spoilers for Avengers Vs X-Men #11, I'd avoid reading any newspaper or news site, or Twitter, or anything (aside from Bleeding Cool, and even then, watch out for the forums) until you get to the comics store. Oh and especially 4chan, because I can confirm those spoilers are all correct.
But Amazon seems to have given a further spoiler in their listing for the Avengers hardcover for tie in issues of the Avengers Vs X-Men crossover.
AVX TIE-IN! Comics legend Walter Simonson is back, taking on the Avengers as they face down the unbelievable, unstoppable might of…the X-Men!? Captain America has declared war on Marvel's mutants in the face of the Phoenix's arrival on Earth, but one Avenger must betray the team to fulfill their destiny with the unstoppable cosmic force! And it's not who you think! Plus: the Red Hulk's last stand!? And can Hawkeye and Spider-Woman's budding romance survive the end of the world?
So we know there is death to come, on the X-Men's side. But now also betrayal!
Gadzooks! Can you wait until tomorrow???
UPDATE: Or, yes, yes, it could have been that thing about Marvel Boy. Ah well. The AVX #11 spoilers are spreading across the message boards… be warned.
Enjoyed this article? Share it!