The Boys, created by Garth Ennis, Darick Robertson with additional work from Peter Snejberg, John Higgins, Carlos Ezquerra, Richard P Clark, Russ Braun, John McCrea, Keith Burns and more, originally published by DC Comics and then Dynamite Entertainment, was recently adapted into a rather successful Amazon Prime Video series. Which has helped sales a little.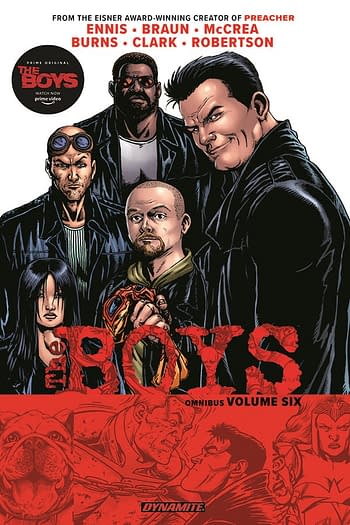 So much so that Dynamite put the series into Omnibus format, including Photo Editions using members of the cast. Though, as publisher Nick barrucci points out to Bleeding Cool, "we had to also set the print run on the first 3 well in advance of knowing how the show would do. There are times when a publisher goes back to press and reaps rewards, and times where a publishers goes back to press and can build a new office building with the inventory. We had faith in the comics and went ahead with our plans."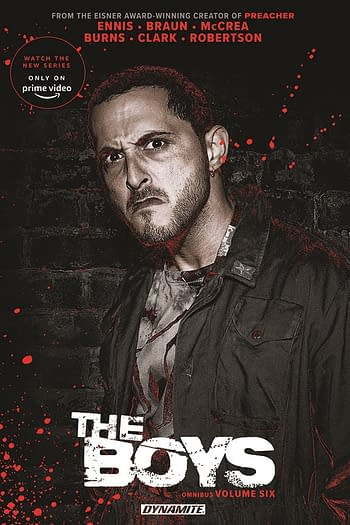 Since they came out back in March, Dynamite has had to go back to press multiple times on the first 3 volumes and now about to sell out of the first printing of Volume 4.
Barrucci says "The one thing we did that not every publisher does is we pre-negotiated with our North American printer some press time in case the show was a success and needed to go back to press. It's a challenge as a publisher. When comparing prices with printers, if you know what you want to print, it's a tangible savings going overseas to print based on the quantities you print, but it's an intangible in how much time you lose waiting for the graphic novels to be on retail shelves and in consumers hands. We easily paid a significant amount more printing in North America, but feel we had continued success in keeping the books in print. And it's still not easy, as the Omnibuses require special presses and the printer needs to book the time as well as have the paper. It's not an easy balance."
"And even with going back to press multiple times, we've sold out of volumes and been sold out for weeks at a time. The Boys Volume 3's were back in stock for the third print in early September, and now have been sold out for weeks with the new printing in stores on October 30th. The Boys Volume 4 Art Cover was in stores September 18th and is almost sold out as well and will probably sell out before we get more copies in stock for October 30th on sale. The Boys Volume 1 Photo Cover just went back in stock last week and is almost sold out. We hope to have all back in print by October 30th in advance of Volume 5 in stores on November 6th."
And we got a number for it all. "By the end of the year, we will have gone to press and shipped a minimum of 150,000 Omnibuses, which is almost $4.5 million at retail."
We'll see what the returns numbers from bookstores are like. But from all accounts, things are going well. This is even more impressive given that much of the series is available, digitally, free, on Graphite.
The final Omnibus volume will be released in January 2020. And Dynamite is also releasing a dollar edition of the first issue, originally published by DC Comics, which will come with lots of info to introduce fans to the Omnibus collections and all of the Boys merchandise that Dynamite are putting out.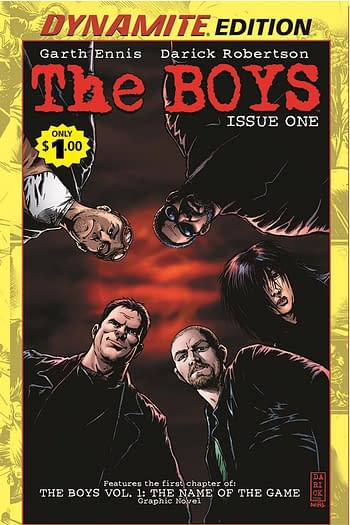 Enjoyed this article? Share it!