Starting Tonight – Eight Comics Things To Do In New York In The Next Ten Days
There are a rather large number of comics related events starting tonight in New York City and leading up to the opening of the Comic Arts Brooklyn Festival (previously the Brooklyn Comics and Graphics Festival) and these events are of such an eclectic nature they will pretty much suit any taste in celebrating comics.
Tonight, Friday the 1st of November we have: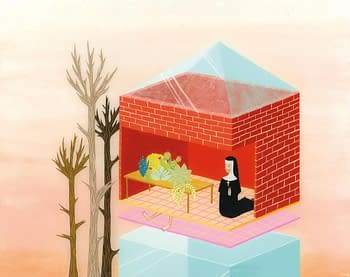 "Away From the Numbers", a seven member group show opening at the Bunnycutlet Gallery in Brooklyn at 158 Roebling Street. The event runs from 7-9PM and there you will find Franca Barone, Gregory Benton, William Buzzell, Hannah Lee, Kristen Liu-Wong, Hazel Lee Santino, and Paula Searing as curated by Jordin Islip. The particular comics connection is Gregory Benton, whose MoCCA Fest award winning B+F, now expanded into a full graphic novel is premiering at Comic Arts Brooklyn. From the pages of B+F Benton has created an array of collages based upon the same artwork. These make for fascinating commentary upon comic art as they render elements of the story into new illustrative, suggestive combinations. And they're just beautiful, too.
Tomorrow, Saturday the 2nd of November: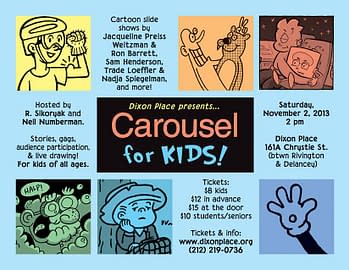 At 2PM, a special Comics Carousel event for kids! This takes the form of "Cartoon Slide Shows and Other Projected Pictures", hosted by R. Sikoryak and Neil Numberman. Sikoryak's Carousel events of performed, projected comics are a thrilling experience for kids and his adult comics carousels are pretty damn entertaining too. This event will feature Jacqueline Preiss Weitzman & Ron Barrett, Sam Henderson, Trade Loeffler & Nadja Spiegelman, and more. There will be stories, gags, audience participation, and live drawing, for kids of all ages.
It's being held at Dixon Place, at 161A Chrystie Street (btwn Rivington & Delancey), NYC. Tickets are $8 kids, $12 in advance, $15 at the door, $10 students/seniors. Advance tickets & info can be found at: www.dixonplace.org and the contact number is (212) 219-0736.
Tomorrow, Saturday the 2nd November:
The Toys! Comics Art! Medals! Mediala Gallery Opening! A similar event last Spring turned out to be one of the best kept secrets in New York, but fortunately people got the word in time and packed the place out to see dozens of comic artists exhibiting original pieces from their recent work. The gallery is located at 335 West 38th Street, 4th Floor in New York, and will be exhibiting in two spaces. In Space I, with DESIGNER TOYS "A group show of handmade and hand-finished work", there will be work by Avani Agarwal + Patrick Sellers, Jelly Empire / Selina Briggs, Kilroy's Attic, O'Bots / Karen Wilkes, Rex Kalehoff, Storybox Ink / Nelson Asencio + Manuel Jesus, and Zukie Art / Alison Perez.
The comics on display will be fairly massive in Space II, titled "FROM PANEL TO PANEL 8: DREAMS". Artists will include: Gregory Benton, Darryl Ayo Brathwaite, Christa Cassano, Jacob Chabot, Micah Cohen, Sara Corbett, Jennifer Cruté, Delia Gable, Shiraj Ganguly, Chris Giarrusso, N Steven Harris, Dean Haspiel, Seth Kushner, Jesse Lonergan, Shawna Mills, Ayumi Mishima, L Nichols, Ingrid Rios, Jess Ruliffson, Rodney Sanon, Regine Sawyer, Nathan Schreiber, Jodi Tong, Scott Wegner, E.A. Womak, Grey Williamson, and Sara Woolley.
Yep, I said massive. The event runs from 3 to 7PM and is free to the public.
Monday the 4rd of November:
The Jack Kirby Museum will be starting a week long celebration of the master by hosting an Opening event. Located at 178 Delancey Street North in New York, and the event is asking for only a small donation to the museum to attend. The event runs from 7 to 9PM.
Tuesday the 5th of November:
"Picture in Picture: A Comic Show at Launchpad" will be opening. Picture in Picture is a comics exhibition at Launchpad, a gallery and creative gathering place on Franklin Ave in Brooklyn. Everything on view is an original hand-drawn page by a working cartoonist. There are a variety of both colored and black and white pages being shown. The show runs from October 30th to November 15th.
The opening reception will be November 5th from 8-10pm. There will be drinks, music and merrymaking in the backyard, plus some potential surprise happenings.
Featured Artists will include: Aaron Cockle, Anuj Shrestha, C.M. Butzer, Chi Birmingham, Christopher Darling, Christopher Duffy, Dasha Tolstikova, Edwin Vazquez, Hye Su Lee, Jen Tong, Jess Ruliffson, Jess Worby, Joana Avillez, Jon Sperry, Jude Killory, Lala Albert, Matt Rota, Pat Dorian, Ryan Peltier & Gant Powell in an exhibit curated by Jess Worby.
There is a suggested donation of $5 to support the space and help them continue to host great community art events. Launchpad is located at 721 Franklin Ave, Brooklyn and is convenient to the 2, 3, 4, 5, A, C & the Prospect Park Shuttle.
Thursday the 7th of November: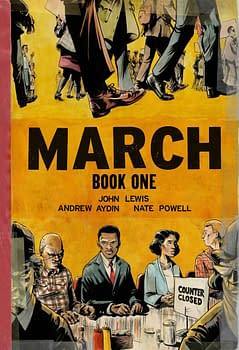 Congressman John Lewis will be signing March Book One with Andrew Aydin and Nate Powell at Midtown Comics Downtown. The event will run from 6-7PM. The graphic novel March, from Top Shelf, details John Lewis' youthful involvement in the Civil Rights Movement, including meeting Martin Luther King, Jr. Midtown Comics Downtown is located at 64 Fulton Street in New York.
Thursday the 7th of November:

"Secret Identities Can Be So Hard On The Eyes: Gender Identities in Genre Comics", a panel discussion and satellite event leading up to Comic Arts Brooklyn, will be held at Hullaballo Books in Brooklyn in conjunction with So What? Press. The event will run from 7-10PM at 711a Franklin Avenue, on Park Place, Brooklyn.
I will be moderating this panel of comics creators on behalf of Bleeding Cool, and it promises to be edgy with plenty of new and honest takes on experiences handling gender in creator-owned comics.
Dave Kelly of So What? Press, who put the panel event together, describes the discussion thus: "If you know genre comics, you know the perceptions that come with them: Masks, capes, feats of strength, damsels in distress…and sometimes damsels in worse situations than that. For better or worse, mainstream comics are built on tropes such as these. What you may not know is that, like a good secret identity, sometimes there is more than meets eye. Genre is back in a big way – – from the movies we watch right down to the comics being published outside the mainstream – – and creators everywhere are working to redefine what it means to be a hero as well as challenging the presupposition that the good guy always gets the girl…because sometimes, as we all know, the girl has to save the guy's ass".
The participants in the panel will be local Brooklyn creators LARA ANTAL (Tales of the Night Watchman), MARGUERITE DABAIE (The Hookah Girl and Other True Stories), ROBIN HA (Women of Marvel, The Dress), HAZEL NEWLEVANT (If This Be Sin), and MOLLY OSTERTAG (Strong Female Protagonist) talking about how comics are changing for the better and how you the reader (or fellow creator) can help implement such change. Moderated by Hannah-Means Shannon of Bleeding Cool.
Saturday November 9th:
Of course, Comic Arts Brooklyn! We'll be telling you more about this in the coming week, but the day-long event is free and open to the public, sponsored by Desert Island. It's a festival of comic art featuring panel talks, tabling, and satellite events. Featured guests will include: Paul Auster, Heather Benjamin, Michael DeForge, Kim Deitch, Renee French, Lisa Hanawalt, Simon Hanselmann, Sammy Harkham, Dean Haspiel, Paul Karasik, Kaz, David Mazzucchelli, Jonny Negron, Paul Pope, Jeff Smith, Art Spiegelman, and Adrian Tomine.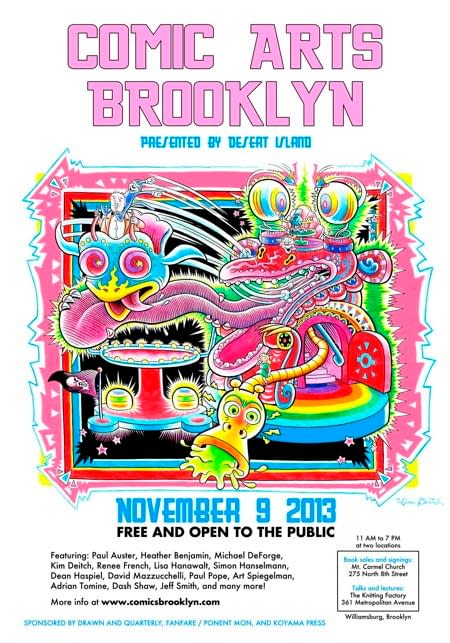 The festival will be held at two locations within walking distance of each other: Mt. Carmel Church[book signings, publishers and artists] 275 N. 8th St, Brooklyn and The Knitting Factory[talks and lectures] 361 Metropolitan Ave, Brooklyn. The previously running yearly event called The Brooklyn Comics and Graphics Festival is here in a new incarnation, and if you haven't been before, be aware that this is one of the most significant and well-attended comics events in the New York area each year.
Hannah Means-Shannon is Senior New York Correspondent at Bleeding Cool, writes and blogs about comics for TRIP CITY and Sequart.org, and is currently working on books about Neil Gaiman and Alan Moore for Sequart. She is @hannahmenzies on Twitter and hannahmenziesblog on WordPress. Find her bio here.
---
---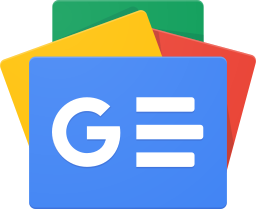 Stay up-to-date and support the site by following Bleeding Cool on Google News today!