Essential 8 Comics From The Shelf – Hard Drinking Irish Vampires, Reluctant Cannibalism And A Mea Culpa To Johnnie Christmas
By Erik Grove
This week is going to be a little bit different. I always write about comics I like – if I don't like them, I don't write about them – but there are a lot of books that I love that haven't found a way into this column yet because they didn't fit the theme or topic of the week. This week I've decided to amend that. This week, I'm just going to highlight 8 books from my bookshelf. These are my personal favorites. You might not know them or love them like I do, but these are Essential 8 Comics from My Bookshelf.
I don't think I've ever heard a song by My Chemical Romance and if I have, I probably wouldn't be able to identify it as such but this comic by the lead singer, Gerard Way, is one of my all-time favorite books. From Gabriel Ba's vivid storytelling to the insane amount of story Way crams into this single story, there's not a single moment in this comic about a group of seven super powered orphans in a story that reads like the Royal Tenenbaums meets X-Men that I don't love. On multiple occasions I've forced my friends to take this book home to read it out of my unbridled enthusiasm for it and I am always eager for any word of Way and Ba continuing the story. I told the comic shop owner that I wanted to try something new. He gave me a copy of Preacher #18, a rare single issue story in Garth Ennis and Steve Dillon's epic of vulgarity, American dystopia and holding God accountable. I liked the issue but it took a few more before I was hooked. Preacher vol. 1 was literally the first trade collection I ever got. Up to that point I had been raiding the back issue boxes at the comic store and reading from friends' collection but finding the first issues for Preacher was impossible so I had to get the first collection and then the second while collecting every issue, miniseries and one-shot until the series concluded. Preacher was and is the best comic I've ever read through to conclusion. It's darkly hilarious, wonderfully satirical, deeply resonant and completely unhindered. If you consider yourself a comic book fan and you're not familiar with the story of Jesse Custer, a reverend from a very dysfunctional family, his girlfriend, the assassin Tulip and the drunkard vampire bastard, Cassidy, then you're missing out and you should remedy that right away.
Chew is my current favorite ongoing series. The mix of John Layman's humor and grit, rendered by Rob Guillory's uniquely stylized artwork makes for a reading experience that always leaves me completely satisfied. If you don't already know, Chew is the story of Tony Chu, a cibopath and reluctant cannibal. Tony can learn the history of anything he eats, from farm to table with colorful deviations for food related crime. The comic is loaded with vivid, bizarre characters and concepts. Before this book is adapted, you should pick up the first volume.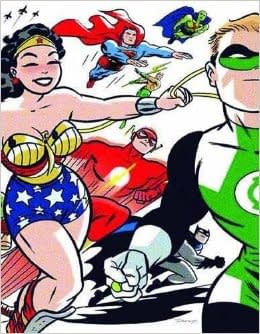 Darwyn Cooke's New Frontier is a brilliant and sincere ode to DC superheroes and one of my overall favorite comics. Cooke's design is flawless. His art has a sense of nostalgia, optimism and wonder that very few contemporary comic artists can capture. The story told here, the birth of the Silver Age of comics and the beginning of a new space age era in the United States full of unlimited potential is perfectly imagined and captured. Cooke understands and embraces these characters and made me love them more than ever. If you love comics, you should have this book on your bookshelf. I usually pick collections that are affordable but for New Frontier I'm picking the Absolute edition because I think the art and presentation is well worth it.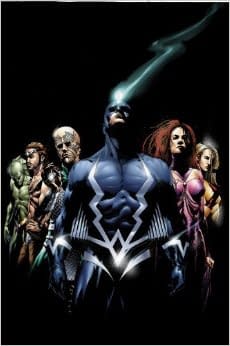 This was a book that hit me from out of the when it was first released. In 1998 when Marvel Comics contracted with Joe Quesada and his partners to launch the Marvel Knights imprint and relaunch Daredevil, Punisher, Black Panther and Inhumans by Paul Jenkins and Jae Lee, I had left home for the University of Oregon and was spending more time reading F. Scott Fitzgerald and Beowulf than I was reading comics. I maintained a box at my hometown comic shop and when I drove home to visit I would pick up a couple months' worth of books but I was on the way of the hobby. I cut down the books I collected and became pretty skeptical about trying new titles but I had been a fan of Lee's artwork and Inhumans looked interesting and completely out of the place alongside the other street-level Marvel Knights books.
I'm glad I tried that first issue and I'm glad I followed the book to its conclusion. Jenkins and Lee took a set of characters I knew about but didn't care much for and created a rich culture and mythology that still seems ahead of it's time. Superhero comics are a serialized medium and most big stories lead to another big story. It's uncommon to find an unbroken 12 issue run by a creative team that's firing on all cylinders and comes to a certain and definite conclusion without much interaction or impact from the rest of the sprawling world. Inhumans is a smartly constructed and realized story that I almost didn't read.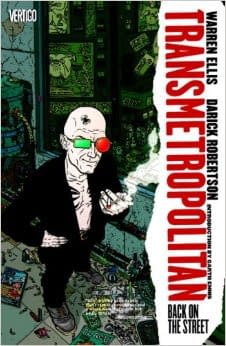 This is the comic book that made Warren Ellis a legend. I had been familiar with Ellis since his brief stint on Thor and then a lengthier stay on Excalibur at Marvel in the early 1990s. I followed him when he began writing books for Image (his sadly underrated DV8 and Stormwatch runs) and anticipated the first issue of his creator owned work for Transmetropolitan. In that first issue, full of foul language, misanthropy, feverish future dreams and biting social commentary, Ellis unleashed Spider Jerusalem, a grungy science fiction comic book Hunter S. Thompson and that's when Ellis definitively established himself as one of the greatest comic book minds of the late 20th and early 21st Centuries.
Ellis would go on to create The Authority, a comic that would usher in a new era of "widescreen" superhero action and many more original characters and concepts but in 1997, Transmetropolitan paid off my loyalty in spades. It was the first book I remember actively trying to convince people to read that had never heard of it and remains one of my favorite series. For all the praise I give Ellis for making Transmetropolitan a modern classic, I don't want to leave out Darick Robertson. Robertson, a a gifted and versatile pro, delivered some of the best work of his career in these pages. He created a densely populated future universe and gave Spider Jerusalem some of the greatest expressions of mad brilliance ever put onto a page.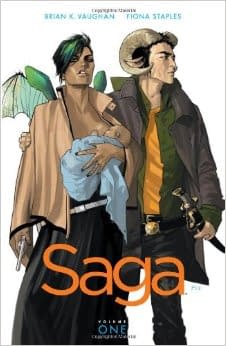 There are books that are so obviously and consistently praised that you can forgive comic book fans their cynicism when they roll their eyes at their mention. Saga by Brian K. Vaughan and Fiona Staples is possibly not the greatest comic book of all-time that the near-universal acclaim might suggest but it is one of the most entertaining and interesting comics I've read in years. The story is simple but well told; two lovers are on the run in the middle of a war, alone against both sides depending upon each other to stay alive and to protect their baby. The art is beautiful with Staples dominating every page with a vivid and distinct style. The characters are alive, funny and sympathetic and the story has enough action, suspense and heart to suck you right into a strange and wonderful new universe. Vaughan is a favorite writer and I would buy a book based on his name alone. That Saga is one of the most accessible and addictive reads on my bookshelf makes that very easy for me.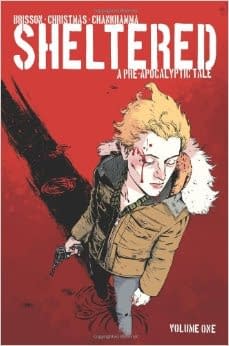 This is a recent find for me and it comes with a fun story. I went to party when I was in Seattle and I didn't know anyone. I ended up starting conversations with anyone else around me that looked like they didn't really knew anyone and that's how I met John Christmas and made a fool out of myself by giving him a completely blank stare when he told me he was an artist on the book Sheltered. "You write for Bleeding Cool!" He chided me. Christmas is an awesome guy with a great big easy smile, a good sense of humor and what seems to be a respectable record collection. I told him I would go out of my way to find and read Sheltered and I really hoped that when I did, I'd like it.
There's nothing more awkward than being friendly with someone personally and not being blown away by their work but the good news is that I didn't have much to worry about. I was true to my word and I quickly caught up on Sheltered and it instantly became a must-read book for me. The book is about a small community of isolated families, "doomsday preppers" concerned with the coming collapse of society, and what happens after a charismatic sociopath convinces some of the residents to take drastic next steps. What follows is a gritty, grounded 21st Century version of Lord of the Flies. There's a fantastic interplay between the mundane and insane in this story and Christmas's partner in crime, Ed Brisson, sells big, mad ideas with simple character moments and true to life dialog. There's a real sense of urgency and consequences in this comic and each issue picks up breathlessly after the last. As for Christmas, his work on Sheltered is consistently fantastic with expert storytelling, amazing character work and a palpable sense of tension and drama. Really stellar work and highest recommendations.
Special thanks this week to the comic book store owners that put some of these comics in my hands and to Johnnie Christmas. I love the book, Johnnie, I've been recommending it like crazy to people. I promise I won't have no idea who you are ever again. Can you stop laughing at me now?
*Coming up: an Essential 8 Spider-Man column. Get a jumpstart on disagreeing with me and insulting my picks now in the comments section or send me suggestions by Twitter. I have a feeling his one is going to be a doozy.
Erik Grove is a writer in Portland, OR. You can read an archive of his comic book writing, short stories, blogs and novel excerpts at www.erikgrove.com and follow Erik on Twitter @erikgrove.