Dead Man Blogging 409 'People Like Us': Bleeding Cool's 'Fear the Walking Dead' Live-Blog!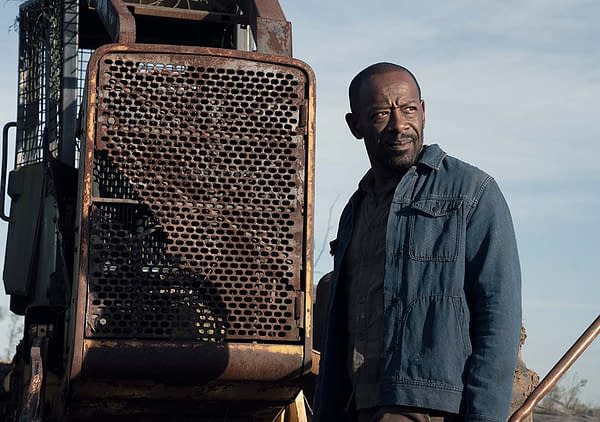 Welcome to our Season 4 mid-season premiere edition of Dead Man Blogging, Bleeding Cool's Fear the Walking Dead Live-Blog!. With their "summer vacation" over, our heroes are back on the road and back looking for…???
Ahhh…and there's the problem! As we get ready for mideseason opener 'People Like Us,' it looks like our wandering survivors have different long-term agendas. With some new players in play, our group might be splintering again – and this time, there might not be any going back.
So with that in mind, get yourselves acquainted with AMC's Fear the Walking Dead, 'People Like Us':
Fear the Walking Dead s04e09 'People Like Us': Morgan tries to help Alicia and the fractured group of survivors as a storm brews.

● This page should update…but just to be on the safe side I strongly suggest you refresh every now and then to make sure because I've been known to ramble often and quickly.
● If you're going to social media to talk about what we're talking about, go with: #feartwd and #feartwdbc.
● While you're waiting (or if you just need a breather from my raw, uncut cult-of-personality), check out some cool Fear the Walking Dead "extras" we have waiting for you below.

John (Garret Dillahunt), June (Jenna Elfman), and Althea (Maggie Grace) discuss a growing "river walker" problem in this sneak preview of the series' return:
The cast and creators from Fear the Walking Dead look ahead at what fans can expect from the season's second-half:
Here's a look at what we can expect from the remainder of the fourth season of AMC's Fear the Walking Dead:
The first half of season four began with one figure huddled around a campfire, and ended with nine. Characters who started their journeys in isolation collided with each other in unexpected ways and found themselves in one of the last places they ever expected to be…together. In the back half of the season they will explore who they are now – as individuals and as part of the greater group – and how they will forge ahead. They will find themselves pitted against new adversaries – human, walker, and even nature itself. Theirs will be a journey wrought with danger, love, heartbreak, loss, and ultimately, hope.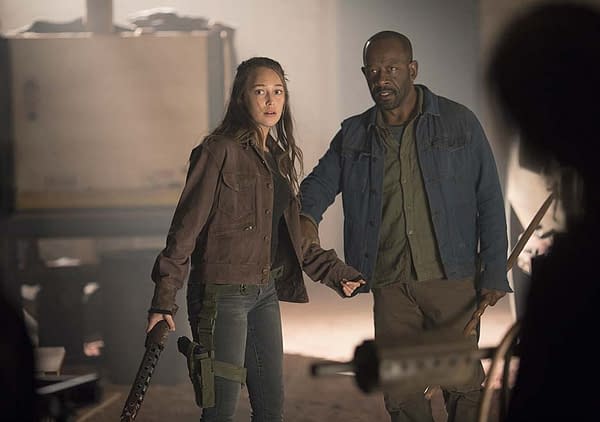 Produced by AMC Studios, Fear the Walking Dead is executive produced by Scott M. Gimple, showrunners Andrew Chambliss and Ian Goldberg, as well as Robert Kirkman, David Alpert, Gale Anne Hurd, and Greg Nicotero. The series stars Lennie James, Alycia Debnam-Carey, Colman Domingo, Danay Garcia, Garret Dillahunt, Maggie Grace, Jenna Elfman, Alexa Nisenson, Mo Collins, Daryl "Chill" Mitchell, Aaron Stanford, Tonya Pinkins, and Stephen Henderson.