I first read the Paul screenplay last year and absolutely loved it. Seriously, it kept me laughing throughout and I felt a strong desire to just see it see it see it. So naturally, any opportunity at the San Diego Comic Con clashed with me selling Freak Angels to the Germans, that kind of thing. Though I did bump into writers and stars Pegg and Frost through the show.
So I didn't see the preview. And I didn't see what Paul will look like, though the screenplay did indicate a Grey type of alien.
And so it seems to be. Hello Paul.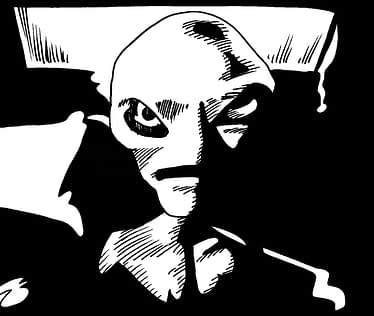 UPDATE:
We just received this letter and have complied with its request. The image has been removed and replaced by the visual above.
Dear Sir/Madam:

Please be advised that NBC Universal and/or its subsidiary and affiliated companies (collectively, NBC Universal) are the owners of intellectual property rights in numerous  television shows and motion pictures.  NBC Universal diligently enforces such intellectual property rights.

Bleedingcool is and has been infringing NBC Universal's intellectual property rights in numerous properties including, but not limited to, the title(s) listed at the bottom of this letter.  By way of example, we are providing with this letter a non-exhaustive list of NBC Universal properties infringed by Bleedingcool, along with the URL  corresponding to each listed infringement. NBC Universal demands that Bleedingcool immediately remove or otherwise disable access to the links identified in this letter, and cease and desist from any further infringement of NBC Universal properties.

The undersigned has a good faith belief that Bleedingcool's use of NBC Universal property as referenced herein infringes NBC Universal's rights and is not authorized by NBC Universal, its agent or the law.  The information contained in this notification is accurate.  Under penalty of perjury, the undersigned is authorized to act on behalf of NBC Universal with respect to this matter.

Please be advised that this letter is not a complete statement of the facts or law as it may pertain to this matter, or of NBC Universal's positions, rights or remedies, legal or equitable, all of which are specifically reserved.

Very truly yours

Anti-Piracy Technical Operations
100 Universal City Plaza
Universal City, CA 91608
tel.  (818) 777-4876
fax  (818) 866-2155

Paul – http://www.bleedingcool.com/wp-content/uploads/2010/07/hello_paul.jpg
Enjoyed this article? Share it!