Half Of The June DC Mini-Relaunch Titles Will Still Be $2.99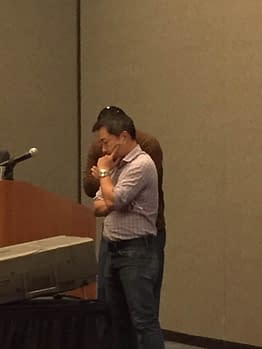 There has been some concern regarding the eventual creep of the $3.99 comic book, with Marvel currently only having one remaining $2.99 Marvel Universe title.
With all the Convergence titles moving to $3.99 for April and May, it was assumed by some that this would be it, the death knell for the DCU $2.99 book, a price point that the publisher had gamely maintained over the years, even though it likely cost them dollar marketshare.
However, at the DC retailer meetings in Burbank, it was confirmed that at least half of the June mini-relaunch titles will maintain the $2.99 price point.
Still drawing the line in 2015….
You can read up on the rest of DC's June mini-relaunch here.
And to follow all our DC Retailer Roadshow coverage, click here.