Fantastic Beasts' Zoe Kravitz to Star in Disney's High Fidelity Streaming Series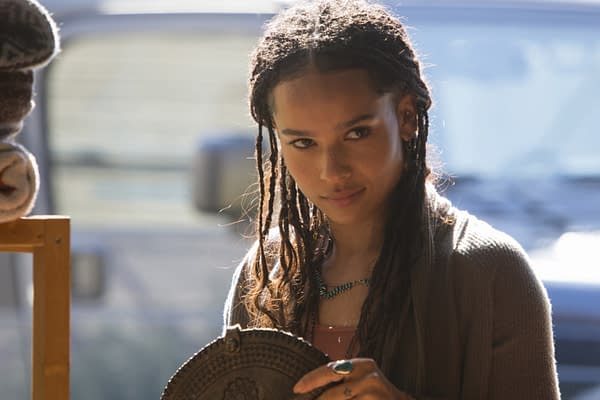 So it looks like Zoe Kravitz (Fantastic Beasts: The Crimes of Grindelwald) will be putting her spin on a whole new generation of Top 5 lists, keeping it in the family (check out below) by joining Disney's updated romantic comedy series High Fidelity inspired by Nick Hornby's 1995 novel and the 2000 feature adaptation for its upcoming streaming service. Over the course of the 10-episode first season, writers Veronica West and Sarah Kucserka's (Bull, Ugly Betty) look to capture the romantic comedy and authentic spirit of the book/film with a friendly, optimistic tone.
Directed by Stephen Frears and starring co-screenwriter John Cusack (Better Off Dead, One Crazy Summer), 2000's High Fidelity featured Cusack's Rob Gordon, a music store owner who can't seem to make his relationships last so he decides to seek out some of his old flames with the hope of getting some answers. The film also starred Jack Black, Kravitz's mother Lisa Bonet, Joelle Carter, Joan Cusack, Sara Gilbert, Iben Hjejle, Tim Robbins, Todd Louiso, and Lili Taylor. This time around, Kravitz plays the record store woner/ultimate music fan who's obsessed with pop culture and the those Top 5 lists.
Along with her work on the Fantastic Beasts franchise, Kravitz has also appeared in films such as Mad Max: Fury Road, the Divergent franchise, and Dope. On the television side, the actress recently starred in HBO's Big Little Lies and is set to appear in its upcoming second season.
Kravitz, West, and Kucserka will executive produce alongside Midnight Radio's Josh Appelbaum, André Nemec, Jeff Pinkner; and Scott Rosenberg, who co-wrote the High Fidelity feature. Rosenberg and Midnight Radio will produce the series alongside ABC Signature Studios (SMILF).
Set to launch some time in late 2019, Disney's new streaming service will showcase a mix of branded original and library content. Divisions supplying content to the service include: The Walt Disney Studios, Disney-ABC Television Group, Pixar Animation, Marvel Entertainment, Marvel Studios, and Lucasfilm.