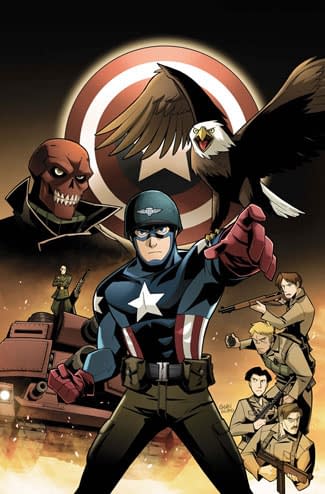 With all the remaining members of the Comics Magazine Association of America having publically, dropped the Comics Code this past week, who'd have thought there would be Marvel news on this matter after they dropped it ten years ago?
Well, Brian Clevenger has been promoting his new comic, Captain America: The Fighting Avenger #1 coming from Marvel in April on his blog. But in doing so, he may have made a major revelation about Marvel's forthcoming publishing plans. He writes;
You may recall that this was intended to be an on-going series. It was downgraded to a four issue mini-series and then two issues — you get both of 'em in this one-shot. Captain America: The Fighting Avenger will be one of the last "all ages" issues of anything Marvel will produce for quite a while. Because they "aren't profitable."
Marvel print a number of All Ages-designated titles, but recently one of the best-reviewed titles Thor: The Mighty Avenger was cancelled. The Marvel Adventures line written by Paul Tobin, Super Heroes and Spider-Man titles had their thirteenth issue solicited for April.
Marvel have also published a number of titles based on cartoons such as the Super Power Squad and Avengers: The Earth's Mightiest Heroes. The Oz books and Masterworks collections are also All Ages.
Also the Captain America book by Clevenger is listed with the rating A in Preview, which Marvel recommend as not All Ages but for 9+ up…
Even if the book is All Ages, does saying so give it the kiss of death, sales wise?
UPDATE: Marvel's Senior Vice President of Sales, David Gabriel has posted in the Marvel Masterworks Fan Site boards,
Marvel is not stopping the all ages lines! An exciting announcement is coming in just a few weeks that will expand upon this as well. Ourall ages titles have great success well outside of the direct market, as well as the success they have with indivual stores within the direct market. I just like to stop rumors like this from spreading!
Enjoyed this article? Share it!