 Over the weekend, Bleeding Cool ran reviews posted to Yelp for the Marvel Experience in Scottsdale, Arizona, and planning on touring the country. At least if the reviews improve. The company promised refunds, that technical issues were down to first day glitches and that things would be rapidly improved. But had they? Here's what people going yesterday said.
Not worth the time, much less the price of admission. The VIP package doesn't add anything of value.

It's a colorful game of waiting in line, dodging small children. The "training simulations" aren't calibrated, so you can't play them without encountering more glitches than hits, making the 40 minute wait that much more bitter in hindsight.

The registration was broken, so we didn't get several of the features of the expensive package or any of the personalization that is supposed to be a feature of the whole Experience itself.

The opening scene had to be restarted several times because the audio and video didn't sync up.

The room transitions were poorly managed, with a bored looking person in a SHIELD t-shirt letting the music play a few loops before pressing the button to open the doors, making for a really engaging and immersive time, imagining you're in training for an actual government contract job, waiting for the instructor who is running behind due to a pile of paperwork and red tape.

Don't waste your time, money, or sanity.

Edit:
Called ticketmaster several times and eventually they authorized a refund.
Can't increase the rating in good conscience as I still don't think the show is worthwhile or well put together. Maybe with its next incarnation it can become something I'd enjoy and recommend.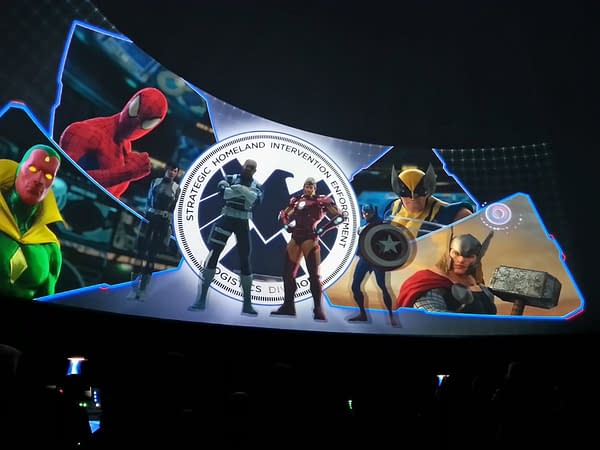 And
If I could give 0…I would. Don't do it.
And
I really wish I could have my money back. And I'm kind of embarrassed that this was a gift activity too. I'm writing this review actually, as I stand in a Disney-length of line to partake in a simple and probably overrated video game activity. Pretty sure the website hyped this up much more than needed. The "times of entry" that you purchase tickets for, are overcrowded, for one… And for the first 45 mins you are here, nothing is happening.

There is a ratio of 5:1 kids to adults. The age of these kids!? 3-6 years old. The rules and FAQs do specifically state that this experience is for older kids and adults. And sure enough… A kid is crying next to me while the mother yells at the poor staff member because her kid is too small and unable to activate the video sensors.

For the price of $30 per person, and then paying $10 for parking… You too can enjoy crowded rooms full of snot nose kids, screaming parents, long lines to pathetic "experiences" and a marvel themed café!!!

… A kid just threw himself on the floor in crying hysterics next to me
And
The Marvel Experience has a lot of potential. The idea of playing the role of a recruit for SHIELD, training, and helping to defeat Hydra is awesome. However, the execution of this event was so disappointing that words can't even express it.

If you go, DO NOT buy VIP
We bought 2 regular VIP tickets for $100 and one Level 9 ticket for $180. The only difference between the regular VIP and Level 9 VIP was a small cheap spiderman action figure. THAT IS IT. Supposedly you get a custom figure from the gift shop, but none of the employees knew what it was so we didn't get it. The "VIP Lounge" which we all had access to was a small crappy tent with 2 small couches, and the VIP food consisted of small cups of fruit, vegetables, and popcorn. Not what we expected for the price. The VIP bathroom they advertise is only next to the VIP lounge tent, so with the exception of the first 10 minutes you are there, you will be using the regular bathrooms with everyone else.

Nothing seems to work, not even the employees
Most of the employees didn't seem to know what was going on. It took us almost an hour to even get access. Some employees were in character, calling you a recruit and acting as if it was all real, but most of them were apathetic and disinterested, and our VIP concierge was even texting on her phone. The wristbands you get at the beginning are supposed to be programmed with your information so that when you are in training, you scores can be recorded. BUT the machines that you use to register your information were broken when we were there, so our characters were just "First Name Last Name". The training modules used Kinect to detect your movements, and often did not register when you were doing something. When I played the Iron Man game, it did not once register any of my movements. When I complained to one of the employees, she said it just doesn't read some people. Umm..Okay? Not what I wanted to hear after waiting in line for 30 minutes to play this game.

It just goes from bad to worse
After you complete your training, you go to a dome-shaped tent to receive your mission. It is projected on the ceiling of the tent, and you are told to sit on the dirty carpeted floor to watch it. If this sucked for me, I'm sure this sucked for the older people there who brought their grandchildren. The transitions between each experience thereafter are unnecessarily long and you will find that you spend a large portion of your time just standing and waiting. Keep in mind, this is after the 2.5 hours you spent in the training room, waiting for 30 minutes at a time in line for each activity. When you do finally get to the final chamber where you, one of the recruits, are needed to save the day, you are asked to lift your arm band to save the day, only to realize they took your armband. You will then go to the giftshop where you see more employees in this one room than you saw in the entire event, and they follow you as you walk around the giftshop to make sure you aren't stealing anything. Stealing from them? I feel like they stole from me! I want my $380 back!

The moral of the story
Be a real superhero. Save your money, save your time, save your sanity. Don't go.
And
They should name the name from the Marvel Experience to the Awful Experience. How can a company that makes such good movies associate with this rip off? My kids were frightened. I really need to look into this and see if anyone who runs this company has experience at this. I heard Magic Johnson was involved?
And
Overall spent $300 for an experience that was hyped up to be the best experience. At least that's wasn't what was shown on the advertisement my nephew saw. That is the only reason we all wanted to go as a family.

What did we really get? RFID bracelet that didn't work. Why make us spend multiple time registering. In the end, the games showed me up as some 8 yr old white kids.

The Hulk game and Iron man game were not even sync or calibrated. Whats the point of waiting in line to training and no be able to do anything except crash into the mountain or not even move the hulk. You should invest in a XBOX. At least they know how to get those game working

The only good game was the laser black widow game. Too bad you only had 1 of them and it also had the longest line. What were you thinking?

The 3D? Really? First of all, it didnt work or wasn't 3D to begin with. Then we had to keep looking at the done. Why not just tell us to lay down on the floor? It would have been better than have to keep our neck in that uncomfortable position.

The 4D? Great, still no 3D but now our seat gets some movement. I guess it wasn't bad but from the look of the movie, i suspect our faces should have appeared on the screen to be part of the movie BUT since the RFID didn't work, we had some random people I didn't know. I don't think a single person on the screen was in my party.

If you wanted us to test out the ride for people in the later day, I understand. But you really shouldn't be charging for that since you didn't get your act together! It should have been free or a greatly reduced price; not the same price as every one else.

Oh also you should have mention the $10 parking on the website. Not all of us carry cash. Lucky we had enough change in the car to cover this. Even the sign directing us to the parking lot didn't mention $10 until we got to the gate. Stupid poor planning!
But for some, there is hope.
After sending an email via the Marvel Experience site, I received an email expressing apologies and offering return tickets or a refund.

IMO, the groups that experienced the severe tech difficulties, should have been approached by management before we left the "experience". That probably would have saved a lot of the negative reviews.

For the apologies and return/refund tickets, they get an additional star.
And finally, a good review…
I surprised my dad with this Marvel Experience. He was like a kid playing with all of the activities. We stayed and played for almost two and a half hours. The lines were short and we didn't wait long to participate. I was a little hesitant going with the bad reviews but am glad we went. We made our own experience a good one.
There you go folks! If you don't have a good experience, you just didn't try hard enough….
Enjoyed this article? Share it!