iZombie Season 4, Episode 8 'Chivalry is Dead' Review: Too Many Storylines, Too Little Time
https://youtu.be/O7QzJRwyGsg
iZombie s04e08 'Chivalry is Dead': While investigating the murder of a live-action role-playing knight, Liv (Rose McIver) consumes his brain and becomes a walking, talking Renaissance Faire. Clive (Malcolm Goodwin) and Liv find dark secrets in the LARPer world. Meanwhile, Peyton (Aly Michalka) uncovers a truth about Liv. Lastly, Major (Robert Buckley) embarks on a mission.
The CW's iZombie rolls along in its fourth season with episode 8 'Chivalry is Dead,' which had about four major story lines all running at the same time. I won't necessarily commit to saying that's a bad thing; but with so much information and not enough time to dedicate to each storyline, it felt a little like One Flew Over the Cuckoo's Nest: a mental institution with many personality types – both human and zombie – trying to play chess together. Lucky for me Blaine (David Anders) took center stage in this episode. And yes – if you must know – I was getting hot flashes. Apparently, Mr. Boss (Eddie Jemison) is back and is viciously intent on getting back his stolen money – and Blaine is the man to help him get it. As usual, Liv (Rose McIver) stayed in character: a live-action role-layer (LARPer), after ingesting the brains of a medieval professor who doubled as a fighting knight in his free time. Did I mention that it involved zombies and was illegal? Think Fight Club meets Sleepy Hollow…but with more blood and swords.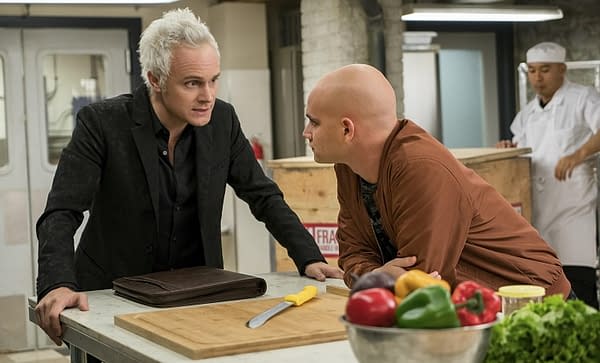 Last episode ended with Liv's life-long BFF Peyton (Aly Michalka) catching her making fake zombie identification; but this episode starts with a surprising twist: Petyon offers to be a part of Renegade's mission to smuggle ill humans into "New Seattle" with the intent of zombifying them. Although Liv is touched by her offer, what the coyote clan really needs is cash. Enter Casper: a criminal who went away to prison and snitched on Mr. Boss. Peyton goes to see him to offer him a transfer to a better facility if he tells her the location of Mr. Boss's stolen cash. Some really poor timing on Mr. Boss' part, who just arrived in Seattle searching for same said money.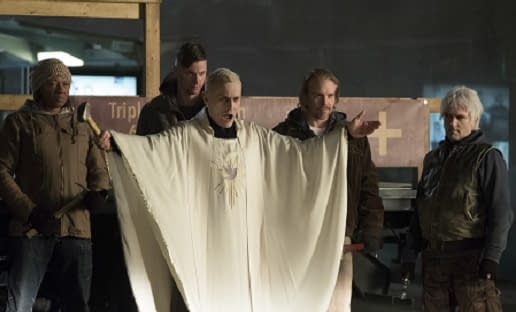 "Sharing a meal as father and son…" – Angus
Our beloved preacher Angus (Robert Kreppers) is back feeding his clan at Romero's Restaurant and enjoying an intimate father/son moment with Blaine. Angus needs more brains to feed his "children" so Blaine – in true crime boss fashion – enlists Angus and his followers to knock over the prison bus transporting a number of inmates (including Casper). Mr. Boss and Blaine get their hands on Casper and the money, while Angus gets to feed his followers: a win-win situation. If you catch any part of this episode, make sure to check out the scene when Mr. Boss, Blaine, Don E and "Cry Baby" are watching the zombies/prisoners fight unfold: their commentary is hilarious, as if they were having a dinner conversation in true, detached villain-like fashion.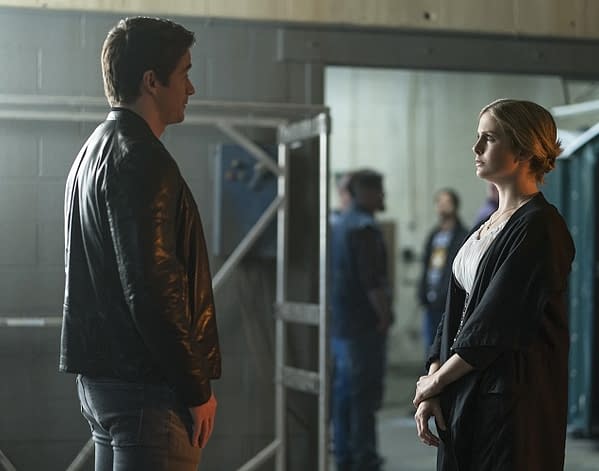 Major (Robert Buckley) has been cozying up to Russ, who Fillmore-Graves thinks is stealing brains and selling them on the black market – because he is. Major seems to be playing on the dark side a lot these days; but we haven't completely lost him to the depths of eternal hell: he saved a zombie whose life depended on the outcome of a coin flip. Chalk it up to some kind of consciousness-balancing, I guess.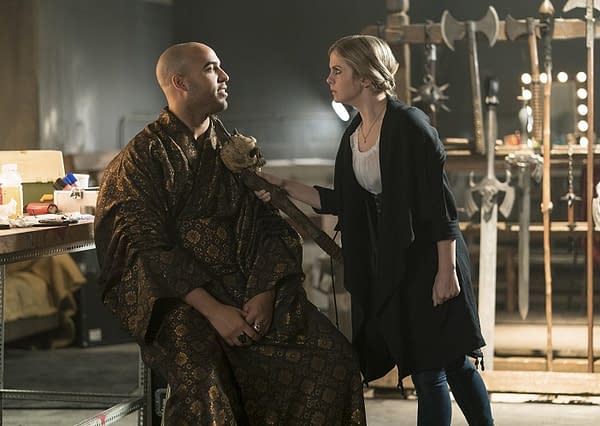 Though Liv is successful in smuggling three very ill humans into "New Seattle," she runs into a little hiccup when it turns out she can only turn two of them into zombies: Isabelle appears immune to the zombie virus. This was definitely my "Oh Sh*t!" moment. So many questions to end the episode on! Will Liv tell Ravi about Isabelle's immunity so he can perfect his cure? How long can Liv keep her identity as the new "Renegade" a secret? How does she avoid getting decapitated, just like Mama Leone? I'm definitely looking forward to next week's episode…
https://youtu.be/1cOx5MCE_AA
Some additional highlights of the episode:
• Clive (Malcolm Goodwin) continues to battle with his open relationship with Dale (Jessica Harman) – please for the love of my eyes, just kill her off already, let him mourn and move on!
• In the end, turns out our "medieval knight" was killed by his wife's lover.
• It looks like Liv's real hair is here to stay for good – again, not a big fan.
• As for this episode's edible character for Liv, she usually fluctuates between brain takeover and real Liv; but for some strange reason this time around, she never stopped LARP'ing: a smidge annoying.
https://youtu.be/AiNSYducIXA
Once again, it's that time when I pay homage to Liv's episodic personality-inducing brain feasts! On this week's menu: a "LARPer Liv" apple-stuffed brain roast.

https://www.youtube.com/watch?v=OZQIt6TEigU
iZombie s04e09 'Mac-Liv-Moore': There's a zombie serial killer on the loose and new Seattle is on lockdown. Liv (Rose McIver) is trapped in the morgue on white rapper brain and Clive (Malcolm Goodwin) and Ravi (Rahul Kohli) are playing Dungeons & Dragons. Meanwhile, Blaine (David Anders) concocts his most sinister plan to date. Lastly, Major (Robert Buckley) is on the hunt for the killer.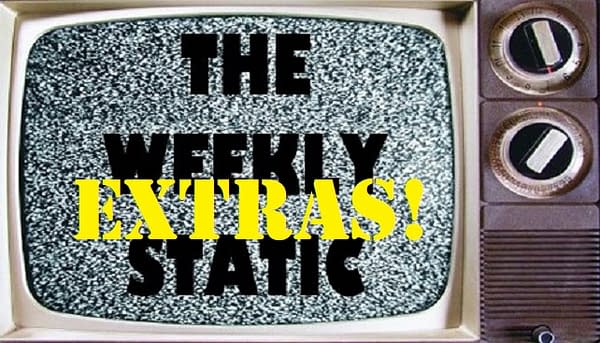 Margo Staten is a Ukrainian born, raised in Brooklyn organically driven, coffee loving, twice divorced mother of one baby Einstein. Has a passion for books, yoga in the park and all things 80's and New Orleans.