John Wesley Shipp's '90s Flash Joins CW's Arrowverse 'Elseworlds' Crossover
Let's be clear: up to this point, the CW's upcoming "Arrowverse" crossover event Elseworlds had pretty much lived up to its end of the pop culture excitement bargain: Crossover between Green Arrow, The Flash, and Supergirl? Check! The integration of Gotham City into the "Arrowverse" in the form of Ruby Rose's Kate Kane, aka Batwoman? Check! They're even throwing in Tyler Hoechlin's Superman for all three episodes – and did we mention that Supes is bringing Elizabeth Tolloch's Lois Lane along for the ride?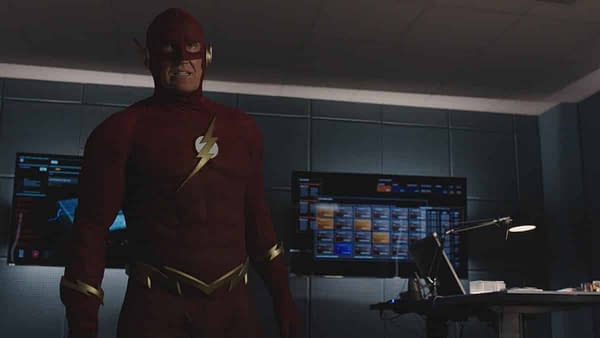 Clearly, the network doesn't want to leave anything to chance with the addition of a surprise hero that got the interwebs trembling with '90s nostalgia: John Wesley Shipp will also be appearing in the crossover event…as The Flash. No, we're not talking his Jay Garrick from the current series: this would be Shipp resuming the mantle of Barry Allen – The Flash.
Arrow star Stephen Amell and Arrow/Legends of Tomorrow writer Marc Guggenheim took to Twitter Monday evening to give DCTV fans their first looks at Shipp, who looks like he hasn't missed a day in the scarlet tracksuit – even if he is standing between Amell's Oliver Queen in a Flash costume and Grant Gustin's Barry Allen sporting a bow and arrow?!?!?!
As to be expected from the teases, it doesn't look like fans will be getting many answers right now as to the role Shipp's Flash will play in the Elseworlds crossover. One thing that can be derived from the images posted is that it looks like Shipp's '90s The Flash universe is now an official part of the "Arrowverse."
The highly-anticipated Elseworlds crossover will air over three nights, from December 9 to December 11, with the action kicking of with The Flash on Sunday, December 9 at 8 p.m. ET, continuing through to Arrow on Monday, December 10 at 8 p.m. ET, and landing with Supergirl on Tuesday, December 11 at 8 p.m. ET.