Anyone else remember Operation Galactic Storm? The Marvel Avengers crossover written by Mark Gruenwald, Bob Harras and Fabian Nicieza, that amongst other things, gave us the Starborn who will be appearing in the upcoming Captain Marvel movie – and by the looks of things, the comic book too.
One thing that struck me was the trick of having the same scene play out in different comic books from slightly different perspectives as the crossover crossed over between titles. Looks like Bob Harras, now EIC of DC Comics, may have carried that across… so we see this scene in the drowned Earth crossover, beginning intoday's Aquaman #41, by Dan Abnett, Lan Medina, Vicente Cifuentes and Gabe Eltaeb.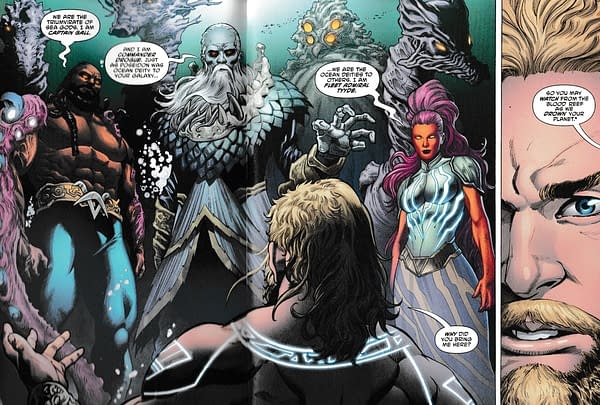 But did Dan write those words? They also play out at greater length in Justice League #11 by Scott Snyder and Francis Manapul.
With a little more threat and history…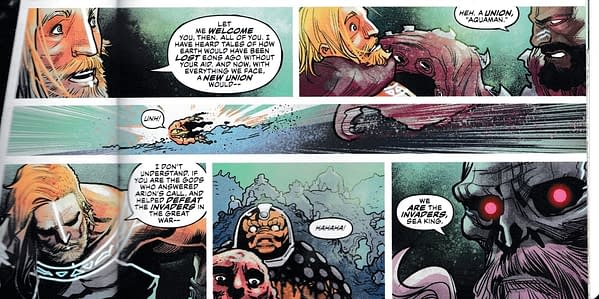 And appeals rejected…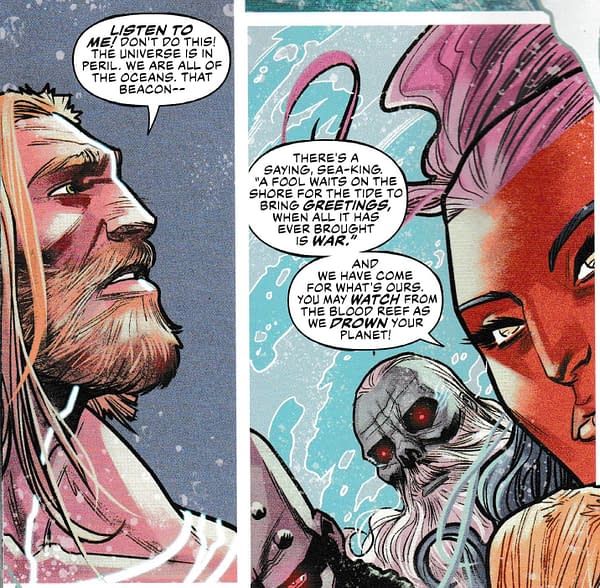 Before resolving in almost the same way. It's a neat trick too – if it's not overused. Convergence crossovers, I am looking at you…
AQUAMAN #41 (DROWNED EARTH)
(W) Dan Abnett (A) Vicente Cifuentes, Lan Medina (CA) Ricardo Federici
From the pages of JUSTICE LEAGUE, the road to "Drowned Earth" starts here!
Aquaman is missing-and the world has gone to hell! With Arthur imprisoned by Black Manta, Queen Mera is left to deal with the arrival of an alien armada aiming to punish the Earth for the sins of Atlantis. As the cosmic tides begin to rise, Mera finds herself in a fight for her very life when the flood unleashes new horrors of the deep!In Shops: Oct 17, 2018
SRP: $3.99

JUSTICE LEAGUE #11 (DROWNED EARTH)
(W) Scott Snyder (A/CA) Francis Manapul
"DROWNED EARTH" part two! The Justice League is scattered across the Seven Seas, pursued by the Ocean Lords and their army of alien mercenaries and constantly at risk of turning into fish monsters. You know, just a day at the beach. Their only hope lies in the crippled Aquaman, who believes the road to victory lies in unleashing equally vengeful gods on Earth's oceans. Meanwhile, Batman guards the Totality in the sunken Hall of Justice, where no one can attack him…or can they?In Shops: Nov 07, 2018
SRP: $3.99
Enjoyed this article? Share it!