Kevin Maguire Talks Valiant And Acclaim Contracts
With the news of the return of Quantum And Woody from Valiant, a property that Valiant representatives assures me that they own 100%. That seemed a different deal from the one originally agreed at Valiant/Acclaim a decade or two ago.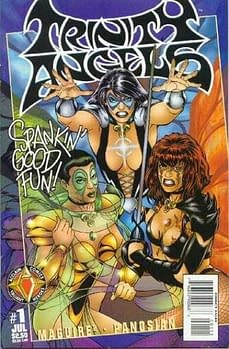 Kevin Maguire commented on the Bleeding Cool forum, saying;
We Acclaim creators signed contracts before we started working on our projects that had a clause saying we could buy the rights to the material back for half the profits the material made in the previous 3 years. Several years after Acclaim went under, Priest and Bright tried to get the Q/W rights and were told that the contracts we signed were never submitted to a different division of Acclaim and were thus considered invalid. Someone else came in and bought up all the Valiant/Acclaim leaving us with nothing. I've been following what Priest/Bright were doing because I wanted the rights to Trinity Angels back. But the legal fees it would cost to get it back would just be too much for us. I'm pretty sure Priest/Bright are not pleased with the new Q/W, but I don't know that for a fact. As I said, I know if they went in and re-vamped Trinity Angels, I would be furious. There are only three properties that sprung completely from my imagination-Strikeback, Trinity Angels, and Tanga. I consider them my children and would not abide anyone else giving voice to those characters.
It all feels a little Before Watchmen doesn't it?