Look! It Moves! by Adi Tantimedh #85: Superman is a Dick and Lois Lane is a Shrew!
Oh look, they've finally cast Superman. Now the next hurdle is the studio's struggle to make Superman feel relevant to the young 'uns and not something their granddads were into.
The current comics are still struggling to make Superman feel relevant but everyone seem to have forgotten that during the 1960s, when DC and Marvel comics sold in the millions, Superman was extremely relevant, even in ways no one realized at the time. Well, most of us weren't alive at the time to have known that, and it's kind of a shame, since it's an interesting bit of pop culture history.
I actually know quite a lot about the history of Superman. This is due to my parents buying me a 400-page book back in the 80s called SUPERMAN FROM THE 30s to the 70s, a massive compilation of key Superman stories from the first ones in the 1930s all the way to the early1970s. The book is the most thorough tour through the evolution of Superman from his first appearance to the near-omnipotent pre-Crisis version of the 1970s. Anyone that wants an overview of Superman should get a hold of this book, which is out of print but can be found for less than $10 if you know where to look (the compilations for Batman, Wonder Woman and Captain Marvel are more rare and expensive, alas).
The problem writers have with Superman is that he's essentially tabula rasa, a blank slate, unlike Batman or Spider-Man, who both have specific traumas and angst driving them. Where current writers are bending over backwards trying to make Superman relatable, the comic in the Fifties and Sixties effortlessly made Superman not only relatable, but an everyman. Under editor Mort Weisinger, Superman was a guy with super-strength who could fly and be our point-of-view character through life's thick and thin.
Weisinger was not known for being a pleasant editor to work for (not the first, the last or the only one of that type) who actively dictated to the writers what stories would go into the comics each month. He said he asked kids constantly about what they wanted to see in the comic, but what was revealed recently was that he was also undergoing Freudian psychoanalysis while he was editing the comics. As a result the Superman and Lois Lane comics ended up subconsciously expressing Weisinger's own fears and anxieties, which were probably not unique in the mind of the post-War American man at the time. In his rush to have stories for several comics every month, Superman became the conduit through whom Weisinger poured out all the seething fears that Amerca was keeping tightly wrapped under their fedora'd heads. Superman became something of a dick, and on top of that Lois Lane was a shrew. She was not only a shrew, she was totally batshit-insane in the ways every man prays he never encounters.
While writers now make Lois Lane achingly earnest and feminist, Lois since her original inception in the 1930s was a screamingly misogynist creation: a silly, uppity bitch who needed to be put in her place. By the 1960s and even the early 1970s, she embodied the sexist nightmare of the professional woman who didn't know her place and constantly stepped on men's toes. She was basically punished for being mean to Clark Kent and not seeing him for what he really was. During the 1950s and 1960s, Superman's biggest fights was with Lois Lane, she was out to discover his secret identity and marry him, and he had to do his damnedest to stop her from both, which seemed to be his worst nightmare. The Saga of Superman under Mort Weisinger was often Superman's constant war against Lois Lane. Never mind Lex Luthor – she was his real nemesis.
Of course, it wasn't always about Lois, it was also about Superman's – and Weisinger's, and every American male's – fears of change. It was the time of Red Kryptonite, which transformed Superman into all kinds of weird and unpredictable things, whether it's Evil, a bug, two different men or whatever. And it was Superman encountering other aliens, including demanding alien women who wanted to marry him and he had to think up some scheme to convince them he was too horrible to marry. Are you seeing a pattern here?
It was only recently that sites like SUPERMAN IS A DICK and LOIS LANE IS BATSHIT CRAZY started to compile covers that prove just how insane the stories were in the old days. They were a marvelous melting pot of male psychosexual panic.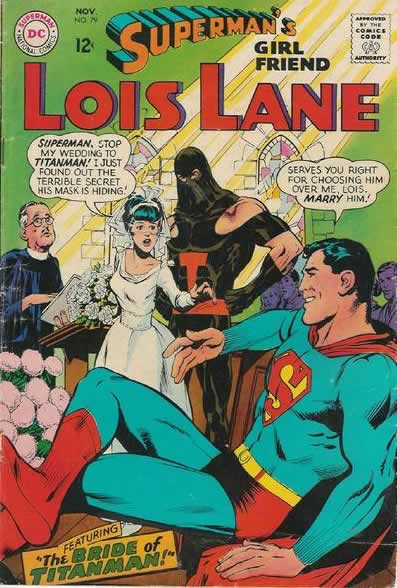 If you think the covers are insane, the stories inside were no less bugfuck, even when they weren't drawn by Neal Adams. While a TV show like MAD MEN sells itself on exposing the imperfections and underbelly of Sixties America, the Superman and Lois Lane comics were already recording them in real time without the irony of hindsight. It should be noted that not only the hippy movement and Vietnam were going on at the time, but Philip K. Dick was also entering his peak production period with his most famous Science Fiction novels, whose themes of paranoia and uncertain realities ran side-by-side with the comics in popular culture. If Dick can be called the American Kafka, the same can be said for the Superman comics under the editorship of Mort Weisinger. These were the same comics that young Alan Moore and Grant Morrison were so affected by as children and inspired them to become comics writers.
Superman comics now can't help but be dull and predictable, but imagine a time when the comics sold in the millions, were read by both kids and adults, and the stories were genuinely unpredictable from one month to the next, and actually reflected emotional and psychological realities? Can we actually get that now and then have a movie that connects with people?
We are all Superman at lookitmoves@gmail.com
I've begun the official LOOK! IT MOVES! twitter feed. Follow me at http://twitter.com/lookitmoves for thoughts and snark on media and pop culture, stuff for future columns and stuff I may never spend a whole column writing about.
Look! It Moves! © Adisakdi Tantimedh
---
---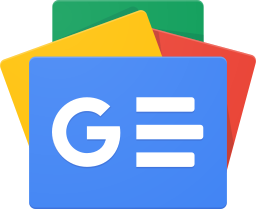 Stay up-to-date and support the site by following Bleeding Cool on Google News today!