'Manifest's' Destiny Not So Certain: Bleeding Cool's s01e01 'Pilot' Review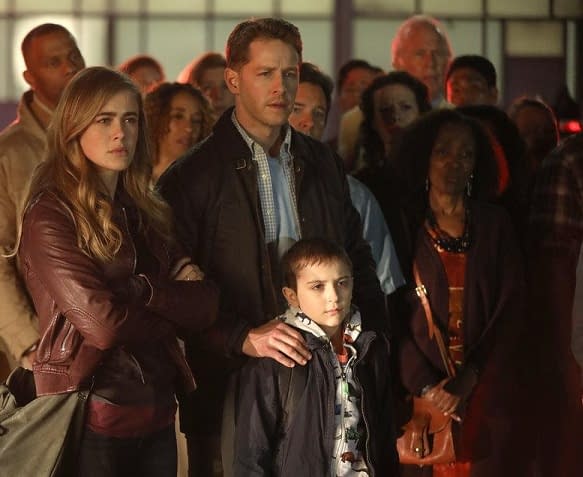 Welcome to Bleeding Cool's review of NBC's missing plane mystery-thriller Manifest, as we take a look at the pilot episode of the new series from Jeff Rake (The Mysteries of Laura) and producer Robert Zemeckis (Back to the Future, Tales from the Crypt).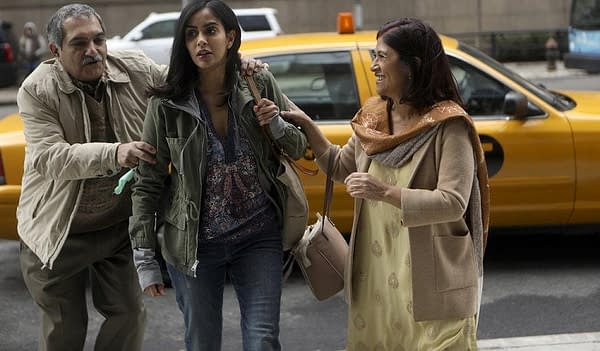 While the premise behind Manifest might be a familiar one…but there's a twist: a passenger plane disappears from radar and goes untraceable. For five years, the world assumes that the plane was lost at sea…until the planes returns with all of the passengers still on-board. But while time moved on for their loved ones at home, no time has passed for those who were on the plane.
The series follows several passengers and their families as they adjust to having returned after being gone for so long, but bigger (and possibly deadly) questions remain. Where did they go? Why did they come back? Most importantly…will it happen again?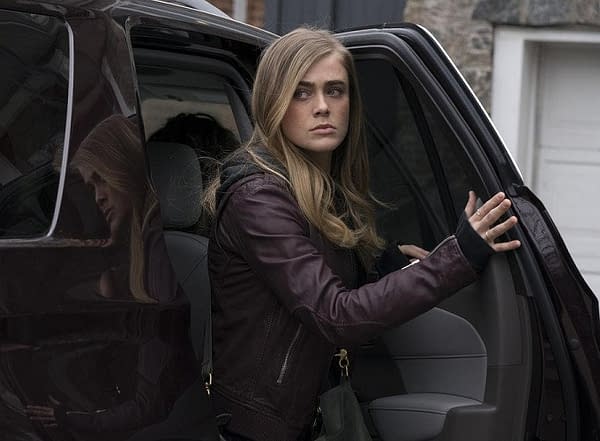 Check out our review of NBC's Manifest s01e01 'Pilot' below to see if the freshman series is worth grabbing a window seat on this season – or has us wishing for a quiet "stay-cation":
Spoiler Warning: I'll be covering some themes and takeaways involving major and minor plot points from the episode, so just keep that in mind. Definitely not looking for pitchforks and torches outside my apartment.
Manifest s01e01 'Pilot': Returning to New York from a family vacation in Jamaica, the Stone family is separated when adult siblings Michaela (Melissa Roxburgh) and Ben (Josh Dallas), along with Ben's gravely ill son Cal (Jack Messina), are bumped to a later flight, while Ben's wife, daughter and parents fly ahead. When that later flight lands, the passengers are bewildered to discover that five and a half years have gone by.

They attempt to reconnect with the loved ones who mourned their passing and moved on long ago, and try to make sense of a mystifying phenomenon steering them to act in ways they don't understand. Also starring Athena Karkanis (Grace Stone), J.R. Ramirez (Jared Vasquez), Luna Blaise (Olive Stone) and Parveen Kaur (Saanvi Bahl).

https://www.youtube.com/watch?v=Dwc27Lsr1EY
https://www.youtube.com/watch?v=aJc5x7nMsyI&t=11s
When Montego Air Flight 828 landed safely after a turbulent but routine flight, the crew and passengers were relieved. Yet in the span of those few hours, the world had aged five years and their friends, families and colleagues, after mourning their loss, had given up hope and moved on. Now, faced with the impossible, they're all given a second chance. But as their new realities become clear, a deeper mystery unfolds and some of the returned passengers soon realize they may be meant for something greater than they ever thought possible. From Robert Zemeckis, Jack Rapke, Jeff Rake and Jackie Levine comes an emotionally rich, unexpected journey into a world grounded in hope, heart and destiny.

The cast includes Melissa Roxburgh ("Valor"), Josh Dallas ("Once Upon a Time"), Athena Karkanis ("Zoo"), J.R. Ramirez ("Power"), Luna Blaise ("Fresh Off the Boat"), Jack Messina and Parveen Kaur ("Saving Hope").

Jeff Rake will write and executive produce. David Frankel will direct and executive produce the pilot. Robert Zemeckis, Jack Rapke and Jackie Levine also executive produce. "Manifest" is produced by Warner Bros. Television, Universal Television, Compari Entertainment and Jeff Rake Productions.