Mike McKone has been drawing 'Puzzle Pieces' variant covers for all of the Star Wars Age Of Rebellion and Age Of Resistance one-shots that have been running for the past year. Collectors are able to assemble them, if they so wish, to create one big picture, as seen below.
However it appears that Marvel Comics missed one for the Star Wars: Age of Republic Special #1 out next week. Oops. And now there is a gap. As a result, to placate fans and keep the collection going, Marvel will be sending complimentary copies of a newly issued Star Wars: Age of Republic Special #1 McKone Puzzle Piece Variant edition to match to orders placed on previous variants so that collectors and retailers can keep their collection gapless…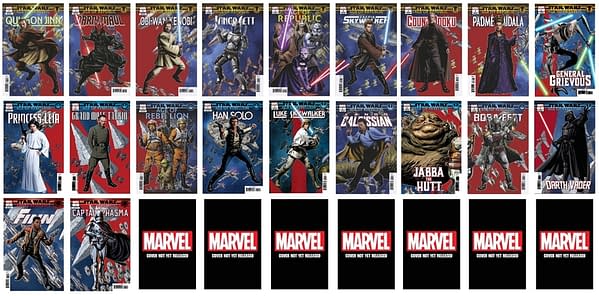 STAR WARS AOR SPECIAL #1
(W) Tom Taylor, G. Willow Wilson, Chris Eliopoulos (A) Elsa Charretier, Matteo Buffagni, Javier Pina (CA) Phil Noto
A ONE-SHOT SPECIAL FEATURING YOUR FAVORITE CHARACTERS FROM THE NEW STAR WARS TRILOGY! Star Wars fans first met Resistance leader and confidante of Leia Organa VICE ADMIRAL AMILYN HOLDO at the end of her story in 2017's The Last Jedi-now, witness her triumphant beginning! This July, Hugo Award-winning writer G. Willow Wilson (MS. MARVEL) explores a pivotal conflict in Holdo's early career that will start the young woman down the path to heroic infamy for the rebellion! With her ship at the mercy of a dangerous enemy, it's up to Holdo to outsmart their foe and win the confidence of her compatriots in the process. With art by Elsa Charratier! The infamous "pirate queen" of Takodana, MAZ KANATA, thought she'd seen everything in her thousand-plus years of running a bar and hiring smugglers. But it turns out that the criminal underworld is always full of new surprises…especially when she hires HAN SOLO and CHEWBACCA for a job! Story by Tom Taylor (AGE OF RESISTANCE)!
o And Poe Dameron's loyal companion, the astromech droid BB-8, just can't seem to stay out of trouble. His missions always seem to escalate into a full-blown adventures! And if it means a win for his friends and the heroic Resistance freedom-fighters the little droid will stop at nothing to get the job done! Story by CHRIS ELIOPOULOS!
Rated T In Shops: Jul 31, 2019
SRP: $4.99
Enjoyed this article? Share it!