Russell T Davies, Jonathan Ross, Armando Iannucci, Ian Rankin, Muriel Gray and Frankie Boyle To Contribute To Mark Millar's New Comic Project?
Bleeding Cool has been covering rumours of a Mark Millar collaborative comics project for some time now.
Whether it's an anthology, a series of comics and graphic novels or even an entire imprint, it seems that Scottish comic-book-writer-turning-media-megastar Mark Millar has gathered a group of traditionally-non-comics writers to contribute to it. Here's a run down of those names in The Guardian newspaper.
While all should be familiar to British readers, a word of introduction may be needed to our colonial cousins.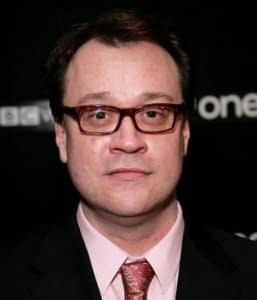 Russell T Davies – creator of TV shows such as Queer As Folk, Mine All Mine, The Second Coming and Bob And Rose, Davies had his start writing for children's shows before working on soap opera Coronation Street and period dramas such The Grand. But it was his reinvention of Doctor Who, and spinoff shows Torchwood and The Sarah Jane Adventures that made him permanently A-List. Davis is also an accomplished cartoonist and the recent Writer's Tale volume featured many of them. Mark Millar's frequent collaborator, Bryan Hitch, worked on designs for the new Doctor Who, and Millar recruited Paul Cornell from the show to work for Marvel.
Jonathan Ross – Britain's leading broadcaster and presenter, familiar to the nation from chatshows such as The Last Resort and Friday Night With Jonathan Ross, hosting Comic Relief and The Comedy Awards, his film review show Film 2010, his BBC Radio 2 show as well as stints on panel shows such as They Think Its All Over. Recently a public spat with the Daily Mail over radio comments has led to him leaving the BBC. His first comic book, Turf with Tommy Lee Edwards was set up by Mark Millar, Jonathan appeared as a character in one of Mark Millar's first comic books, Saviour, and Jonathan's wife Jane Goldman wrote the movie based on Millar's comic, Kick Ass.
Armando Iannucci – a very prominent member of the Scottish media mafia, Armando Iannucci was behind one of the two central strands in comedy that ran through Britain in the nineties, from producing and writing for BBC Radio's On The Hour, which became The Day Today on TV, as well as the spinoff Steve Coogan series Knowing Me Knowing You With Alan Partridge, the satirical series Friday Night Armatice, the sketch show Armando Iannucci Shows, Stewart Lee's Comedy Vehicle and the recent savage West-Wing-meets-The-Office series The Thick Of It, which became the Oscar-nominated In The Loop. Armando is a keen comic book fan and narrated the recent Comic Book Britannia series.
Ian Rankin – Scottish crime writer of note, who created the Rebus novels. He recently wrote a Hellblazer graphic novel, Dark Entries, released by Vertigo as part of their new crime line.
Muriel Gray – Scottish broadcaster, journalist, commentator and novelist who Mark Millar introduced to Marvel Comics and who is writing an upcoming Doctor Strange series.
Frankie Boyle – a Scottish stand-up comedian and writer who, Bleeding Cool recently reported, is working on a graphic novel entitled either Heriditary or Project: Bloodline.
More information as it leaks out…