Welcome to Thank FOC It's Saturday, a semi-weekly mailing list, similar to The Daily LITG, but (mostly) every Friday and planned to coincide and cover the demands of Final Order Cut Off. The date when retailers have a last chance to amend their advance orders for comic books without penalty. A final chance for publishers to promote books while orders can still be added. And a time for credits to be amends, new covers to be revealed and a final push given. This is an attempt to sift through them all and find the most relevant items.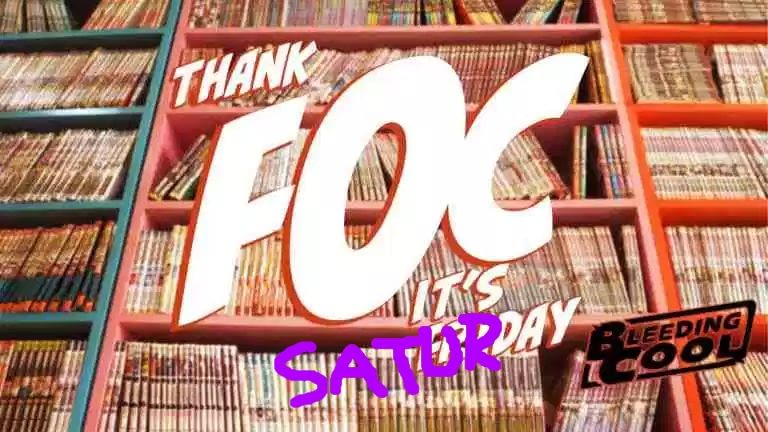 And now it seems that Diamond Comic Distributors has decided to join in. Well, imitation is the greatest form of flattery. You can sign up here or with the form at the bottom.
So what's FOC'ing today?
Black Hammer 3 For $1 introductory special to the franchise.
Dennis Culver and Justin Greenwood are launching Crone #1- what happened when Red Sonja got old.
A new Frozen comic launching from Dark Horse, True Treasure.
Spinning out of the first season of the hit Rooster Teeth animated series, gen:Lock is launching from DC Comics.
Green Lantern: Blackstars #1 by Grant Morrison and Xermanico, returnable for retailers who order number at or over Green Lantern #6.
Infected King Shazam #1 spins out of Batman/Superman, and also feeds from Tales From The Dark Multiverse #1.
Legion Of Super-Heroes #1 launches with those free promotional flight rings and 1:100 platinum flight rings. And all returnable.
Zoe Quinn and Philip Murphy's take on The Addams Family, out alongside the new movie.
Joe Hill & Gabriel Rodriguez bring back Locke & Key for two new stories, a behind-the-scenes tease of the coming TV series, and a 5-page preview of an all-new series by Hill and artist Martin Simmonds.
How did Copra #1 do? Copra #2 will be 50% returnable to stores who match it with #2 sales.
Scott Snyder and Charles Soule are launching their Undiscovered Country #1. And returnable.
Weapon Plus returns for Absolute Carnage.
How did Doctor Doom #1 and Ghost Rider #1 do? #2 are up for FOC…
And whatever comes out of Immortal Hulk #25, will be in #26…
The Marvel Comics #1000 HC collecting #1001 and… some other stuff, is up. Very vague.
New Mutants #1 and X-Force #1 are launching, as are Yondu #1 and Spider-Man & Venom: Double Trouble #1.
B B Free is launching at Boom from Gabby Rivera and Royal Dunlap. And we get a big launch from Boom for Magicians by Lilah Sturges, Lev Grossman and Pius Bak.
Vault is launching Heist: How To Steal A Planet #1
Dynamite has a KISS Zombies launch, while Action Lab has the launch of Mr Beaver. Who will win?
Oni Press has a Rick And Morty oneshot for Unity.
While Titan has some leftover SDCC exclusive comics for Blade Runner, Doctor Who and Bloodborne, as they launch a new Rivers Of London: The Fey And The Furious.
What's on your FOC?
Sign up below and we'll see what Thank FOC It's Friday brings next week… on time possibly.
Enjoyed this article? Share it!