The Bleeding Cool Top 100 Power List 2018 Countdown: #60-56
This is where it all goes kablooey.
Every year, Bleeding Cool runs its Top 100 Power List of members of the comics industry. And every year we get told how wrong we are. Somehow, it's always for completely different reasons and from completely different directions. Why was X in when Y was not? Why is Z is high when W is so low? And neither U or T should be on this list after that incident involving V… and condemning us for being either infested with SJW virtue signalling or providing platforms for fascists – and sometimes simultaneously. Man, I don't know how Time Magazine manages.
But that's part of the process. This attempt to list the most powerful people working in the English-speaking comic book marketplace is, of course, flawed. It is judged by all manner of attributes, the ability to influence what comics exist and sell, but also the willingness to use that power in the industry to affect things, and the ability to retain said power if a job is taken away. Which is why you will see a number of people on a higher spot than their bosses.
The Power List rewards those who combine roles, creator, publisher, distributor, retailers, those who are double and triple threats, and also where power is concentrated in one person rather than being spread out among many. Some powerful organisations or groups, where power is diffused amongst several individuals, may drop down or drop out altogether.
It does not measure talent or likeability, respect or fairness, and it does not intend to represent diversity or balance. All it does is note power, used for betterment — or detriment — in the English speaking comic book world.
The list was created in consultation with a number of senior figures in the comics industry, and I thank them for their help. Although because they all disagree, they'll all think the final list is wrong, too.
If you really hate this list, then do the obvious thing. Write your own. Otherwise, watch for new batches every day…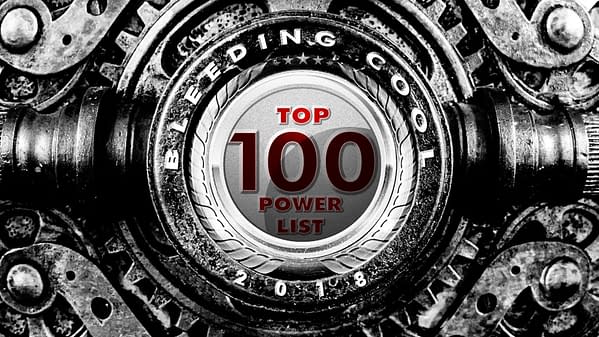 56. Nick Lowe. Editor of Marvel's Spider-Man titles, currently having quite the revival courtesy of the likes of Nick Spencer, Humberto Ramos, Donny Cates, Ryan Stegman and Chip Zdarsky, with some help from Venom and Spider-Verse movies. The only Marvel comic that can go toe to to with DC's Batman on occasion, and Lowe is the man who steers the line to the top.
57. James Killen. Buyer at Barnes & Noble for forty years, he specialises in the sci-fi and comics lines which still present a strong face to the public for comic books. His picks and decisions have a remarkable impact on the way comic books appear to the masses, even if Barnes & Noble has a lesser presence in book sales in recent years.
58. Jordan D. White. Marvel's X-Men Group Editor after launching their Star Wars line, he's leading the Uncanny X-Revival that has seen the main title go weekly, sent the O5 back, brought back Scott Summers, and try to create an X-line that the movie guys may even vaguely recognise while setting up events for 2019. He also maintains a strong social media presence with a genial and fanboyish personality.
59. Dave Marshall. Editor-in-chief of Dark Horse Comics, now with an added Chinese investment boost, his choices, recommendations and picks have just been given a few espresso shots for 2019. As Fox licenses jump one by one to Boom Studios, Marshall will be looking to replace them with newer options. Stranger Things for 2018 and Minecraft for 2019 are two of the more prominent, and they are also well in with Critical Role…
60. William Christensen. Publisher and owner of Avatar Press, and publisher of Bleeding Cool. One of the few comics publishers Alan Moore will work with, as well as a roster in including Kieron Gillen, Christos Gage, Max Brooks, Kevin O'Neill, he has plenty to announce in 2019.
See you tomorrow, if I survive the combination of hate from people angry for saying what I said, and from others for saying anything at all. Happy Christmas one and all.. And keep up with this handy-dandy Top 100 Power List tag.