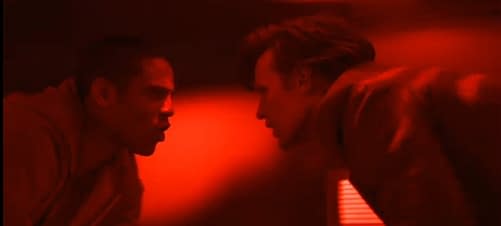 It was just a throwaway line in the latest episode of Sarah Jane Adventures, with Matt Smith guest starring as The Doctor, written by Doctor Who supremo Russell T Davies.
Regular character Clyde interrogated The Doctor on exactly how many times he could regenerate. Previously set at twelve for each Time Lord, creating a total of thirteen Doctors, people had been wondering how the BBC would deal with this as we approached that number, Matt Smith currently portraying the character's eleventh incarnation.
So the Doctor told him how many times. Five hundred and seven. It was a figure that was rattled past, but it did the trick. Was he joking? Was he lying? Has something happened to the Doctor offscreen that has extended his lifespan? If so, given around three years per actor, that should see the BBC fine until the thirty-sixth century or thereabouts. Oh, and yes, though we shouldn't need any confirmation since Planet of The Spiders, the Doctor can change "race" as it were.
So is the new number canon?
This is Doctor Who. Everything is canon. Including all four Atlantises. Especially when there's a TARDIS around.
And talking of which, we also got a run down of where a whole bunch of other Doctor Who companions ended up.
Tegan Jovanka is fighting for Aboriginal rights in Australia.
Ben Jackson and Polly Wright are running an orphanage in India.
Harry Sullivan is a doctor working on vaccines saving thousand of lives
Dorothy Gale McShane (Ace) runs A Charitable Earth, raising billions.
And Ian and Barbara Chesterton are professors in Cambridge, eternal and unaging.
So there you go. A Doctor for all ages, and a catch up with characters of the past…
Enjoyed this article? Share it!