Kirk Staley went to San Diego Comic Con on behalf of Bleeding Cool. Our Senior Deaf Correspondent, he brings a rare perspective to the show.
On San Diego Comic Con 2014 Preview Night, there was a lot of disorganisation to go round. I came in early to get my pass, and there was confusion as to where I was to go. The man at the press office told me to go over to where they were printing out badges, but when I did, they told me to go back. But eventually, I got my badge, and I headed to Disabled Services – for a wheelchair stamp on my badge. Then I went to Hall C to wait for the exhibit hall to open and accidentally got early access to the Exhibit Hall which you can find here.
After the early access, I found myself waiting right outside the hall, when security said "I want 4 lines right here"! Well, there were not four lines. Everybody crowded around security, like an army, there was no organization at all! Finally, we were able to get into the exhibit hall properly, and I went to Marvel Booth – because they are my best friends!
Day One, I went to three different TV panels. The first was the Last Ship panel – this is a TNT show in which the ship is literally the last ship against the world, after the death of millions from what they've called the Red Virus. I asked two questions – firstly to Adam Baldwin – Has he started naming his guns? (A reference to Chuck). I did not hear the answer.
I also asked the executive producer if there will be a relationship between Dr Jones and Sam. He deflected my question, but after seeing the last episode of the season, I can sort of see why he wanted to, because in that last episode, Dr Jones and Sam actually kissed. For this panel, I had no interpreters.
For Witches Of East End – I'll be honest and admit that I've only seen the first episode of Season 1, which reminded me that I need to buy the DVD or Blu-ray for the season, so that I can get caught up. Here are some pictures…
And as for Scorpion, is based on a true story of a man who's the third smartest man in the world, and how he recruits other geniuses. I was typing while watching the episode, but the information disappeared. I was literally taken in by the show, as it resounds with me regarding disorders.
That night, I went to the Hero Complex Party. I was very lucky to get in, as press, because it was invite-only. I took some pictures, and I was very lucky to meet Michael Rooker or Yondu from Guardians Of The Galaxy, but when I was taking the picture with him, I had absolutely no idea who he was… I've never watched the Walking Dead, to my eternal shame!
As for the Witches of East End Party, yours truly tried to sneak in, but with no luck! However, I was able to take a couple of pictures.
Personally, Day Two was the biggest day of my life! I was very busy but a few things happened to fall in my lap…
I wasn't covering the Big Bang Theory panel, but the next panel was going to be Legends of Korra, so I found the disabled seating area. I asked the interpreter if I could have someone else sit with me, and the interpreter said it was no problem.
A fellow Bleeding Cool Reporter covered the Legends of Korra panel, so I took photos. Not exactly sure what's going on. After that, I walked around the Marvel Booth, and one of the employees just came over and handed me an Agent Carter autographing ticket. That's how well he knows me! I was able to get my poster signed by the cast of Agent Carter, though unfortunately, the poster got screwed up. I then talked to Jeph Loeb, and he said that there were going to be press sessions today, which caught me off guard! Here's some pictures from the Agent Carter signing.
I was supposed to be covering the Marvel Television Presents panel, until all of a sudden, I got an email from one of my contacts at Fox who told me that Sleepy Hollow was having a press session today at 4pm, which is when this panel ended. I checked with Bleeding Cool's EIC and she told me to go to Sleepy Hollow…
However, you guys are lucky! I'll explain why…
I am very familiar with Sleepy Hollow, as I have been watching the TV show regularly, and so if I had more time, I would have had some questions ready to go, but in a hour, it was literally impossible. So I decided to ask Tom Mison about the relationship between him and Abby, though I didn't hear the answer. I then asked Abby the question to resolve her mother once and for all! She has confirmed that the mother is dead.
Now here is where your truly got very clever! The cast were all being photographed by other news agencies, but the executive producer was waiting, and so I got a chance to do a quick one on one interview about the Sleepy Hollow comic book…
[youtube]https://www.youtube.com/watch?v=YT0OYFJNQgI[/youtube]
Orlando Jones got a Headless Horseman Jacket and I wanted to buy one as well! He was very friendly to me, because he recognised me from their NYCC 2013 Press Session. I told him about my new cochlear implant upgrade, and he was very happy to hear that I was able to hear 90% of the press session!
The hotel itself should have had their shades closed, because the sun was going down – which made for some really bad shots!
As I was coming out of the Sleepy Hollow Press Session room, I noticed a large group of people waiting outside a room. I wondered if that might be the Marvel Press Session. Now, I wasn't on the Marvel Press List, but when the group went in, I was the only one outside taking photos.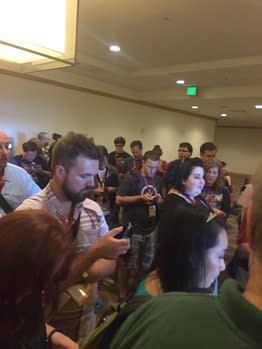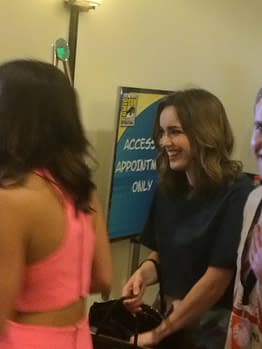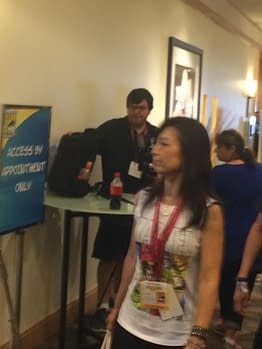 Seriously, Ming-Na? Don't be Melinda in real life! This is Comic Con! Fun! Look at Elizabeth or Simmons!
I talked to the organizer, and told her that even though I was not on the press list, I'd just wait outside. And patience was a virtue that paid off. After a hour and half of waiting patiently, some of the cast started to leave, and so I was able to take pictures with Chloe, Fitz, and Agent Coulson.
I was technically not covering the Outlander premiere, but I already had some tickets from weeks ago, and so I went to see it. It was hard for me to hear, but I was able to understand most of the episode.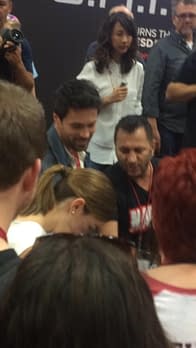 On the third day, I was up very early, in order to try to get in line for True Blood. Once I arrived at the convention center, I got someone else to stand in line for me, and so I went to get a Hall H Pass. Let me tell you, if you are deaf, they already had some wristbands ready to go, and I didn't have to sleep overnight like thousand of other people did. I then found out that the signing tickets for True Blood were all gone, as I was hoping to get one for my friend. So I went to the Marvel Booth, as I told the Agents Of Shield crew that I would see them this morning. I had brought two water bottles that had Agents of Shield logos on with me. for the first drawing of signing tickets, I didn't get any, and for the second I got a signing ticket for Age of Ultron. I wanted to do both, but I was limited to one. So I picked Agents of Shield.
So I got into the disabled line for Marvel, and so I was able to take some pictures of the cast. They actually did a selfless thing. The whole cast came down the steps to take a picture with a women who was in wheelchair. I was very pleased with that.
I actually got my Agents of Shield Water Bottle autographed by the whole cast of Agents of Shield, as I discovered they were filming me (I only discovered this three weeks ago). When I got to Chloe, I gave her a hug. And Brett Dalton thought the water bottle was a great idea for him to autograph.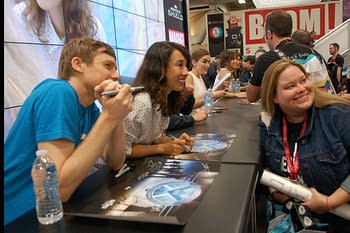 I stayed in Hall H for a half hour, went to get lunch, and then the Defiance Panel.
Wow… only two yellow disabled seats in a ballroom of thousand of people?! I was shocked! I hadn't been keeping up with the TV show, but I couldn't keep up with the video here, because the prequel videos weren't closed captioned. I enjoyed the Ballroom, as there was no stairs, so the cast were on level ground with the fans. It made the panel more approachable. I approached the Communications Director and asked her directly why the videos weren't closed captioned, but she had no idea. So she gave me her business card, and then grabbed a picture with Tony Curran, or Datak Tarr himself! That really made my day.
I returned to Hall H, to sit through the next few panels before Marvel Presents! During the Sin City 2 Panel, Josh Brolin noticed my laughing, and said "I want some of what that dude is having," That made me smile…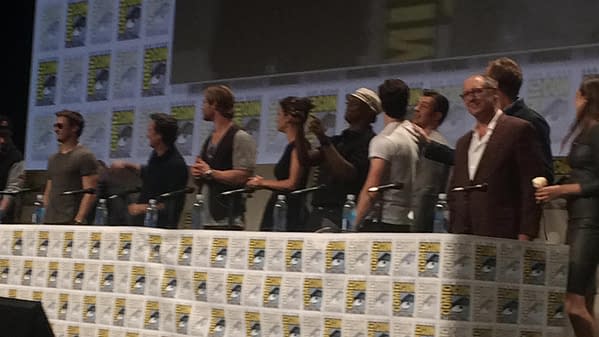 The Marvel Presents panel was lot of fun! James Spader as the voice of Ultron- oh my god! His voice can send you to dreamland! Robert Downey Jr entered the stage, and put out a briefcase on the table, and unlocked the briefcase, and started tossing out roses at the crowd. Real roses! He reserved some white roses for actresses, typical of a playboy role, before Josh Brolin came out and ate the white rose.
And I finally actually took a good picture of Elizabeth Olsen!
Enjoyed this article? Share it!